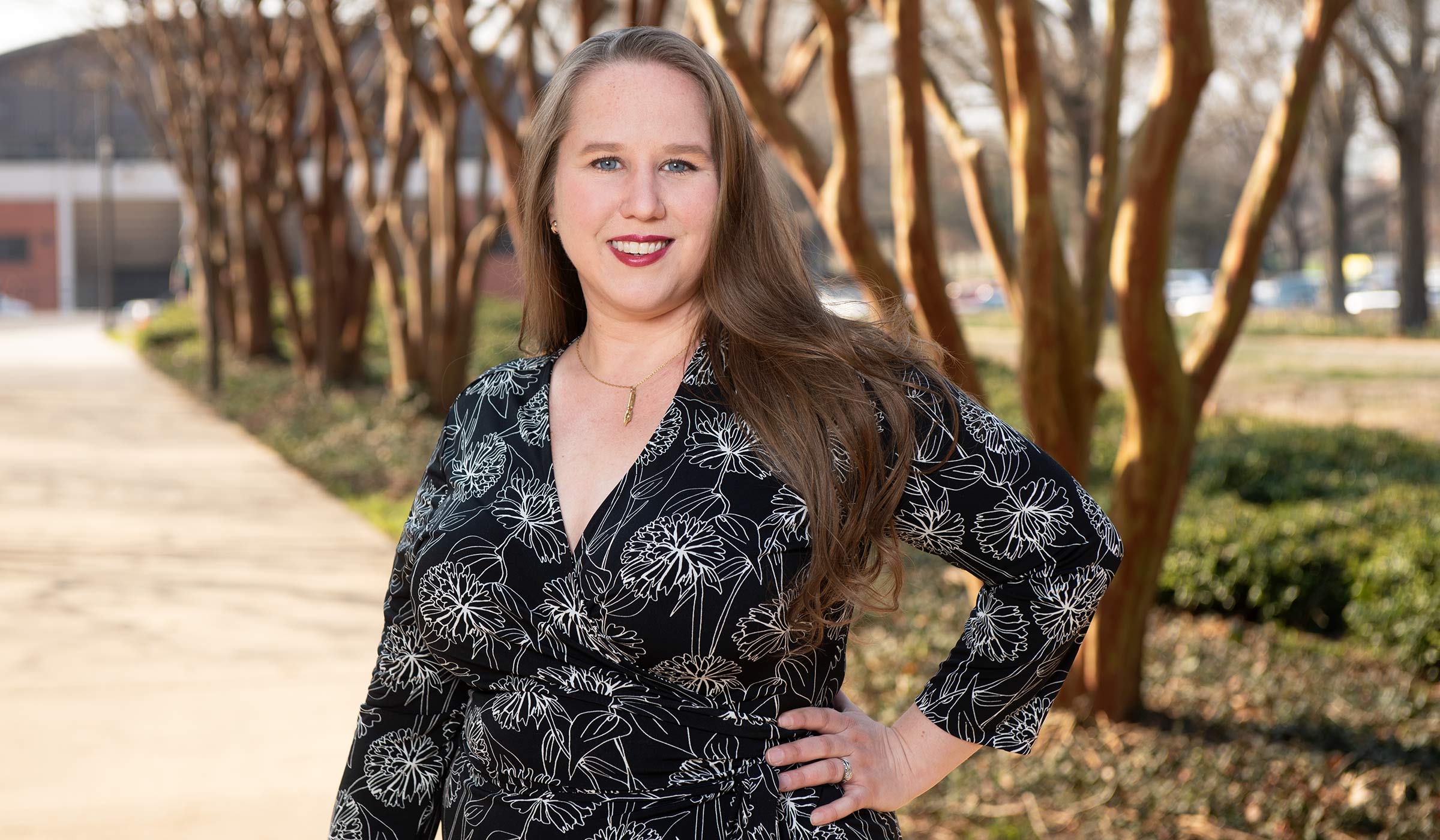 Courtney E. Thompson, an assistant professor in Mississippi State's history department, went to Harvard University with intentions of becoming a medical doctor. However, a core curriculum history class "blew my mind," said the Toms River, New Jersey, native, and changed the trajectory of her career.
The course, Madness and Medicine, a history of psychiatry and mental illness, fascinated Thompson.
"I switched my major to history and science, which began my path into the field of the history of science and medicine. I ended up applying to graduate school and was accepted into Yale University's program in the History of Science and Medicine, and the rest is 'history,'" said Thompson, who today is a driving force behind MSU's medical humanities certificate program designed to strengthen students' understanding of the moral and ethical aspects of medical care.
"I am very excited about building the program in the medical humanities, and I hope to keep developing it into a larger program with more course offerings and options," said the certificate program chair who works with Barton Moffatt, an associate professor in the Department of Philosophy and Religion, and Molly Zuckerman, an associate professor in the Department of Anthropology and Middle Eastern Cultures.
After joining MSU's faculty in 2016, Thompson began the process of developing the medical humanities program to help strengthen students' MCAT scores and assist in their graduate school interviews.
The program is open to all undergraduate students, helping them develop professionalism, empathy and communication skills needed by future healthcare providers. Certificate completion requires 15 credit hours, or five courses, spanning the College of Arts and Sciences curriculum.
Now in its second year, eight have completed the requirements for the certificate, and more than 50 are currently pursuing it.
Thompson is passionate about working with students, whether its those in the program or in the classroom.
"I love being in the classroom and working with students at every level. I find it to be very fulfilling to work with them, to try to inspire them to love history the way my Harvard mentor, Anne Harrington, and other fantastic female scholars have inspired me," Thompson said.
"But I am also very motivated by my research program, especially as I embark on new projects. I like to try to uncover and tell the small stories about people and events that have often been overlooked by history, both in the classroom and in my publications."
Thompson's just-released Rutgers University Press book, "An Organ of Murder: Crime, Violence, and Phrenology in Nineteenth-Century America," explores the origins of phrenology—the study of the shape and size of the cranium as an indicator of character and mental abilities—in the 19th-century U.S., tracing its influence in American culture, law and medicine.
Thompson currently is working on a second book project detailing emotion and identity in the doctor-patient relationship in the South and West in the later decades of the 19th century.
"This project builds off of my research with the Andrew Bowles Holder papers, which were donated to MSU Libraries' special collections as part of the Bridgforth collection shortly after I became a faculty member here. Holder's never-before-seen archive allows for a clear look at the dynamics of the doctor-patient relationship in two understudied contexts for the history of American medicine: the post-Reconstruction South and the reservation context in the West."
"I never would have discovered this collection or begun this project if I hadn't become a faculty member at MSU," Thompson said.
"The two things I enjoy the most about being on campus are really the same thing: the personal interactions and connections with other people. I love talking with students informally after class and during office hours, and I enjoy the energy of the classroom with a lot of student interaction and participation. I also love running into colleagues in the hallway or knocking on their doors to chat about work, or teaching, or just life. Some of the most valuable moments of this career are these informal interactions," she said.