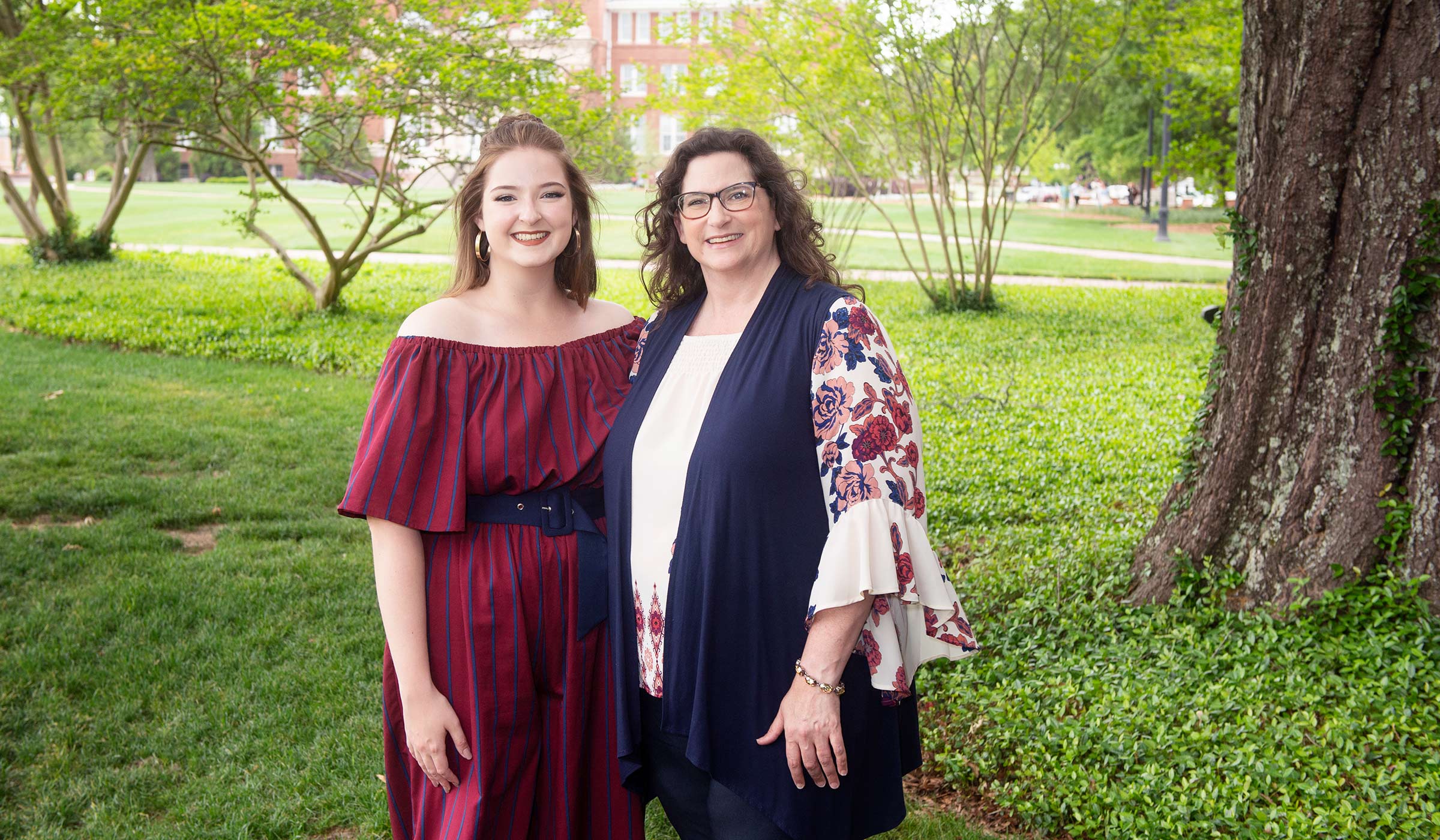 Barbara and Madeline Lee, a mother and daughter from Ocean Springs, share a special bond. Madeline is a double major honors student at Mississippi State and her mother Barbara is a university online doctoral student in the community college leadership program. As Barbara started the Ph.D. program in the Fall of 2020, they realized how much each could benefit by attending MSU at the same time.  
Barbara, an English instructor at Mississippi Gulf Coast Community College, intended to earlier pursue a Ph.D. but the timing was never just right. During the upheaval of the spring 2020 semester from the COVID-19 Pandemic, she realized she could make an impact on students' lives outside the walls of her classroom.
"I realized that I didn't want to spend the next 15-20 years only teaching English, although I love that and it is my dream job," Barbara said. "But what I wanted to move into was being able to get the Ph.D. so that I could help make changes for these students on a larger scale. I chose Mississippi State because they specifically had the Ph.D. in community college leadership. My heart really is the community college, helping these students, and making sure that, our first-generation college students especially have access to everything they need, and that they understand there are things out there to help them."
Madeline's professional aspirations also include helping others. As a music and political science double major, she hopes to work with a nonprofit to bring music to impoverished areas in the state. Mississippi State's family atmosphere was one reason Madeline chose to continue her education at the university. Attending school at the same time as her mom adds to that family atmosphere.
Madeline, a National Merit Scholarship Finalist, encourages parents to pursue their higher educational goals.
"The hardest step is applying and putting yourself out there. Mississippi State has been so accommodating and helpful. You can find the help you need to succeed," Madeline said. "My mom is a part of campus, and what is going on at State, because of all of the resources available."
While they are not both on the Starkville campus, Barbara and Madeline have enjoyed being MSU students at the same time.
"Madeline has just been incredibly supportive. And I think it's kind of fun that we're both students. It's not something I ever really planned this way," Barbara said.
Barbara also encourages other parents to go back to school alongside their children.
"Now is the time to go while your child is in school, so they can help you navigate Banner and Canvas, look at the schedule, and help with other aspects of university life," Barbara said. "I guarantee that your child will be extremely proud. It's exciting for them to know their parent is trying to better themselves and what better example could you set than going to school and sticking to it with your child."