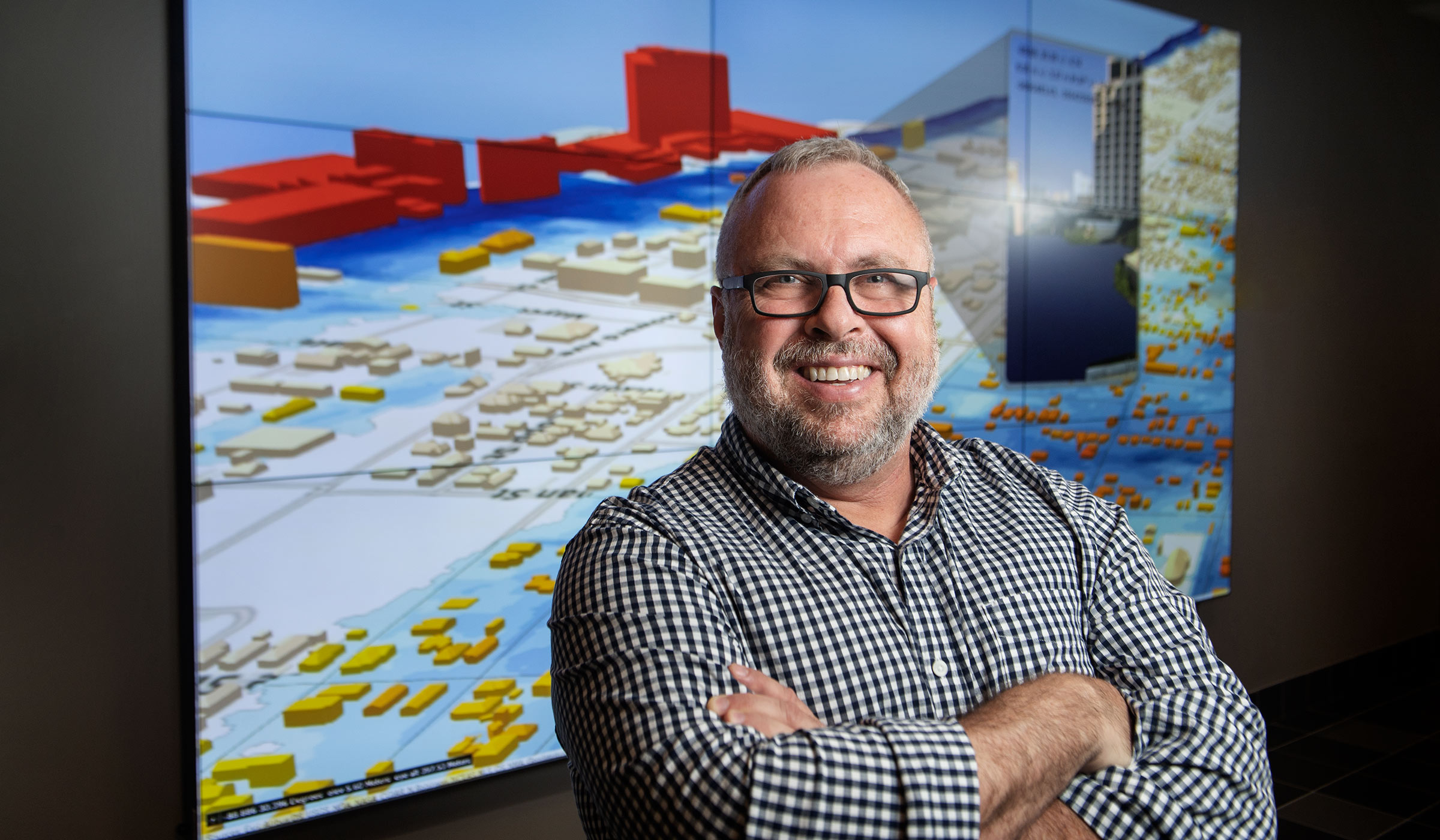 For as long as he can remember, John Cartwright has had a natural interest in the Mississippi Gulf Coast. His interest in the coast led him to his career's purpose of using geospatial technologies to help communities become more resilient to the dynamics of the coastal environment, as well as protecting and managing coastal and marine resources.
A Mississippi native, Cartwright grew up in Tupelo, but he always found trips to the Gulf Coast "extra special."
"My dad and his brothers studied at State. Being die-hard Bulldog fans, I grew up watching MSU sports. Visiting the Gulf Coast and cheering for the Bulldogs were two of my favorite hobbies," Cartwright said. "I loved being a part of the maroon and white nation. When I discovered that the university offered courses related to coastal science through the geosciences department, it was a natural fit."
As a graduate student, Cartwright was named a NOAA Graduate Research Fellow, and his research focused on using geospatial technology for watershed management at the Weeks Bay National Estuarine Research Reserve, located on the eastern shore of Mobile Bay. Cartwright continued building on his coastal and geospatial science expertise by focusing his doctoral research on landscape interactions as they relate to surficial erosion in coastal watersheds. He completed his Ph.D. in 2020.
"When I came here to go to school, I never planned on staying," Cartwright explained. "However, I was always provided opportunities to work on coastal issues and projects, which includes working with NOAA and two MSU research institutes."
Cartwright began his career in 2001 working as a geospatial applications specialist at MSU on a Mississippi Gulf Coast transportation project. He soon went to work for the Department of Geosciences as a GIS coordinator and Instructor teaching and developing geospatial curricula for a new departmental emphasis in geographic information systems.
"In 2007, the Northern Gulf Institute, a NOAA Research Cooperative, was established which provided a new opportunity to work with NOAA on Gulf of Mexico research projects," Cartwright said. "I was really fortunate and had great mentors and supervisors along the way. Twenty years later, I'm the lead for a large NGI Geospatial Education and Outreach project, called the GEO Project."
A collaborative effort between the Northern Gulf Institute and the MSU Extension Service, the project serves as the primary source for geospatial education and technical information for the citizens of Mississippi and is the largest outreach project of its kind in the U.S. The GEO Project supports natural resource managers and emergency response personnel with foundational research in coastal challenges and applied training in geospatial technologies.
"We need to ensure the resiliency of the coast over the long term, not just when an environmental catastrophe or natural disaster happens. It is to our advantage to gain more knowledge. With more understanding it makes taking care of coastal threats and issues in the future easier," Cartwright said. "People may not always agree on issues like sea level rise, but if we arm them with the skills and technology, they can make their own assessments of what actions and plans to take to better manage the coastal resources."