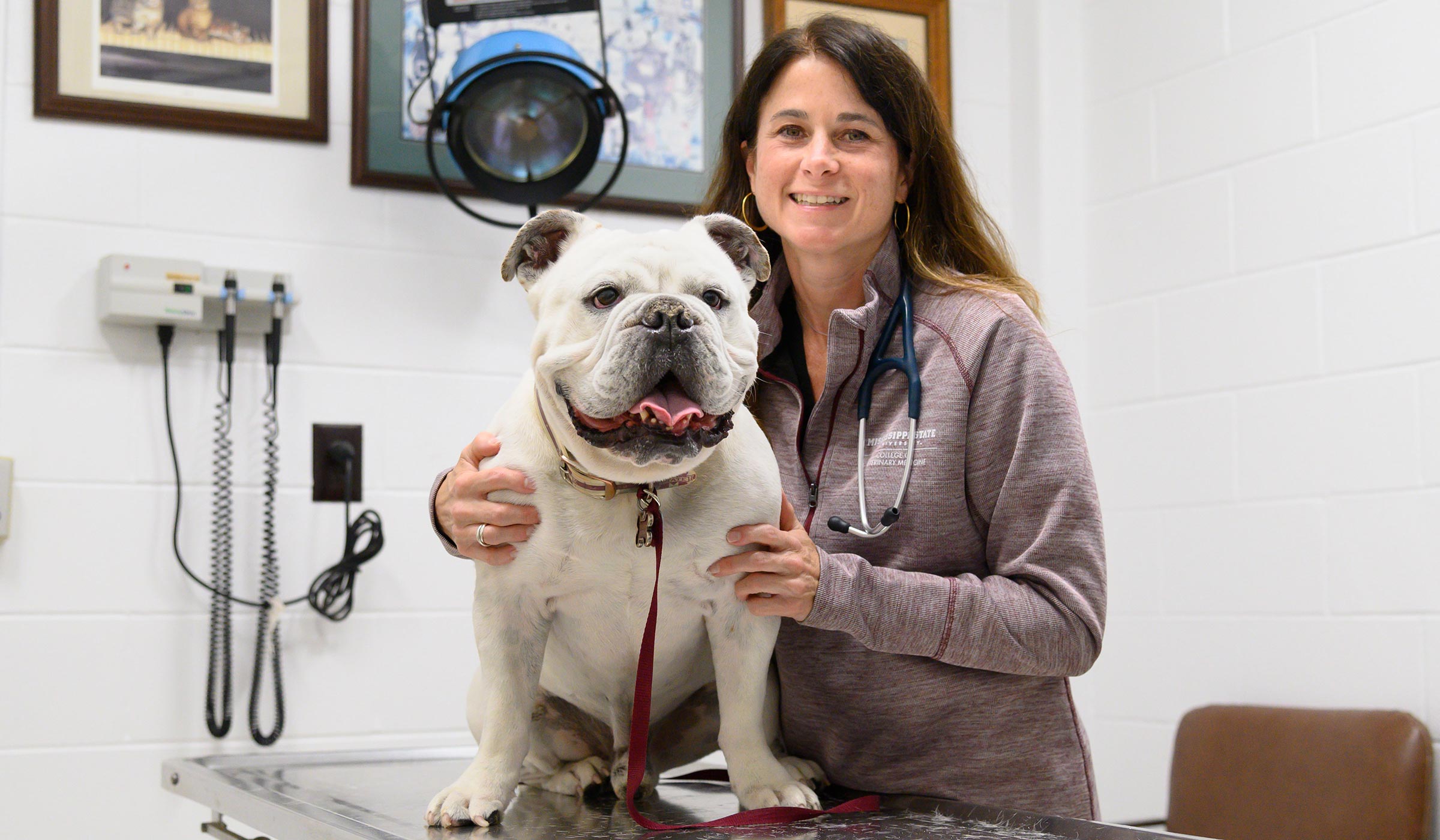 Upon finishing veterinary school, Dr. Juli Gunter knew she wanted to pursue a career in a specialty field, although she was unsure of which one. After settling on dermatology, she is now helping Mississippi's future veterinarians learn how to treat the many skin issues that can arise in animals.
The Newton, Mississippi native completed both her bachelor's and doctor of veterinary medicine degrees at Mississippi State University before heading to Texas A&M University for a small animal rotational internship.
"During that year, I leaned toward pursuing small animal internal medicine, however there were some things I did not like about that field. As I was talking to one of the veterinary dermatologists at Texas A&M, Dr. Bob Kennis, he encouraged me to consider dermatology as it offers some aspects of internal medicine such as endocrinology and other metabolic diseases in small animals," Gunter said.
Dr. Kennis invited Gunter to review material for his dermatology boards exam with him. As she spent time reviewing materials, she discovered that there is a lot of information about the skin that isn't taught in veterinary school.
"We simply touch the surface of learning about the skin as an organ. It is a dynamic organ that has a very active immune system and microbial and mechanical barrier to the outside world," Gunter said. "I love the subjects of immunology, endocrinology and microbiology, and all of these are important in terms of the skin. In my field we do a lot of work with allergic dermatitis in dogs and cats. Most of these patients have chronic issues that need to be managed, and I enjoy the aspect of getting to know my patients and clients."
After completing her residency at the Auburn University College of Veterinary Medicine, Gunter was eager to get back to her home state. In looking at several private practice specialty clinics, she still felt a strong pull to get back to Mississippi – and even MSU.
"Dr. Robert Cooper, the late Dr. Margaret Kern, and Dr. John Tyler played a key role in my return to MSU. The College of Veterinary Medicine had never had a veterinary dermatologist on faculty, and I decided to return to MSU to provide this specialty to the veterinary students and the state of Mississippi, a place where I was born and raised and dearly love. I felt this could be a way I could contribute to our state."
General practicing veterinarians see a variety of issues that affect the skin of small animals, such as ear issues, allergic dermatitis, hair loss and autoimmune skin diseases. Gunter enjoys seeing current MSU veterinary medicine students comprehend and utilize what they've learned.
"I enjoy being vested in what the students learn about dermatology from the classroom teaching to the clinical teaching," she said. "I love teaching them what they need to know to work up dermatology cases in private practice and care for dogs and cats with chronic skin diseases. It gives me joy when they consult with me about cases after they graduate, and I see they are able to apply what they learned."