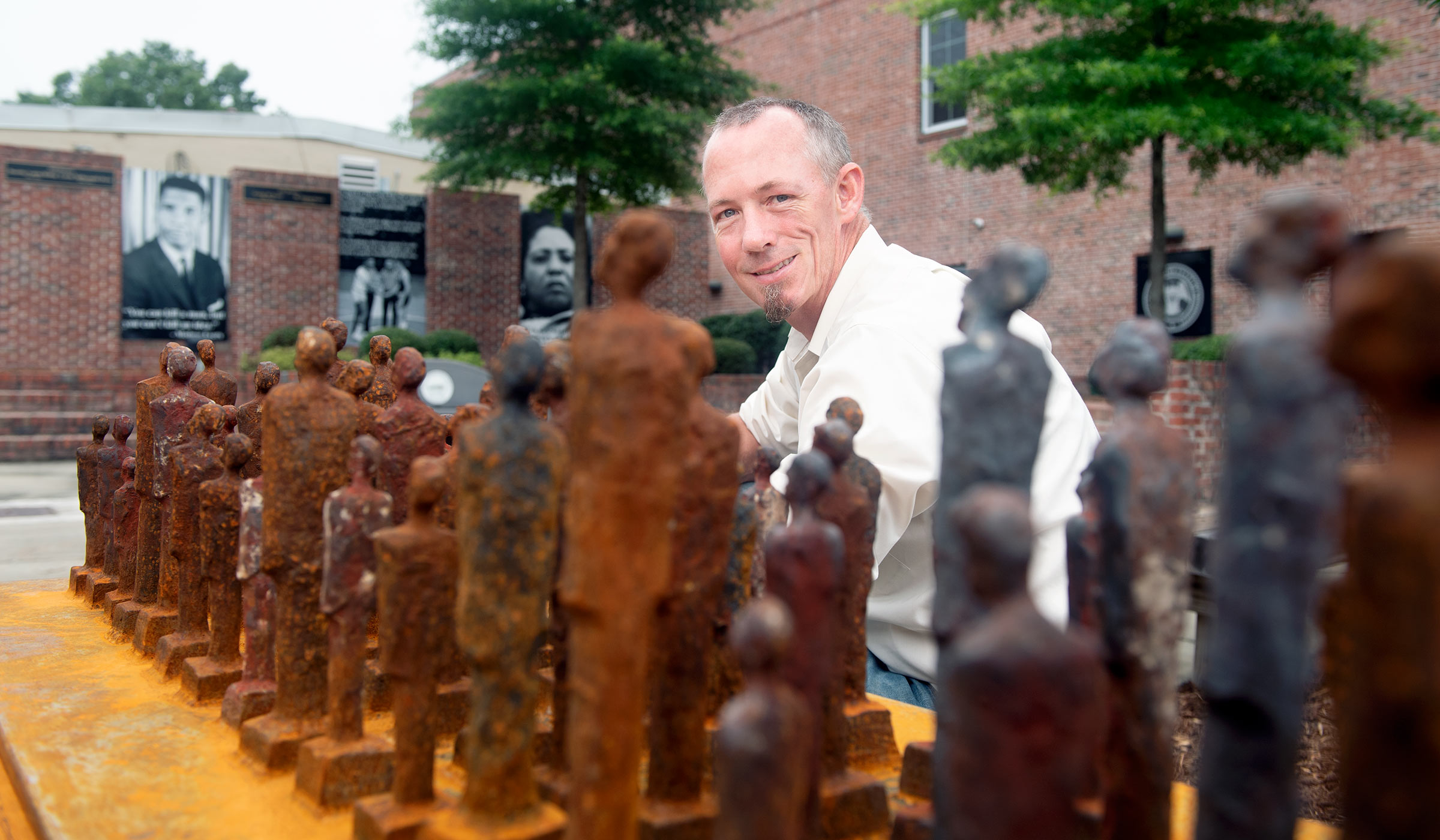 "We must press onward," said Dylan Karges, about his recent sculpture titled "Onward" now on permanent display in Starkville's Unity Park.
A local artist and technical illustrator for Mississippi State's Cobb Institute of Archaeology, Karges uses his talent to connect the past with the present and promote unity.
"Onward," funded by the Oktibbeha County Board of Supervisors along with an arts-based community development grant from the Mississippi Arts Commission, is an artistic representation of how "we can do great things together," the Pisgah native said.
"Engage with your community, get to know people outside your small bubble. There has been great advancement in understanding and opportunities afforded people of color in the last 70 years, but there is so much more that needs to be done to realize the dream of equal rights and opportunities."
Karges's invitation to join the Unity Park Committee stemmed from his diverse career as a studio artist, sculptor and exhibitor. He is the artist responsible for the famous Coca-Cola mural at the Starkville Oby's restaurant. He also produced a welcome mural for Main Street in Macon and another Coca-Cola one on the side of The Macon Beacon newspaper building. He has worked with the Carl Small Town Center in MSU's School of Architecture to create a mosaic in Okolona and one at the Oktibbeha County Humane Society. 
"I steered the Unity Park Committee toward a public sculpture that would feel at home on the site and be a permanent fixture that could speak to the past, present and future of the struggle for civil rights and greater equity in opportunities for our underserved and underrepresented communities."
Karges began working at the Cobb Institute in 1998 as a student, creating technical illustration work for both the Near Eastern and North American research programs. He soon accepted a full-time position managing the graphics lab supporting research publications and the Lois Dowdle Cobb Museum exhibit program.
"I appreciate the opportunity to give a vision to historical context so it is more easily understood. My position at the Cobb incorporates drawing artifacts that have been excavated, and drafting plans and sections of various areas of the archaeological sites," said Karges, whose MSU fine arts degree includes an emphasis in sculpture. His career has taken him to major archaeological sites in the Middle East—Tell Halif and Tel Gezer—and across the Jordan River to work at the Fortress of Machaerus. He has worked on artifacts from Jerusalem, and served as a field illustrator and area supervisor on excavations.
The adage "a picture is worth a thousand words" rings true for Karges. "And a sculpture is worth even more," he said. "Art can be a silent ice breaker to begin thoughts, conversations and internal dialogue within and between those that see it. It can address issues that aren't comfortable to discuss, and it can give vision to intention."