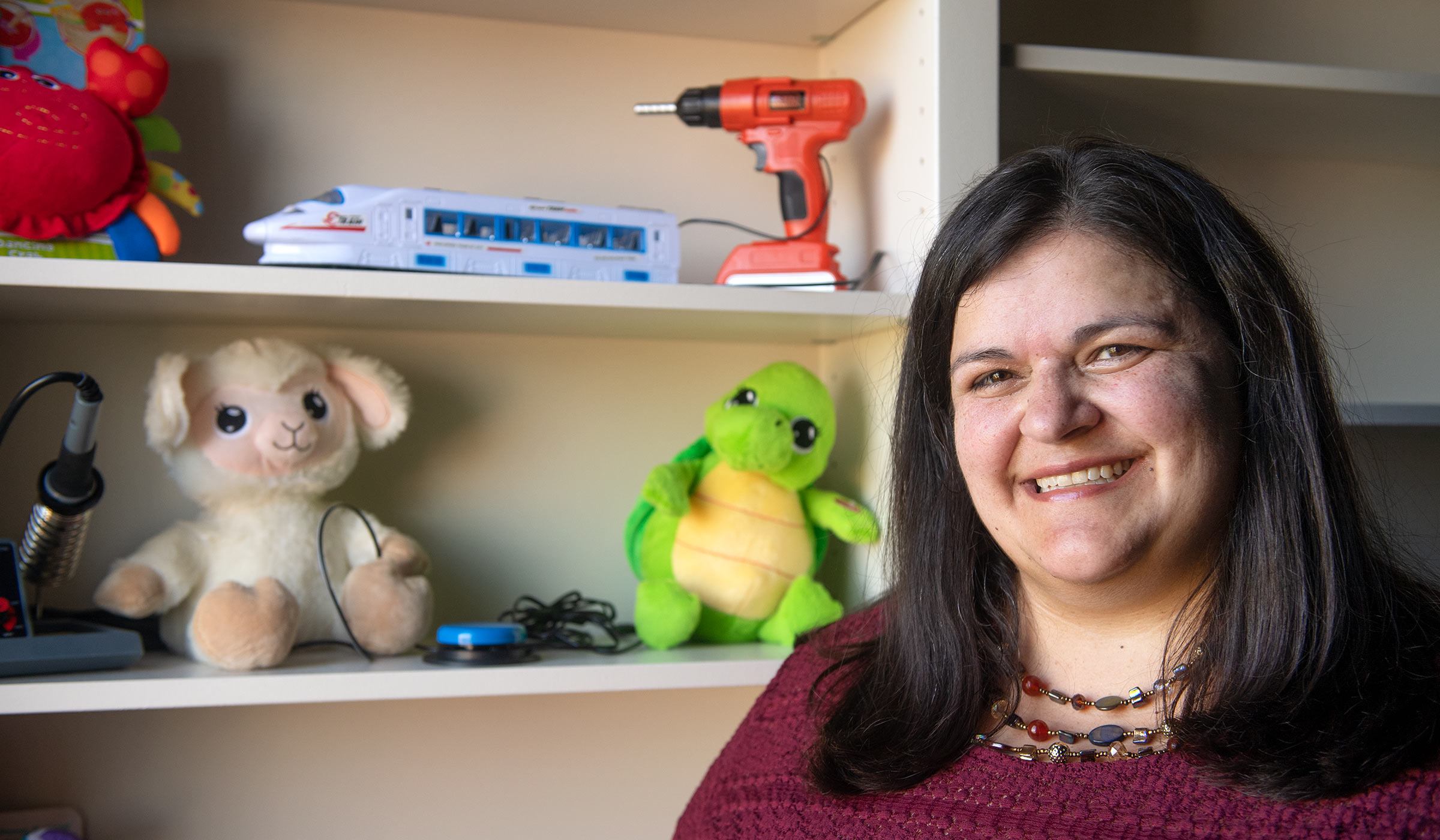 Jean Mohammadi-Aragh has family roots at Mississippi State. Her parents are both graduates and met during their student days. Her husband and siblings also work on campus.
But Mohammadi-Aragh also values the extended family the university fosters through relationships with mentors, colleagues and students—and even community members through various outreach efforts.
An assistant professor of electrical and computer engineering, Mohammadi-Aragh earned her bachelor's and master's degrees in the same department. She later worked as a research associate at the university's Geosystems Research Institute in its visualization lab, using data sets to create engaging virtual environments that enabled data exploration in new ways.
"My projects in the visualization lab often were like making video games for scientists to help them learn more about their data as they looked at information through various filters," she said. She enjoyed the work and gained satisfaction from seeing researchers benefit from it.
A transition began when she had the chance to continue halftime in GRI while also returning to her home department to help teach an introductory ECE freshman course. She thrived on the rewards of teaching and realized that from showing scientists new ways to view their data to introducing young students to the ECE field, teaching others had become her passion.
"The first time I taught a class in fall 2009, students were ready to learn and happy to be in the major. I got excited about teaching because I really view learning as an enjoyable thing and I was given a chance to show young students that engineering is fun and exciting. Suddenly, instead of sitting in a cold, quiet classroom listening to a lecture, students were walking in virtual forests observing tree growth, flying through hurricanes and experiencing an eye wall collapse, and swimming in the Gulf of Mexico searching for hidden submarines. Students were learning to be engineers, and were having so much fun, they didn't even realize they were learning," Mohammadi-Aragh said.
She left MSU to enroll in a Ph.D. program at Virginia Tech with a special focus on engineering education. There she gained experience teaching in large classrooms and researching student learning. Upon completion, she had the opportunity to return home as a visiting faculty member at MSU. She then worked for two years as a research faculty member before beginning her tenure track position in 2016.
Known to many as "Dr. Jean," Mohammadi-Aragh is now part of ECE's computing group and she teaches core undergraduate classes, such as Microprocessors and Computer Architecture. But her passion is in helping freshmen understand what the ECE major is all about, and all freshmen in the department take her Introduction to ECE Design I and II classes during their first fall and spring semesters.
"I want to excite them about the possibilities of an engineering career," she said.
Honors students in the major work on an additional project under her supervision that involves using basic circuitry skills to adapt switches in common battery-operated toys that will better serve children who have certain developmental disabilities. She said the project helps student learn electronics skills while serving a community outreach need to help others.
She also enjoys interacting with more advanced students, and she teaches engineering education courses as part of a new Ph.D.-level concentration. Additionally, she likes to assist new engineering faculty members who want to learn more about how people learn.
On her non-teaching days, she's enthralled in various research projects relating to how computers can support various learning processes and ways to broadening participation in engineering and computing.
While the days are full for Mohammadi-Aragh, she still manages her responsibilities as the mother of two young children and as a business owner. She and husband Derek Irby own the Mayhew Junction Brewing Co. in Starkville. The business opened in 2015 but has taken a hiatus during much of the pandemic. The couple hopes to reopen for brewing, tours and tastings before long. Mohammadi-Aragh said she enjoys having a space to connect with others to share "conversations and community."