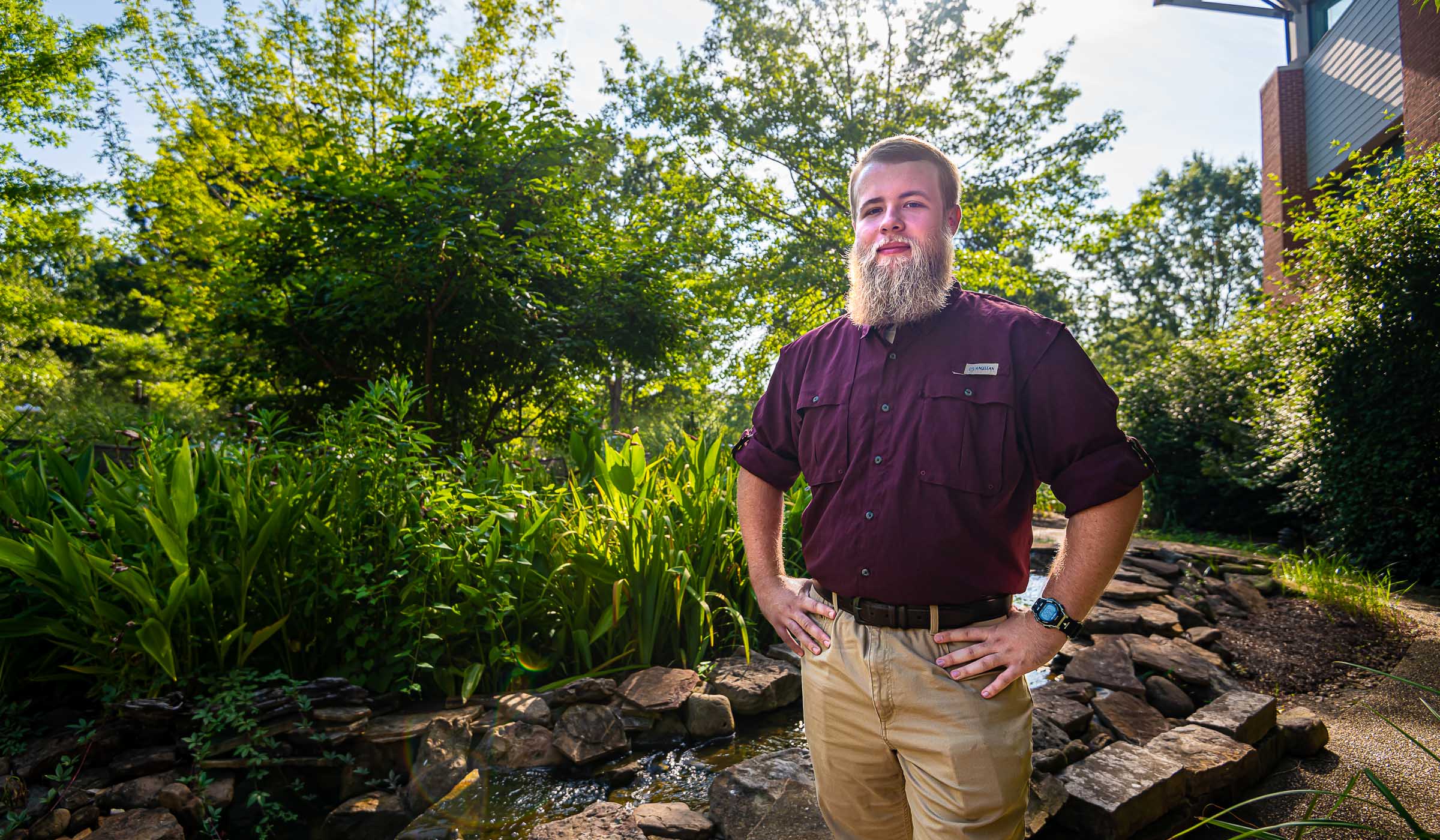 Rising Mississippi State wildlife, fisheries and aquaculture junior and Memphis, Tennessee, native Thomas Rovery has always had a curiosity for reptiles, with a particular interest in snakes.
"As a kid, I was always outside, pointing out camouflaged snakes, trying to identify lizards in the grass or showing off a turtle I'd found," Rovery said.
In high school, he discovered a way to satisfy his curiosity while also gaining a competitive edge for college and a future career. A volunteer at the Memphis Zoo, he worked cleaning the grounds, assisting guests and eventually interacting with the animals.
"Even though I'd always had a love for animals, my experience at the zoo solidified this as a possible career. I just needed to get the degree," Rovery said.
He began looking at colleges in his home state, but when he learned that it was Andy Kouba, MSU wildlife, fisheries and aquaculture department head, who helped bring pandas to the Memphis Zoo, Rovery knew he needed to visit MSU.
"After my first tour, I was hooked. It was the perfect place to study wildlife. Nothing else could compare," he said.
"I've never met anyone in the Department of Wildlife, Fisheries and Aquaculture, in the College of Forest Resources or at Mississippi State in general who has been anything but supportive. The faculty and students have done everything in their power to make sure that I succeed, whether that means helping me study or offering me research opportunities to broaden my horizons," Rovery said.
 His research options at MSU have been abundant. He's observed bison husbandry in action at Shelby Farms Park in Memphis, one of the largest urban parks in the country. He's worked to perfect hair snares to track the rebounding population of black bears in the Mississippi Delta. He has even studied how invasive grass impacts bobwhite quail habitat.
"I thought I'd only be interested in reptiles, but no matter what animal I'm working with, every day is exciting. I'm always learning something new," Rovery said. "I'm not just a reptile guy now. I've got a whole zoo of interests. I ask myself, 'What can I do to make a positive change in our ecosystem?' and then I go after it."  
Rovery said he still has a soft spot for snakes and is especially hopeful to one day add his brainpower to help solve the problem of invasive pythons in Florida's Everglades. His current plans include graduate school at Mississippi State and an eventual job as a wildlife biologist. He also hopes to share research with the public and bring into focus the tightly interwoven nature of ecosystems.
"To anyone who'd like to get into this type of research, I'd warn you that it's going to be hot and there will be bugs. There will be days when you'd rather be doing literally anything else. But it is so, so worth it," Rovery said. "Wildlife research isn't just to get a degree; it's to help everything around us, and even when it feels like you're treading water, you're making an impact."