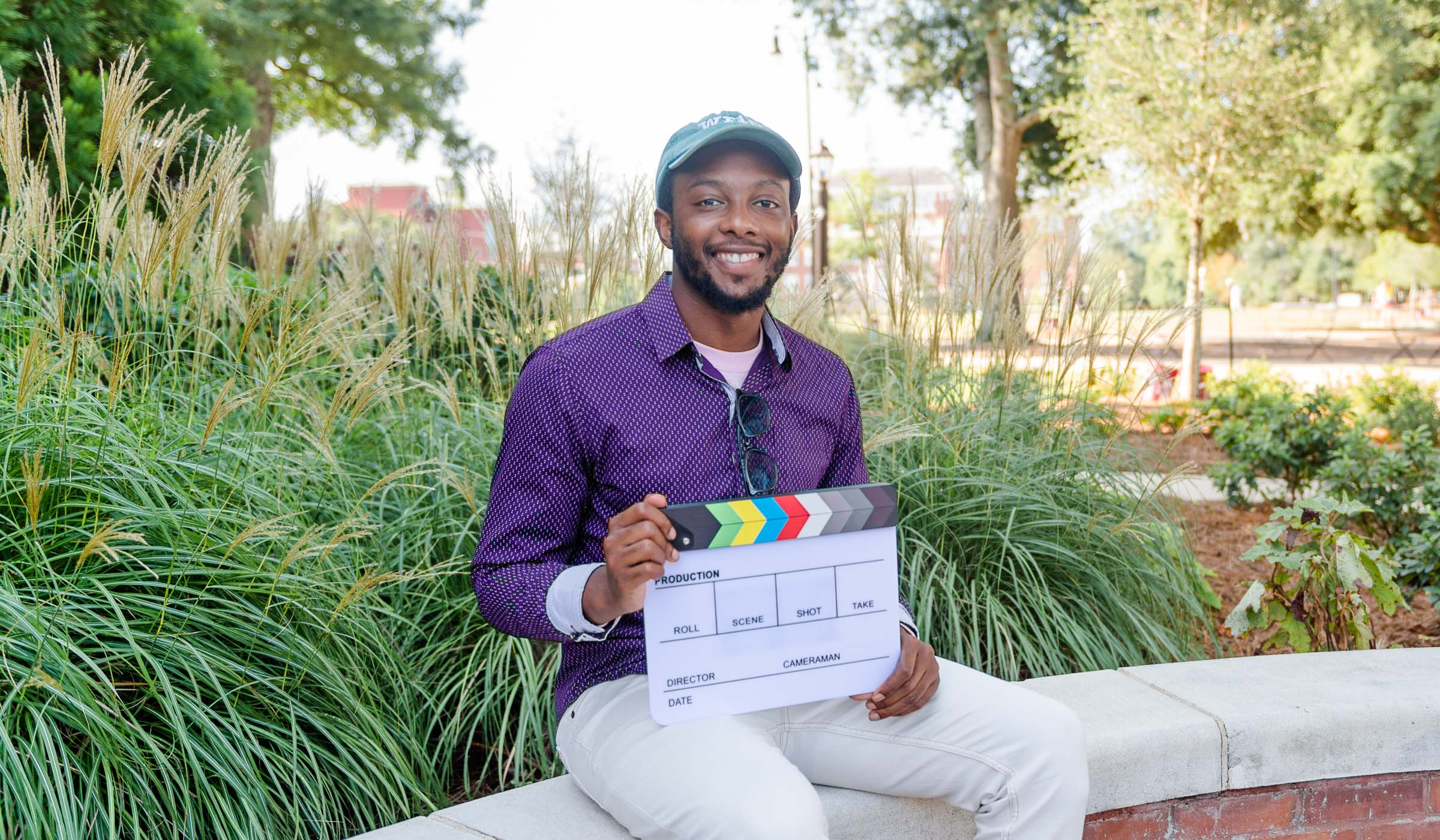 "I think once the storyteller in you is awakened, there's no putting it to bed," said senior communication major Vernell L. "Lee" Allen. Allen entered his first film into the Black Film Festival of Atlanta, and it was one of only a few contest entries selected for streaming on Roku.
Allen's film, "Earn Your Success," streamed on the Roku channel May 5-June 13 after finding success in the film competition he entered in January.
"It feels great to have my work on a popular platform like Roku," Allen said. "I want as many people as possible to see it and continue seeing it as I grow and get better as a storyteller."
Allen's film is an "inspirational 'short' about working toward your goals through constant hard work," the Brookhaven native said. "I believe success comes from investing your all, and of course, a bit of luck. But since you can't control luck, control the amount of effort you put into improving yourself for when the opportunity comes to show the world who you are."
"My film started out as an Adidas-inspired commercial that I hoped would show my ability to work with brands like that in the future. The message was that success is inevitable for those who continue to work on their craft. Because success isn't the awards or money, it's the process of improving yourself through failures and experiences." 
Filmed near Mississippi State's campus during a fall weekend last year, Allen began looking for places to submit his work. "That's when I found the Black Film Festival of Atlanta. They were looking for films about motivation, so I entered."
Earning a spot in the film festival is "a testament to the film's message," Allen said. "I felt really validated."
Allen has created a media production company—Lee's Creative Studio—with the aim of helping businesses, brands and artists tell their stories, sell their products and propel their communities. His film currently is available for viewing on Lee's Creative Studio on YouTube, Allen's personal YouTube page.
"I want to grow this company as much as possible because Mississippi is a state that needs more professional film studios, directors and everything in between. I would love to build something for my state, so we can compete with Georgia, California, New York and other innovative places."
A theatre major and film minor, Allen is an MSU student marketing assistant in the Department of Wildlife, Fisheries and Aquaculture. A self-professed "geek for commercials," Allen wants to work for big-name brands, but says he continually writes screenplays late at night.
"Yes, I want to make more films, and I will."