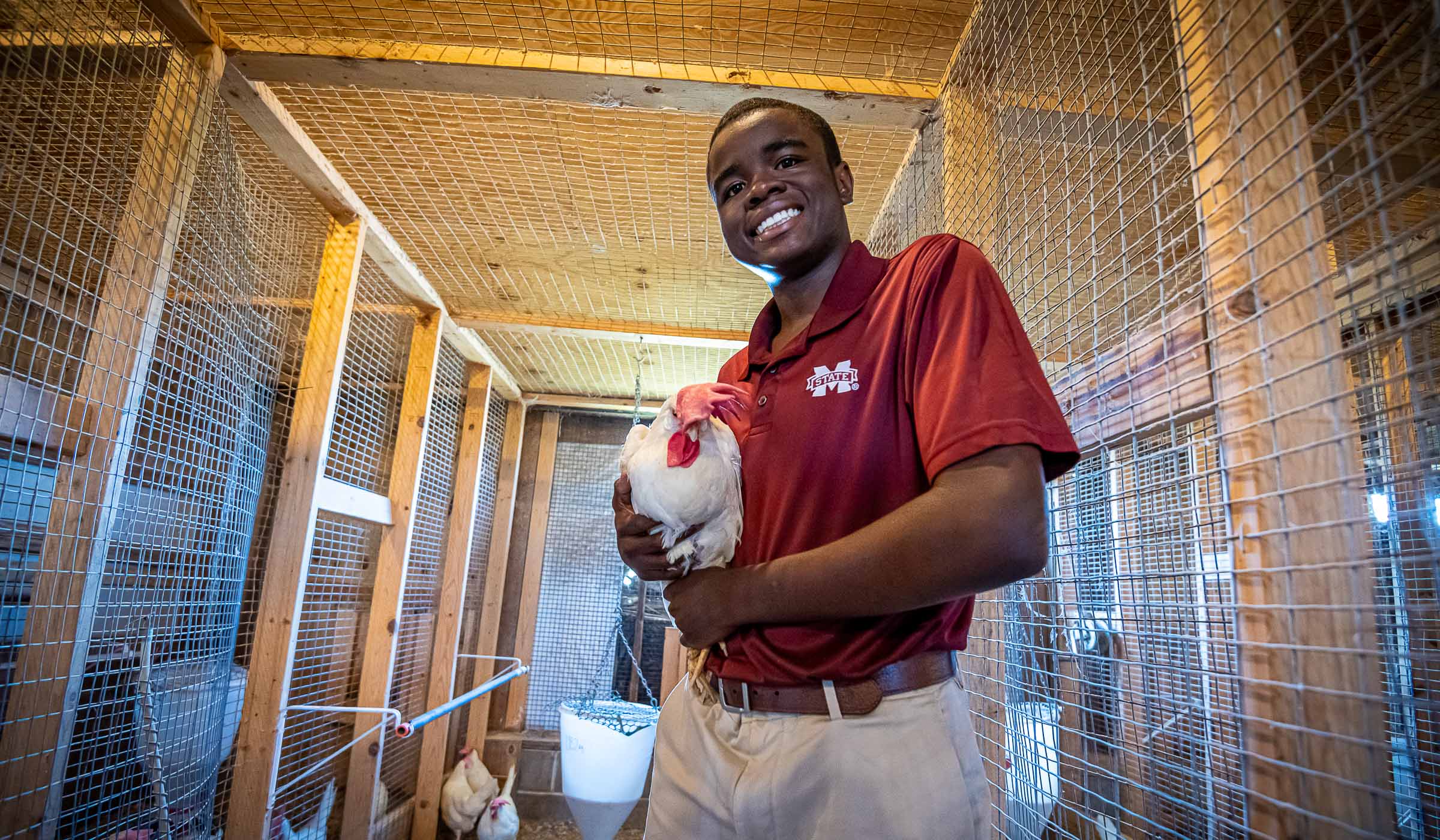 From a study abroad experience in New Zealand to an internship at the Jackson Zoo, Rodney Self appreciates the versatility and hands-on learning that a Mississippi State poultry science degree affords students.
"My favorite aspect of my major is the hands-on experience. I developed an appreciation for hands-on learning in high school at St. Joseph Catholic School in Madison. Getting to transfer that to my college career was a big plus for me," he said. "I also appreciate the versatility. There are so many routes you can take with a poultry science degree."
One of his first hands-on learning experiences in the department took him nearly 8,000 miles to New Zealand in 2019.
"New Zealand was an amazing experience. We toured all across the country, starting on the South Island and making our way to the North Island. It got progressively warmer because we were closer to the equator," he said. "We compared and contrasted the poultry industry in New Zealand with that in the U.S., which was fascinating."
The Madison native, who is pursuing a science and pre-veterinary science concentration is currently applying to vet schools and chose MSU's poultry science major because it is one of only six poultry science degree granting departments in the U.S. He is optimistic this increases his chances of getting into a top-tier vet program. 
For his internship this past summer, Self embarked on another adventure, albeit this time a little closer to home. He worked at the Jackson Zoo, assisting in cleaning out dens, feeding animals and assisting zoological veterinarians in the facility's veterinary hospital.
"I loved every minute of it, but my favorite part was taking care of Meeko, the zoo's Asiatic black bear. I also was able to work with birds, including great horned owls that are part of the  zoo's raptor rehabilitation program. The experience reaffirmed that I want to go into zoological medicine," he said.
In addition to the study abroad trip and internship, Self stays busy in the department as social media chair of the Poultry Science Club, where he manages the group's marketing efforts and social media. He also is a student worker at the poultry unit at the MAFES H.H. Leveck Animal Research Center, commonly known as South Farm. This fall, he's assisting on a research project with Assistant Professor Pratima Adhikari.
"We're studying the perching behavior of laying hens in a cage-free environment," he said.
The senior College of Agriculture and Life Sciences student grew up an MSU Bulldog fan, with his mom earning her doctoral degree at MSU and his older sisters both earning their undergraduate degrees here.  
 "I grew up attending football games and visiting my sisters when they were in college. After I toured campus and attended orientation for the Shackouls Honors College, I decided this is where I wanted to be. This is my home," he said.  
Part of that feeling of family was forged at New Maroon Camp.
"My freshman year, I came in as a camper in the family group Reveille. It was an eye-opening experience to MSU and Starkville, and it helped me come out of my shell and come into who I wanted to be as a person," he said.
He served as a New Maroon counselor this year mentoring 15 new and transfer students.
"We led discussions on everything from diversity and inclusion to sports and campus life. We spent time with the students, serving as mentors and ultimately becoming some of their first friends on campus. The camp had such an impact on me, it was my way of giving back," he said.
Self is hopeful he'll be accepted into vet school and sees his ultimate career as versatile as the major that started it all.  
"I'd like to move to a large city and work in a zoological park practicing zoological medicine. Later on, I'd like to open my own clinic and also serve as a vet for poultry farmers," he said.