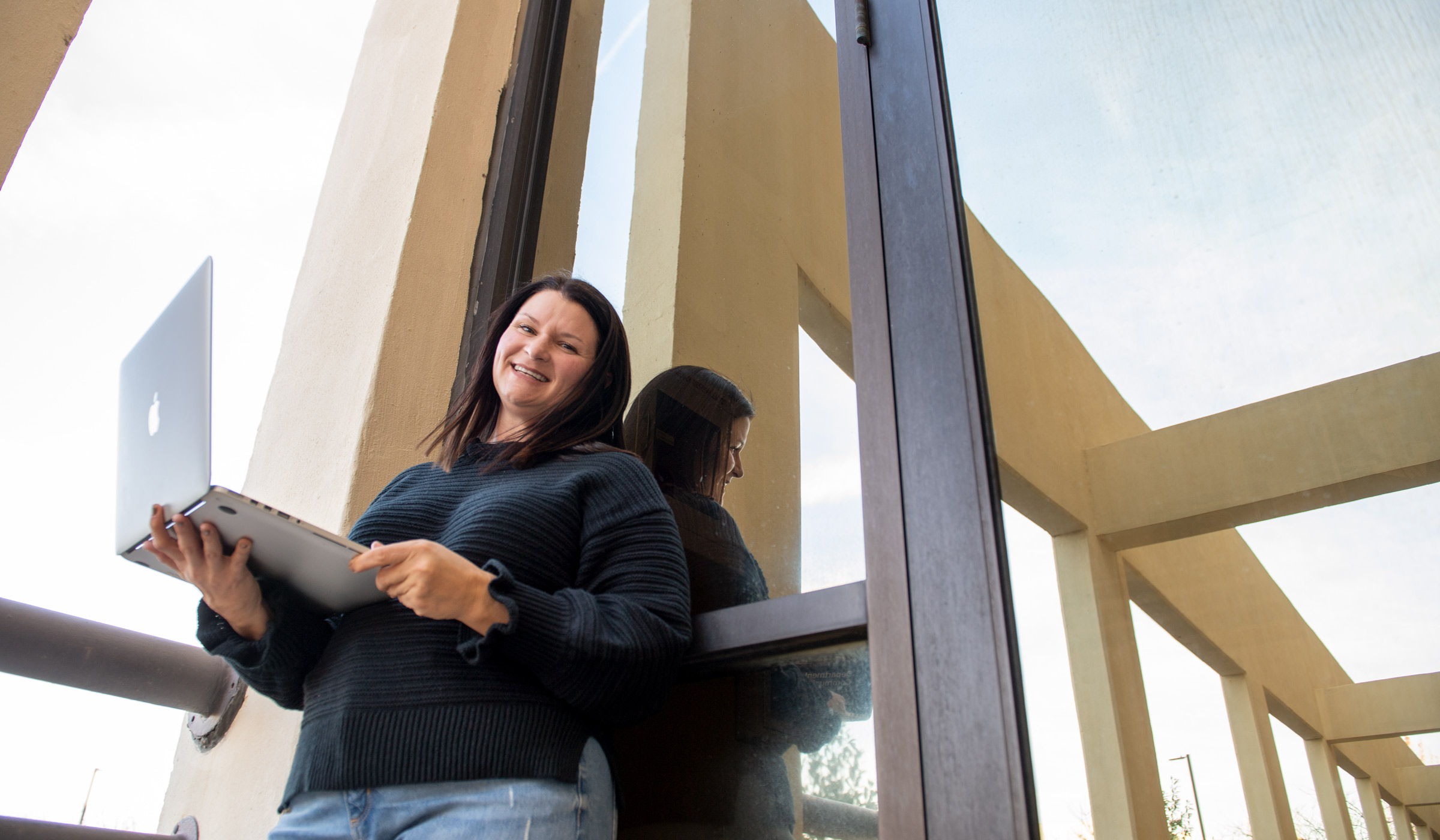 When Kelli Anthony was in 8th grade, her family moved from the Mississippi Delta to Starkville. Coming from a long lineage of Bulldogs, she was no stranger to the area or to Mississippi State University. Her grandfather earned degrees at MSU in 1938 and 1951 and her father respectively in 1963 and 1973.
With both her father and mother working with MSU's Extension Service, she bled maroon and always knew she would go to MSU.
A communication major with an emphasis in public relations, Anthony's experience in her Public Relations Copy and Layout course opened her eyes to world of graphic design and conveying messages in a visual platform. She instantly was hooked and immediately knew she wanted to teach college students that particular course. Little did she know, Mississippi State would later call her home to teach the very class she loved so much.
With teaching as her goal, Anthony earned a master's degree from the University of Alabama in communication studies, taught as a graduate assistant, and upon completing her degree taught part-time at both Samford University and Shelton State Community College.  
"Then, one of my former professors reached out and said that Mississippi State was looking for an instructor to teach Public Relations Copy and Layout," Anthony said. "I jumped at the opportunity to come back and teach that course."   
Through her years teaching various public relations courses, Anthony often heard from both students and working professionals about wanting to complete a public relations degree through an online program so they could continue their careers while working toward a degree. After 20 years in the communication department, Anthony set her sights on developing an online degree program for public relations.   
"For many years, our department has been offering online courses from various concentrations, so we were encouraged to find a way to create an online degree program," Anthony said.
Anthony spent two years working tirelessly to complete the necessary paperwork for various boards and committees to get the curriculum approved. Once that process was finished, the online degree program was set for a Fall 2021 launch.
The new program incorporates scholarship and practical application that aids students with development of skills in critical thinking, research, strategic planning, goal making, problem solving and effective written and oral communication. Its debut came at a time when there was an increased demand for online education.  
"The timing of our program couldn't have been any better," said Anthony, who now works with students across the country, grafting them into the Bulldog family she loves. "This is meeting a need for people who can't be on campus."