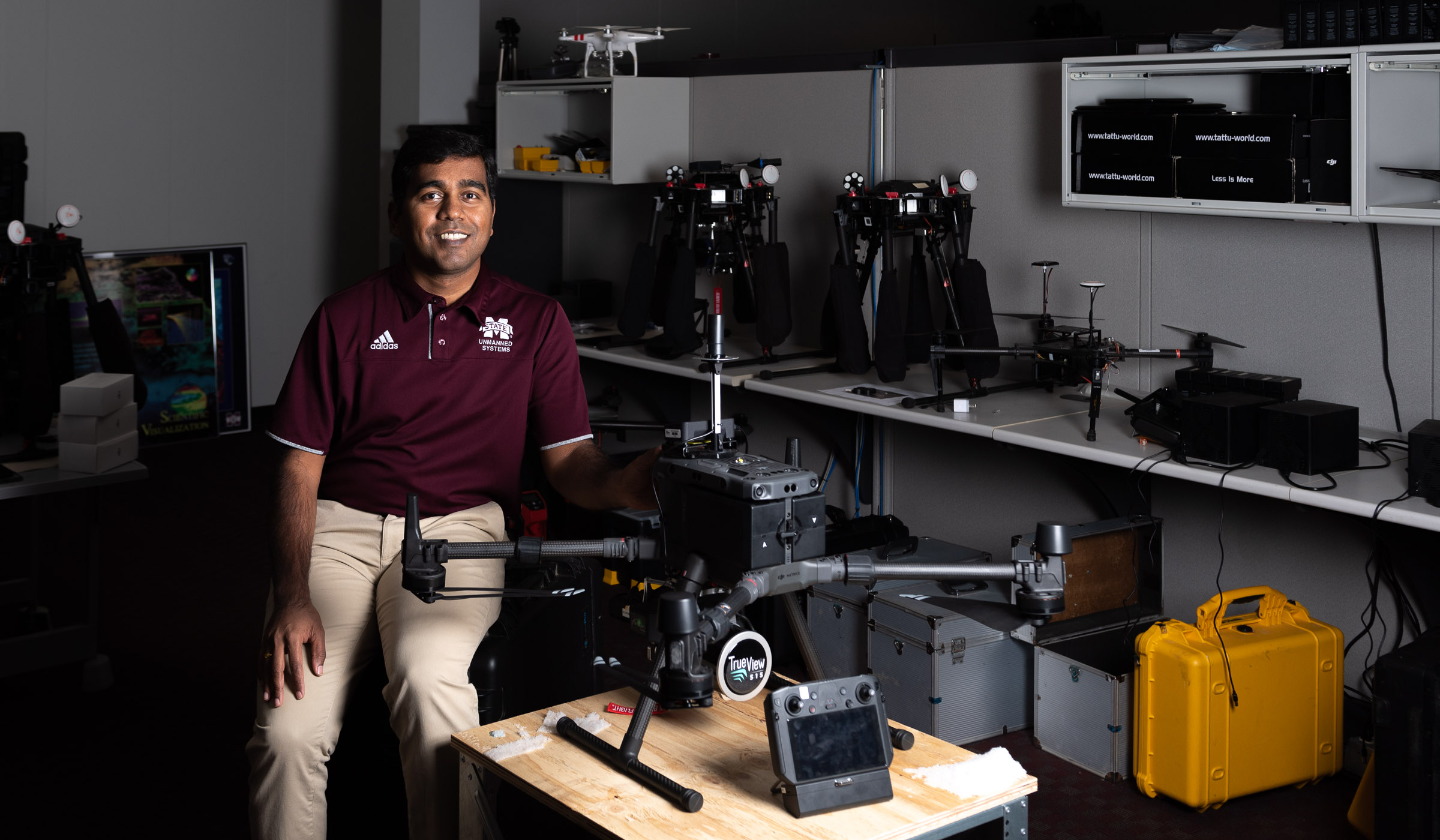 India-born assistant research professor Sathish Samiappan never guessed he'd end up halfway around the globe helping experts in the fields of nature conservation, wildlife management and agriculture preserve and restore critical habitats and protect watersheds, as well as improve soil health and water quality. 
Samiappan is from Tamil Nadu, a state located in Southern India, and like Mississippi where he landed, agriculture is the most overriding sector in the regional economy. Growing up, he immersed himself in the outdoor culture and knew that nature's connection to the world economy and impact on human societies make it one of the most important frontiers for conservation.
"I wanted to make a difference by combining my curiosity about advancing global science with my imaging analysis and electrical and engineering skills, and connecting them to my passion for sustaining the environment, nature conservation and wildlife management," Samiappan said. "I discovered that research in remote sensing and image analysis was my answer."
After earning his undergraduate and master's degrees in India, Samiappan began researching American universities for his Ph.D. in electrical and computer engineering. He chose Mississippi State because it is among the nation's top research institutions in agriculture and engineering.
"MSU kept coming up as one of the leading universities that apply remote sensing and imaging analysis to agriculture and natural resource management. After learning that MSU's research also supports vital Mississippi economic sectors such as agriculture, Mississippi State just seemed like a natural fit for me when considering my background, interests and the way I grew up."
Samiappan earned his doctorate eight years ago. Since then, the Geosystems Research Institute scientist has been conducting research by using unmanned aerial systems and satellites to collect visual and multispectral data to help evaluate crops. This precision data helps the agricultural industry save money and protect the environment.
"High-quality aerial images acquired from drones fitted with imaging sensors gives us data that I analyze and then write computer applications so wildlife managers can easily detect, classify and count animals. We use it to help plant ecologists identify invasive plant species for eradication, and we use it for identifying best lands for conservation."
MSU's Agriculture and Natural Resources and Conversation research discipline is rated in the top 15 by the National Science Foundation. Samiappan believes the collaborative efforts of researchers with various backgrounds, along with the willingness to share expertise is the reason MSU is so highly regarded.
"MSU set me up for success. Being a new faculty member and researcher is easier when you have reputable researchers guiding and supporting you," Samiappan said. "At Mississippi State, I've never felt alone. They offer support services, networking events and social activities for me and my family. Mississippi State's inclusive culture helped me to build a career and a life here. It is home."