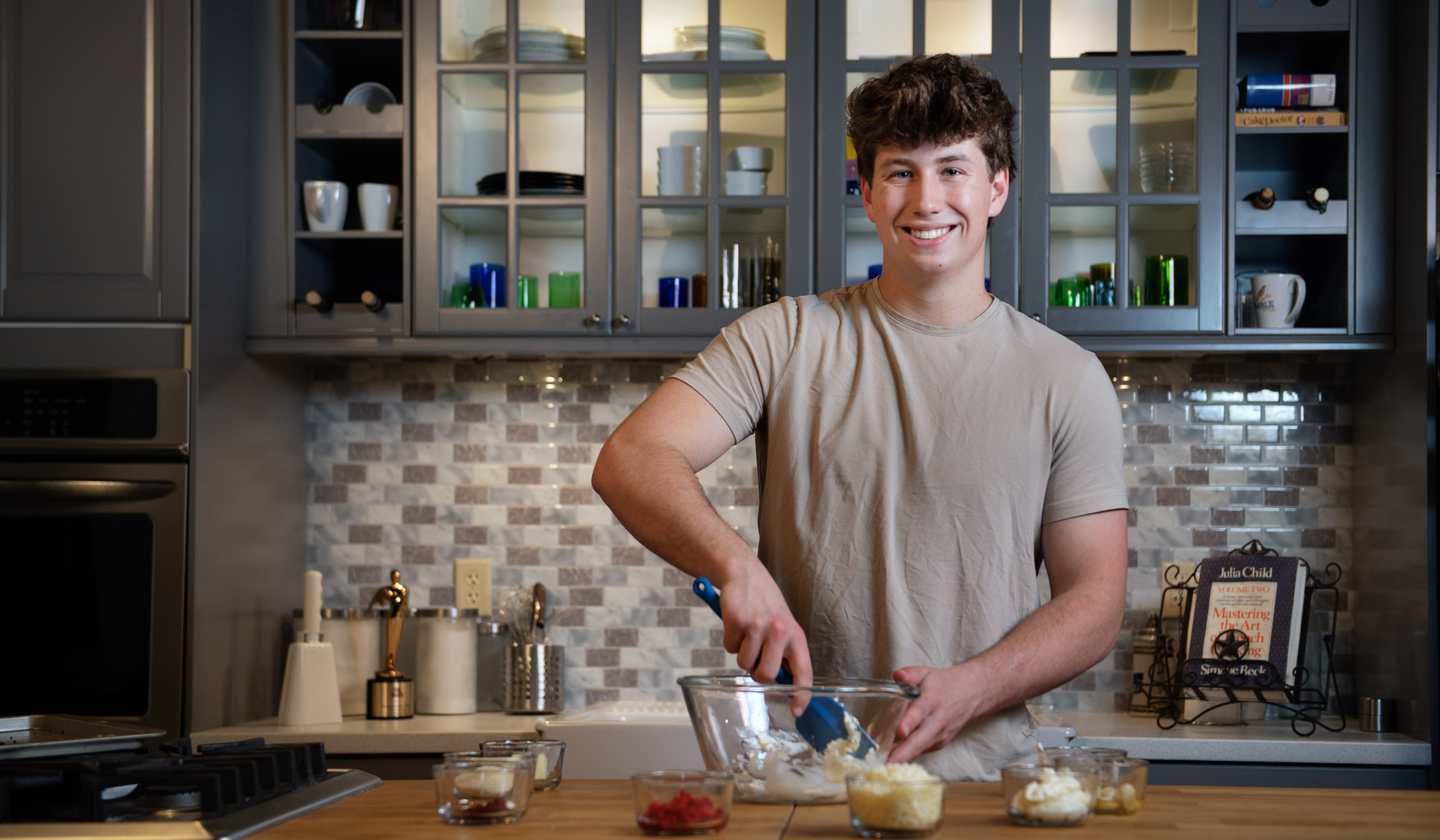 Mark Coblentz's passion for cooking started at a young age.
His family cooked at home frequently, and he would assist his parents whenever they made something. As he got older, he started watching the Food Network, and he would ask his mother to purchase ingredients for the dishes that he wanted to try. Initially following the recipe word for word, he grew more experimental and delved into his own style. By the time he was 12, he had produced several cooking videos with his father, each with its own unique touch.
When the show "Rachael vs. Guy: Kids Cook-Off" held auditions for its newest season in 2015, Coblentz mailed an audition tape to the casting company. He didn't land the role, but the casting company that was in charge of the show happened to also run auditions for the first season of "Chopped Junior," and they handed his audition tapes and interviews over to those producers. Within two days, he landed the role, and he and his family flew to New York to film the show.
After the first season of "Chopped Junior" premiered, Coblentz went on to try his hand at television again at an open casting call for the latest season of "Master Chef Junior," hosted by celebrity chef Gordon Ramsey. Out of 40,000 kids that auditioned, he was one of 40 kids selected to appear on the fifth season, where he advanced to the Top 10 before being eliminated.
Coblentz said that despite getting to cook on television, his favorite memory of the entire experience was getting to know and having fun with all the other contestants and their families.
"We've been able to stay in contact with all these different families, and it's just been a whole lot of fun to make all these memories," he said. "We get to see all of us growing up and going our different directions."
After graduating from Starkville High School, Coblentz is pursuing his higher education at Mississippi State in his hometown. When he was still considering colleges, he said that the choice to attend MSU was a "no-brainer."
"Mississippi State has always been an important part of my life," he said. "Growing up here was a huge draw. Both my parents went here, and living here has been awesome. It was the best decision for me, and it was where I wanted to go."
Coblentz currently is working toward his bachelor's degree in business administration, having just wrapped up his freshman year. He said the decision to pursue business was influenced by his father, a businessman with several companies.
"I'm not 100 percent sure what I want to do with my career, but I know it involves working for myself in some sense," he said. "My dad owns multiple businesses. He's a very successful businessman, so that's been a positive influence in my life to see what he's done."
Despite being unsure of his plans after college, he said he had always dreamed of one day opening his own restaurant. He noted the importance of business knowledge in the restaurant industry, and said he believes that many restaurants fail not because of bad food, but because of a lack of business knowledge. No matter what his profession will be, he wants to take pride in his work, he said.
"I'll probably end up doing something cooking-related," Coblentz said. "At one point, I wanted to own my own restaurant, and that passion is starting to come back. Like I said, I definitely want to work for myself in one aspect or another. I enjoy that sense of freedom and that sense of accomplishment."