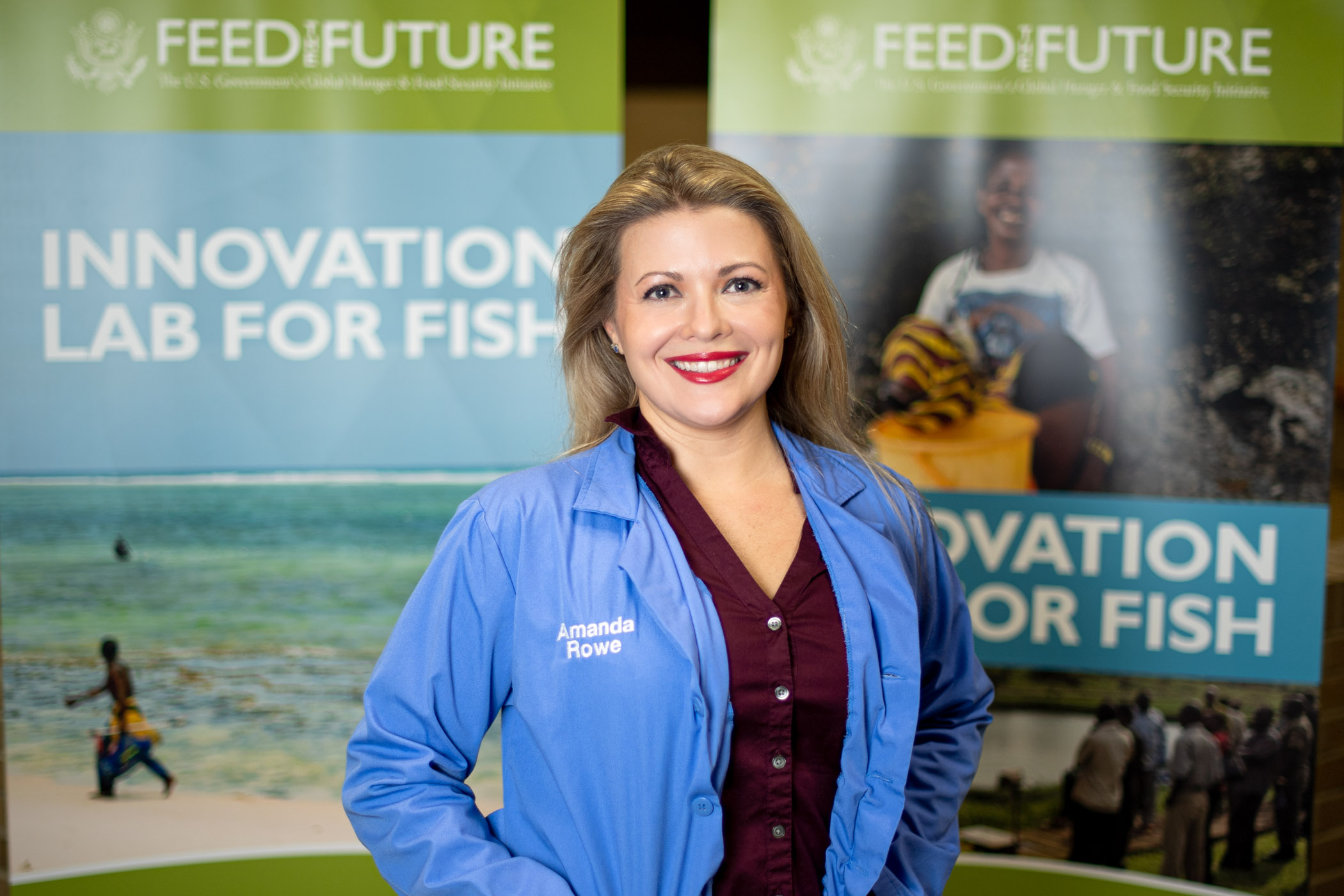 Fourth-year Doctor of Veterinary Medicine student Amanda Rowe is gaining distinctive knowledge and skills in aquatic research at Mississippi State, specifically through her involvement with the university-based Global Center for Aquatic Health and Food Security.
Though based at MSU, the center has global impact. An international Feed the Future Innovation Lab for Fish research internship, facilitated by MSU's International Institute, gave Rowe the chance to travel to Zambia in fall 2021 along with the fish lab's Deputy Director Dr. Stephen Reichley.
The Florida native who earned a bachelor's in equine therapy at Midway University in Kentucky and completed a pre-health post baccalaureate program at University of California Berkeley, worked alongside Reichley and Zambian researchers to understand diseases impacting the country's tilapia and help develop a vaccine to address them. Reichley also is an assistant clinical professor in MSU's College of Veterinary Medicine Department of Pathobiology and Population Medicine.
"Students who participate in international experiences provided by the Fish Innovation Lab grow professionally and personally from these trips. In addition to that growth, the students are able to gain valuable research experience and lifelong skills," Reichley said.
Spending four weeks in Zambia, Rowe was able to gain academic credit through an International Aquatics Advanced Clinical Rotation, available to MSU veterinary students. Visits to different farms provided various opportunities for her to learn about and analyze tilapia aquaculture in Zambia.
"At the different farms, we collected information about aquaculture operations and also collected samples," she said. "For example, we collected fish eggs, fry and fingerling—or small fish—samples from a farm that was having a problem with fingerlings displaying odd behaviors and then dying."
The second half of her trip was spent in the lab, where she developed her skills further by processing samples and running analyses.
"I was able to work with every aspect of my project from the ground up," Rowe said. "I also spent time in the lab conversing with my lab mates, who ranged from students to faculty members. I learned so much from each one of them. They all took the time to ensure I understood every step of sample processing and why it was important," she said.
Her time in Zambia also provided cultural immersion.
"I grew on a personal level during this trip," she said. "It expanded my worldview and exposed me to a dramatically different culture than my own. Everyone I dealt with was kind, warm and welcoming. I would love to return to Zambia one day and continue work on this project."
Rowe said MSU's DVM program is preparing her to practice veterinary medicine with a well-rounded view of animal health. In addition to her Zambia experience, she recalls a lot of other chances to learn and make lasting memories. One example is when she helped with intake and assessment of cold-stunned sea turtles on the Mississippi Gulf Coast, and even was allowed to name one of the turtles, later released with a tracking devise, in honor of her late mother.
She also fondly remembers helping with sea turtle and dolphin examinations at the Institute for Marine Mammal Studies during her population medicine rotation. She said the breadth of experiences available to MSU DVM students is a clear advantage.
"Being in clinics for two years allows us time to hone our analytical and technical skills as we examine, diagnose and treat a wide variety of patients."