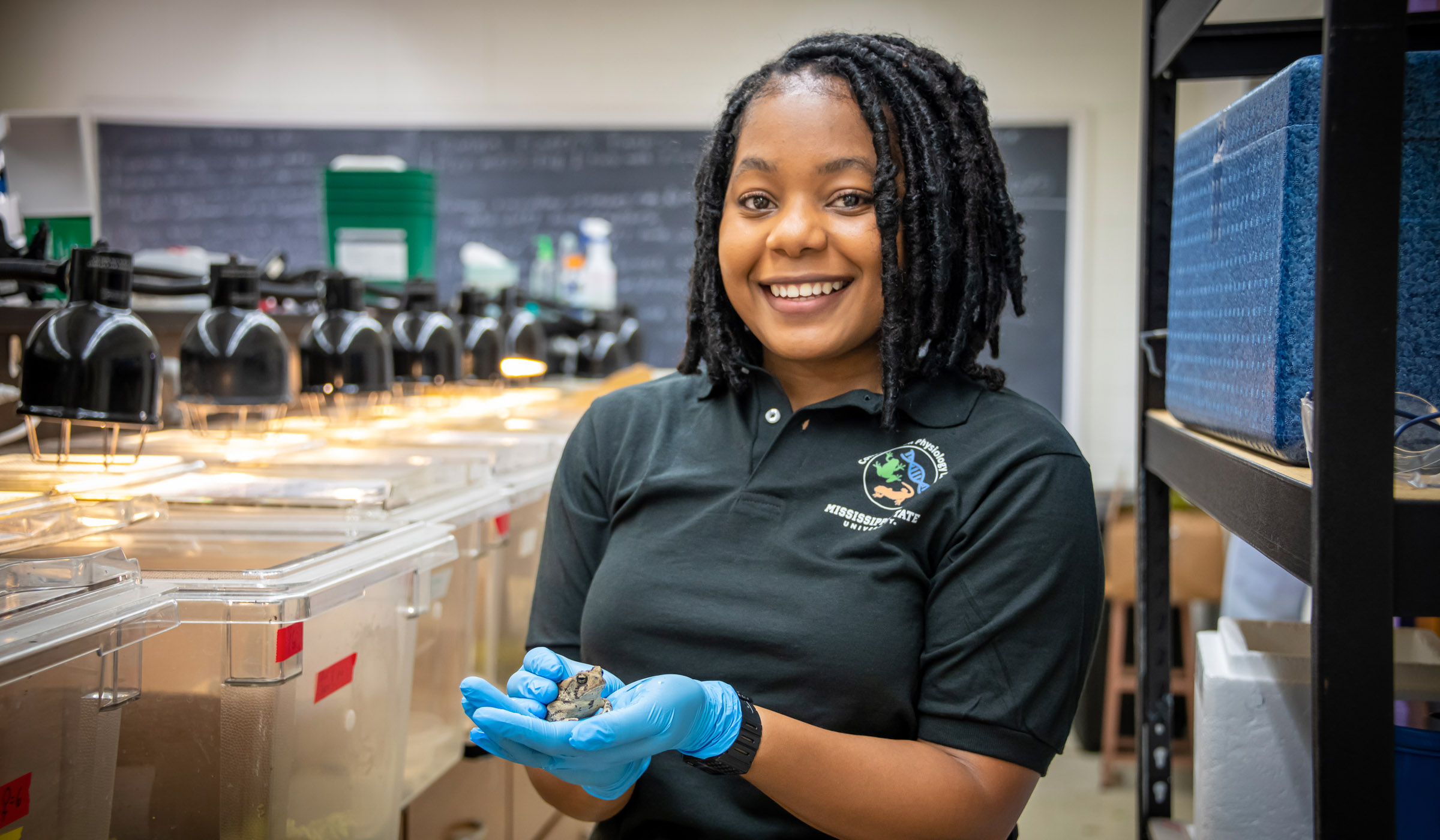 Whether in Japan or Turkey or Germany, Namia Stevenson has always felt at home abroad.
Stevenson's parents were in the U.S. Air Force, and she spent much of her childhood outside the U.S. She considers Bitburg, Germany, her hometown because that's where she spent the most time growing up.
The wildlife, fisheries and aquaculture master's student studies frogs and toads in MSU's Conservation Physiology Lab. Her interest was piqued by a 2019 UN report that estimates 40 percent of amphibian species, or 2,000 individual species, are in danger of extinction. The College of Forest Resources student, with an interest in zoo and aquarium science hopes to pursue a career in international conservation.
"Amphibians suffer population loss from various causes including pollution, food trade, habitat degradation and disease," she said.
"As bioindicators, the presence of many amphibians in an ecosystem indicates a healthy environment. However, amphibians will absorb the toxins of an environment so they're the first to suffer when an environment is suffering," she said.
Her research seeks to improve fertility in frogs and toads to help amphibian captive breeding programs become more sustainable and genetically diverse, as well as increase reproductive output to support reintroduction programs. Captive breeding populations often are the last line of defense in keeping a species alive when the number of animals in the wild dwindle critically.
"This research aims to create a baseline protocol, so we can help solve the problem of breeding more amphibians in a more holistic way. Instead of just injecting them with hormones, we track their levels, so the therapy is more targeted," she said.
Stevenson's master's thesis focuses on the Fowler's toad as a model species, a common toad native to Mississippi. She collaborates with partners at the Fort Worth, North Carolina and Omaha Henry Doorly zoos. At the North Carolina Zoo, she used her method to help Colorado River toads who struggle to reproduce in captivity.
"Our work resulted in the hatching of 12 toads which is remarkable since the curator didn't expect any because of several obstacles," she said.
Prior to coming to MSU, Stevenson was a zookeeper at Lincoln Park Zoo in Chicago. She graduated with a bachelor's in wildlife science from Charleston Southern University in Charleston, South Carolina.
Stevenson said this is her first foray into research, and she's learning something new every day.
"I am most excited about learning new skills and meeting new people. This program has pushed me to be a better researcher and person. We have different partnerships with zoos around the country and these connections we build are vital. I didn't think a master's student or even a university could collaborate with zoos on the level which we collaborate," she said.
Stevenson emphasizes that amphibians, as bellwethers of our environment, shouldn't be overlooked.
"As an animal lover, I wish people would appreciate the slimy, less charismatic animals a little more rather than focusing on our big fuzzy ones you see in the zoos," she said.
Stevenson is supported by an Institute of Museum and Library Services American Recovery and Rescue Plan Grant, training the next generation of professionals interested in living collections care and sustainability.