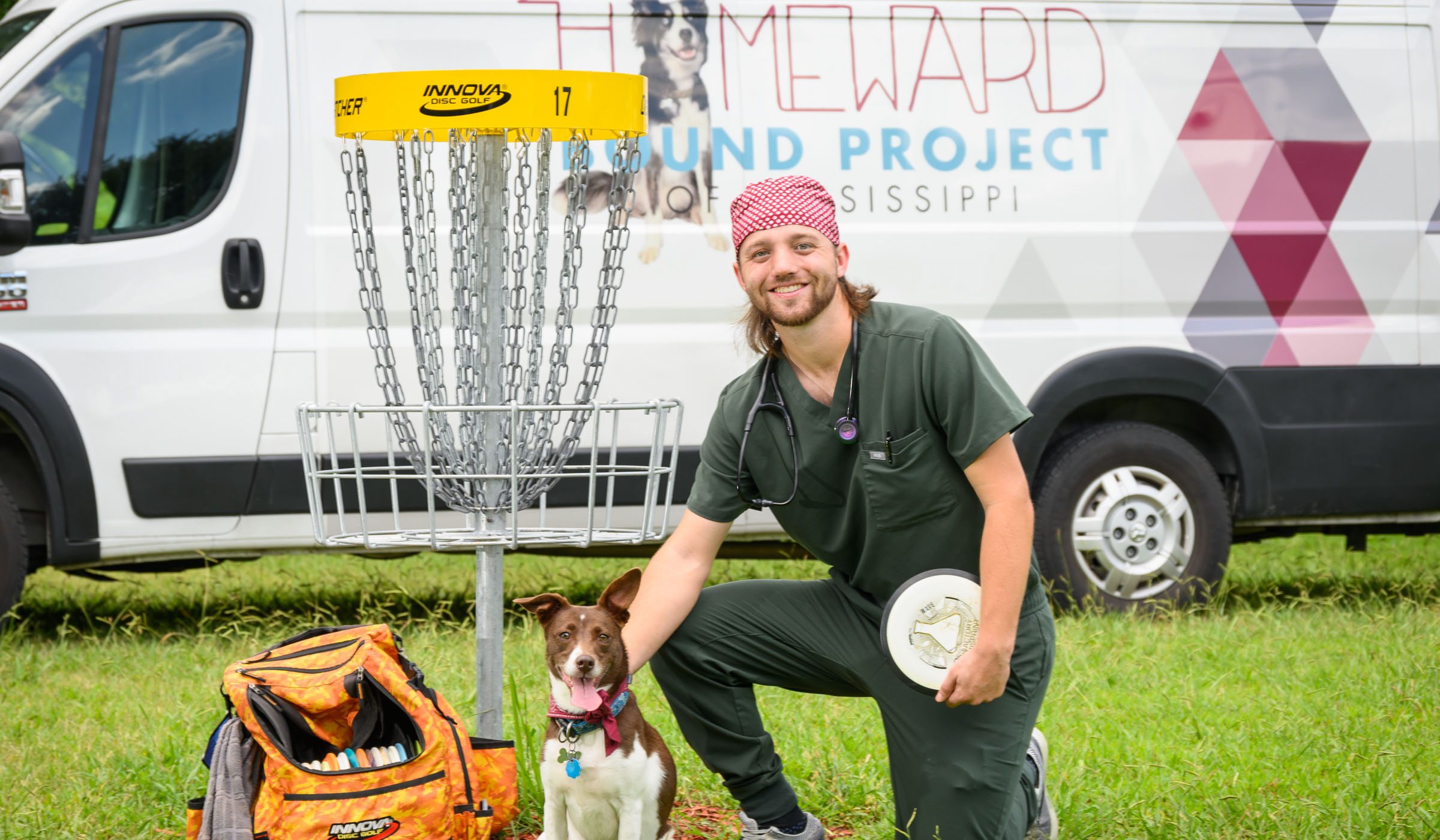 Ian Evans is a busy man. The third-year Doctor of Veterinary Medicine student is balancing clinical rotations, community service projects, volunteering with Homeward Bound and VetAspire, and even working as an emergency surgery technician in MSU College of Veterinary Medicine's Animal Health Center. He also sometimes can be seen on screen during an MSU football game as a member of the "Paint Up Squad" in the student section.
A native of Memphis, Tennessee, he has coordinated volunteers from MSU CVM for each of the university's service days over the last two years, and singlehandedly designed, secured funding for, and installed the new disc golf course located at the Wise Center. He's been giving back to the Starkville and MSU community since his days as a biomedical engineering undergrad and member of the Montgomery Leadership Program.
"My passion for community service originates from my father," Evans said. "He helped run a soup kitchen and clothes closet for the homeless and impoverished community in Memphis, so I spent many weekends volunteering with him. I had the opportunity to grow my love for service through undergraduate leadership and service programs as well as multiple service projects to places like Belgium, the Czech Republic, Peru and Haiti."
That service-oriented mindset followed him to MSU CVM, where he often can be found pitching in to give prospective student tours, coordinating trivia nights and service projects, and staying late to help with cases or tend to a patient.
Veterinary school wasn't the original plan for Evans, though. He had many interests in the medical field—including physical therapy, prosthetics engineering and medical school. While studying biomedical engineering as an undergraduate, Evans was offered the opportunity to assist with research being conducted by MSU CVM surgery residents.
"I worked with Dr. Melody Whitney on her CORA Based Leveling Osteotomy research—essentially, looking at other ways to help a dog that tears its cranial cruciate ligament [inside the knee joint]," he said. "While working on those projects, I fell in love with the people in the veterinary community and their passion for what they do."
So, he applied to veterinary school and, after being admitted and weighing his options, he chose to stay at MSU and attend the CVM.
"For me, there is no better environment to develop and learn in than one that challenges you early and often," he said. "The opportunity to learn on the clinic floor is better preparing me for the real-world scenarios that I'll face in just a couple of years. The environment at MSU has allowed me to be myself and encouraged me to pursue my passions."