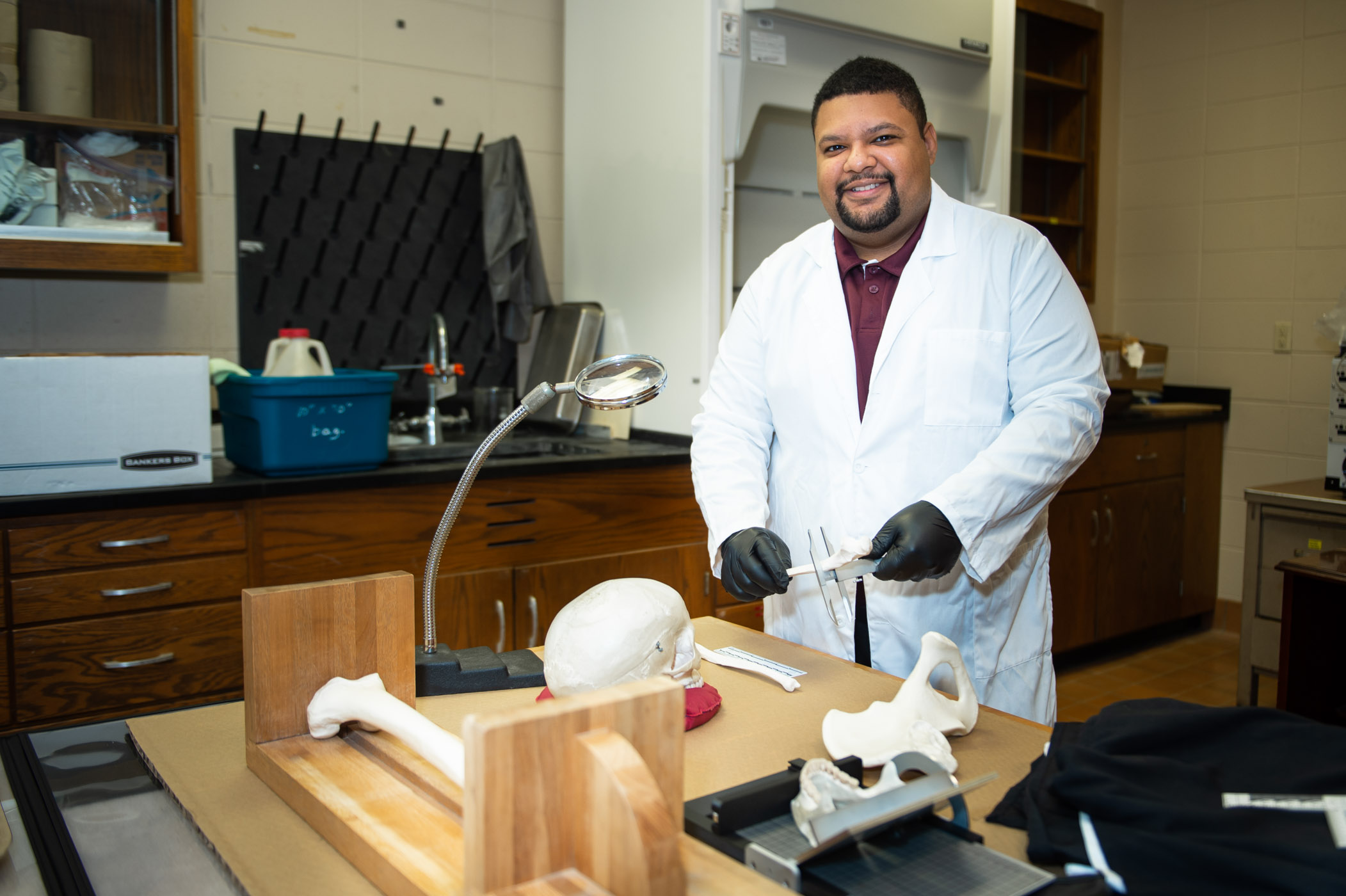 "I usually mention the TV show 'Bones' when people ask what I do. Even though it is a fictional version, it helps give people a context for what a forensic anthropologist does," said Jesse Goliath, a Mississippi State assistant professor in the Department of Anthropology and Middle Eastern Cultures.
 "Forensic anthropology is the identification of human remains for law enforcement. It is an applied aspect of biological anthropology," said the West Virginia native.
 "Using our knowledge of the human skeleton and anatomy, forensic anthropologists create a biological profile—sex estimate, age range estimate, stature/height approximation, trauma assessment, an estimate of time since death—to assist law enforcement in identifying an individual. We also use our training in archaeology and cultural anthropology when necessary to provide additional evidence that could be used for a case."
Goliath said forensic anthropologists do not determine cause or manner of death but assist the medical examiner or coroner with reports. A recent guest of the podcast, "Archaeology After Dark," hosted by Daniel Rhodes and the Alabama Archaeological Society, Goliath used the platform to discuss how archaeological practices and techniques are used in forensic anthropology.
"Typically, we are called out to a crime scene when there is suspected human bone or mostly decomposed human remains discovered on the surface. We also assist in exhumation of buried or partially buried remains. However, most of our work is done after the evidence has been taken from the crime scene to a city morgue, coroner or medical examiner's office. Roughly, I have been to over 20 crime scenes and have written/co-written approximately 40 case reports," said Goliath, who holds a Ph.D. in anthropology and a graduate minor in anatomy from Ohio State University.
Goliath said he has always had a passion for science and history and sought a career that connected those two fields.
"I loved going to museums when we went on family vacations and reading detective comics and novels. So, I wanted to be a scientist in some capacity who worked in museums and used detective skills to solve problems," he said.
Goliath first began using his skills for the U.S. Department of Defense as a contractor working with the Defense POW/MIA Accounting Agency helping identify missing service members from past war conflicts—WWII, Korean War, Vietnam War—on Joint-Base Pearl Harbor-Hickam.
"I enjoyed this rewarding work but wanted to get back into research and teaching and I felt that the applied anthropology program in the Department of Anthropology and Middle Eastern Cultures would allow me the opportunity to both use my previous professional forensic experience and teach future forensic scientists," said Goliath, who joined MSU's faculty in 2021.
When encountering a gruesome scene, Goliath said his training kicks in and he focuses on the task at hand.
"I concentrate more on the evidence and what analyses need to be done instead of the gruesome aspect of what I am seeing. Some cases are hard to forget but over time the positive outcomes of identification and/or convictions are what I remember, not the scenes themselves."
Goliath said there is a large demand for forensic scientists and investigators in Mississippi and he uses his job at MSU to help meet that demand.
"We are working with local and state agencies to build our forensic programs and professional forensic networks to get our students employed in the many positions available. Additionally, in collaboration with Dr. Jordan Lynton Cox, an MSU assistant professor, I am developing a statewide database for missing and unidentified people—the Mississippi Repository for Missing and Unidentified Persons. This database will be used by law enforcement and community members to help assist in the recovery and identification of missing and unidentified Mississippians."
Goliath—who recently was appointed the American Anthropological Association's liaison to the Register of Professional Archaeologists—said his job brings variety, an aspect he enjoys. "Within a week, I can teach forensic and biological anthropology courses, consult with law enforcement on casework, and work on bone research. As a forensic anthropologist and a bone researcher, I use my knowledge to help our community in a real tangible way and help Mississippi State students pursue their passions."