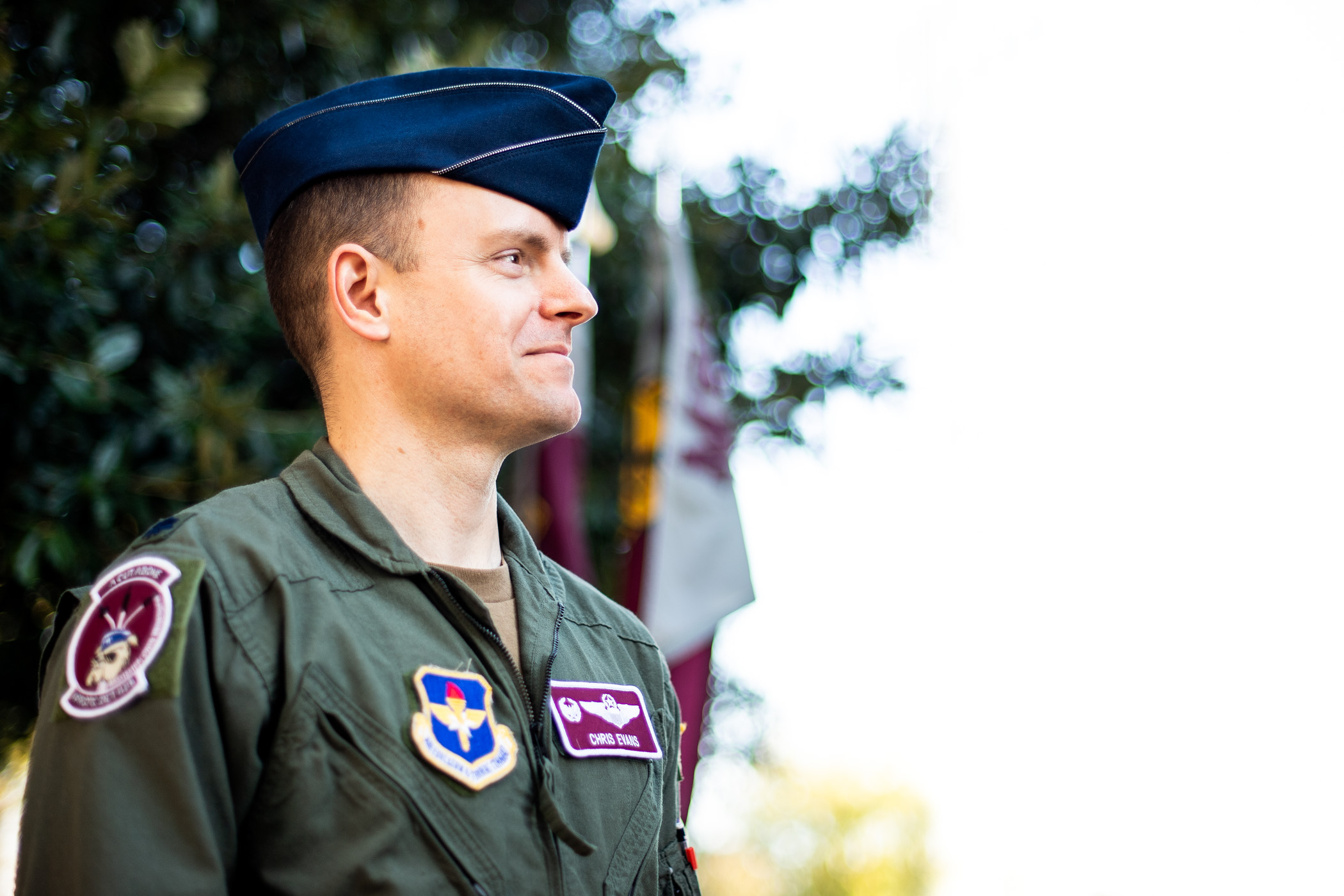 This Veteran's Day, Lt. Col. Christopher S. Evans, head of Mississippi State's Air Force ROTC Detachment 425, said he wants American citizens to recognize the time service men and women sacrifice for the protection and defense of this country.
"It is rarely glamorous work and the military asks a lot of us," Evans said. "The people in the military are a cross section of America. They come from all backgrounds and join for a variety of reasons. There isn't just one type of person who joins the military."
The Fairhope, Alabama, native said flying has always been his number one passion, and joining the U.S. Air Force seemed like a natural fit for pilot training.
"I had various influences through family and friends who had served in the different branches, and they consistently were positive about their service and seemed to represent a level of success I wanted to achieve as well. It seemed like joining was the obvious answer."
Evans commissioned into the U.S. Air Force from the ROTC program at Auburn University, where he earned a bachelor's degree in mechanical engineering in 2004. He received his master's degree, an MBA with a concentration in finance, in 2010 from Touro University International in California.
After commissioning, Evans attended pilot training at Columbus Air Force Base and then was assigned to fly B-52s at Louisiana's Barksdale Air Force Base, followed by a stint at Minot Air Force Base in North Dakota. Evans also served in Afghanistan where he flew a reconnaissance plane, the MC-12.
During service at Eglin Air Force Base in Florida, Evans worked for the Air Force Operation Test and Evaluation Center. "This was a very fun and interesting assignment. My projects were mainly limited to new aircraft bombs and missiles," Evans said.     
This year, Evans' service brought him to MSU where he now leads national award-winning MSU ROTC Detachment 425.
"Since I commissioned through ROTC, I was always interested in being able to return to the program as a commander to mentor cadets. During my time in the Air Force, I simply continued to progress in both my flying career and leadership opportunities. Eventually the opportunity to apply for ROTC command came up and I jumped on it. MSU was my top choice due to location and the strong detachment. This university brings me close to friends and family, some of which are alumni. Being back in the SEC doesn't hurt either," Evans said.
"Influencing the next generation of officers is exciting," he said. "I have learned a few things in my time within the Air Force, and I hope that I can pass on at least one or two of them to the cadets here. Most of all, I want to help them achieve their dreams in the Air Force as much as possible. I feel very lucky in my career because of other people I have encountered along the way."
Although military life has a regimented schedule that he has enjoyed, Evans said it's not the routine itself but the people who stand out most.      
"That is what makes daily life the best," Evans said. "You meet a lot of great people in the service. I'm happy that we are in a time where the military and its veterans earn the respect of the public.  I don't take that for granted and I hope we continue to do that."