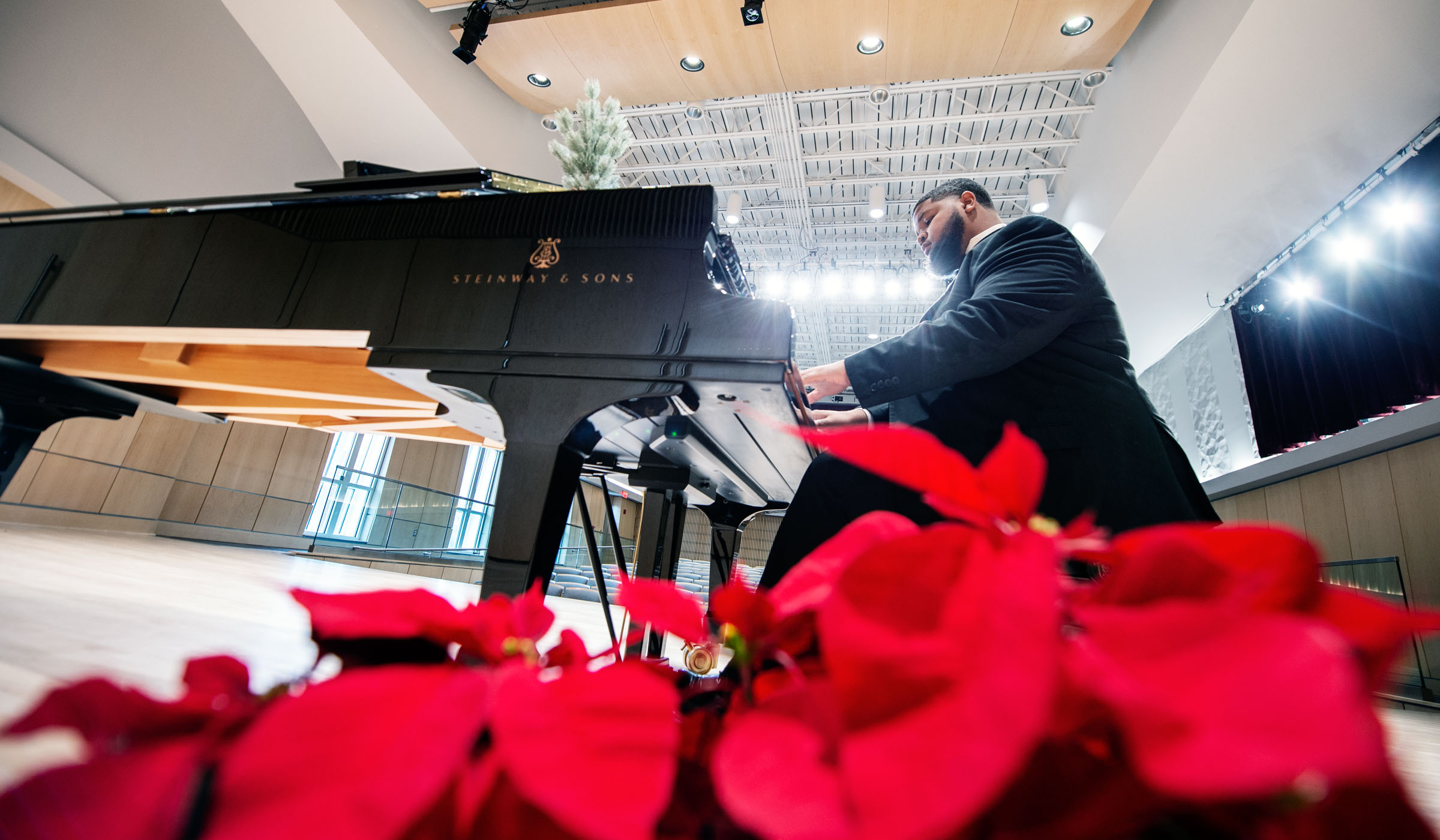 From playing piano by ear and singing in his church choir since the age of 7, Desmond Henderson realized early on that music was his future.
After honing his craft for years through middle school in Shreveport, Louisiana, his family moved to Dallas, Texas, where he attended Ranchview High School, continued with choir and decided to pursue a career as a choral director. When the time came to begin college, he auditioned for several university music programs. But it wasn't until his choral director introduced him to MSU that he found his home.
"My high school choral director Laura Jenkins was friends with Gary Packwood, the current MSU Director of Choral Activities, and she suggested I audition here at MSU. I didn't even know much about the university before then, but I auditioned here, and the experience was unlike that at any other college. It felt like home, and that's why I chose MSU," said Henderson, now a senior music education major with concentrations in vocal and piano.
Entering his freshman year in MSU's Department of Music, he knew he wanted to be a vocal major because of his high school choir experience and love for gospel music. However, it wasn't until he started taking piano lessons with MSU music professor and mentor Rosangela Sebba that his passion for piano was reignited, and he decided to add the piano concentration.
Henderson takes classes on music theory, ear-training, performing and even has two separate private lessons a week for voice and piano. Along with learning these concepts, he also learns how to teach others.
 "What I love most about music education is being able to not only connect the emotional component of it, but also the educational component," he said. "As musicians, we often get our start because music is a way for us to express emotions that we can't express through words, but we're also able to learn the science behind the music that strengthens both its emotional and technical components."
During his time as a Bulldog, Henderson has been given opportunities to travel the country and beyond to present music research and perform in vocal and piano competitions. On campus, he has created his own gospel group and become a member of the highly competitive ensemble MSU State Singers.
Henderson plans to graduate in the spring of 2024 and hopes to return to Dallas to be a choral director in the Carrollton-Farmers Branch Independent School District, as well as pursue graduate studies in collaborative piano.
"MSU has inspired me to truly trust the path that I am on and allow new, unfamiliar experiences to continue building me as a well-rounded individual and further foster the goals that I am trying to reach," said Henderson.