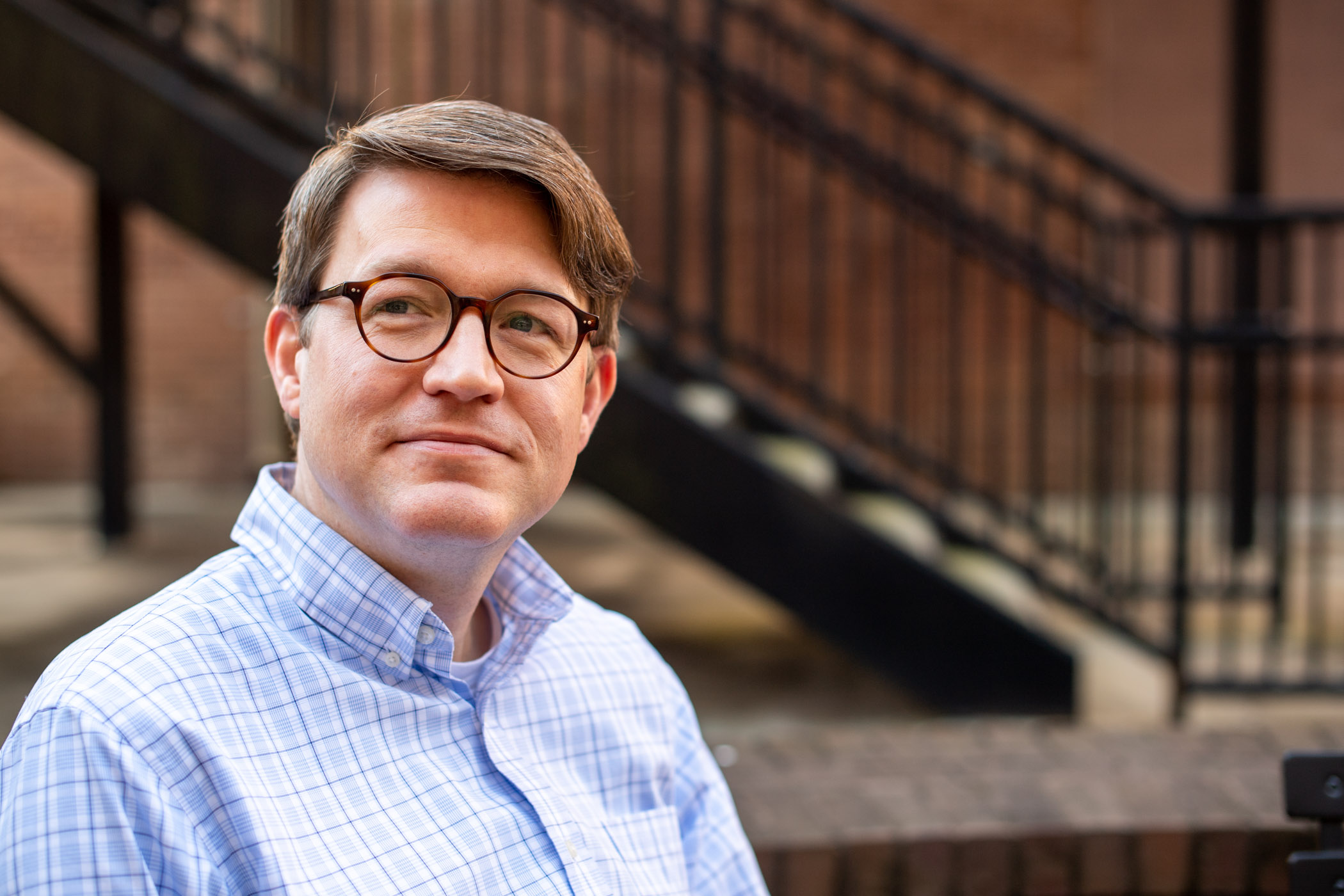 With the rise of digitalization in an ever-evolving world, the demand for data science experts is growing rapidly. Last fall, the U.S. Bureau of Labor Statistics announced the demand for data scientists will grow by 36 percent through 2031, much faster than the average for all occupations.
Working to meet that demand is Jonathan Barlow, associate director and assistant teaching professor for Mississippi State's undergraduate data science major, the university's newest degree and only the fourth program of its kind in the Southeastern Conference.
An MSU graduate, Barlow received degrees in philosophy and political science before moving to St. Louis, Missouri, where he received a master's of divinity at Covenant Theological Seminary and a Ph.D. in historical theology from St. Louis University. During his early time in St. Louis, Barlow worked for many data-driven companies during the rise of the internet, where his work involved setting up e-commerce sites through the "datafication" of products. Upon completion of his Ph.D., he began working as an Apple iPhone developer in mobile development with the use of data continuing to drive his career.
Barlow was offered a job in 2012 at MSU's National Strategic Planning and Analysis Center, where he spent a decade working with its founder Mimmo Parisi, now executive director of the data science program which is part of the university's Division of Academic Affairs.
While at NSPARC, Barlow and Parisi ventured into academics by creating the data science literacy pilot course, now a flagship in the new major, which launched in 2022.
"The course worked out great, and it proved to us there was a real need for this kind of thinking. We built the program from there, working with a committee of MSU faculty from every college to propose the new data science major," Barlow said.
The intercollege, interdisciplinary degree option has nine possible concentrations for students to pursue: computational agriculture and natural resources; geoinformatics; business information systems; computational intelligence; marketing and supply chain analytics; social data analytics; psychoinformatics; statistical modeling; and visualization and visual analytics for built environment.
Through all these concentrations, Barlow explained, "Our program is very focused on building smart systems and using data to increase the scale, scope and speed of business in any organization."
MSU graduates in the field will enter employment with titles such as data wrangler, smart city application developer, information architect, and data analyst in areas such as finance, sports, health, government and defense. 
Asked about building a curriculum from scratch, Barlow said keeping the energy up, managing time, working hard and learning the administrative processes were incredibly crucial, but "the great thing about MSU is that there are lots of people willing to help you understand how the process works in creating and building a new program."
When he is not in meetings or planning, Barlow teaches three undergraduate courses and one online course for a post-baccalaureate certificate in data science pedagogy.
He enjoys explaining to anyone what data science is and its importance in today's world.
"Data science begins with the mindset that there are human problems that can be solved with data. It's also understanding how to take things in the real world and represent them as a digital twin in a context where you can solve a problem. You take something in the real world, 'datify' it and bring it back into the real world once you've figured out the solution."
Away from his work and teaching, Barlow is a husband and father of four sons. Along with growing a new major, he also is embracing his new role as a grandfather.
For more information on data science at MSU, visit www.dsci.msstate.edu.