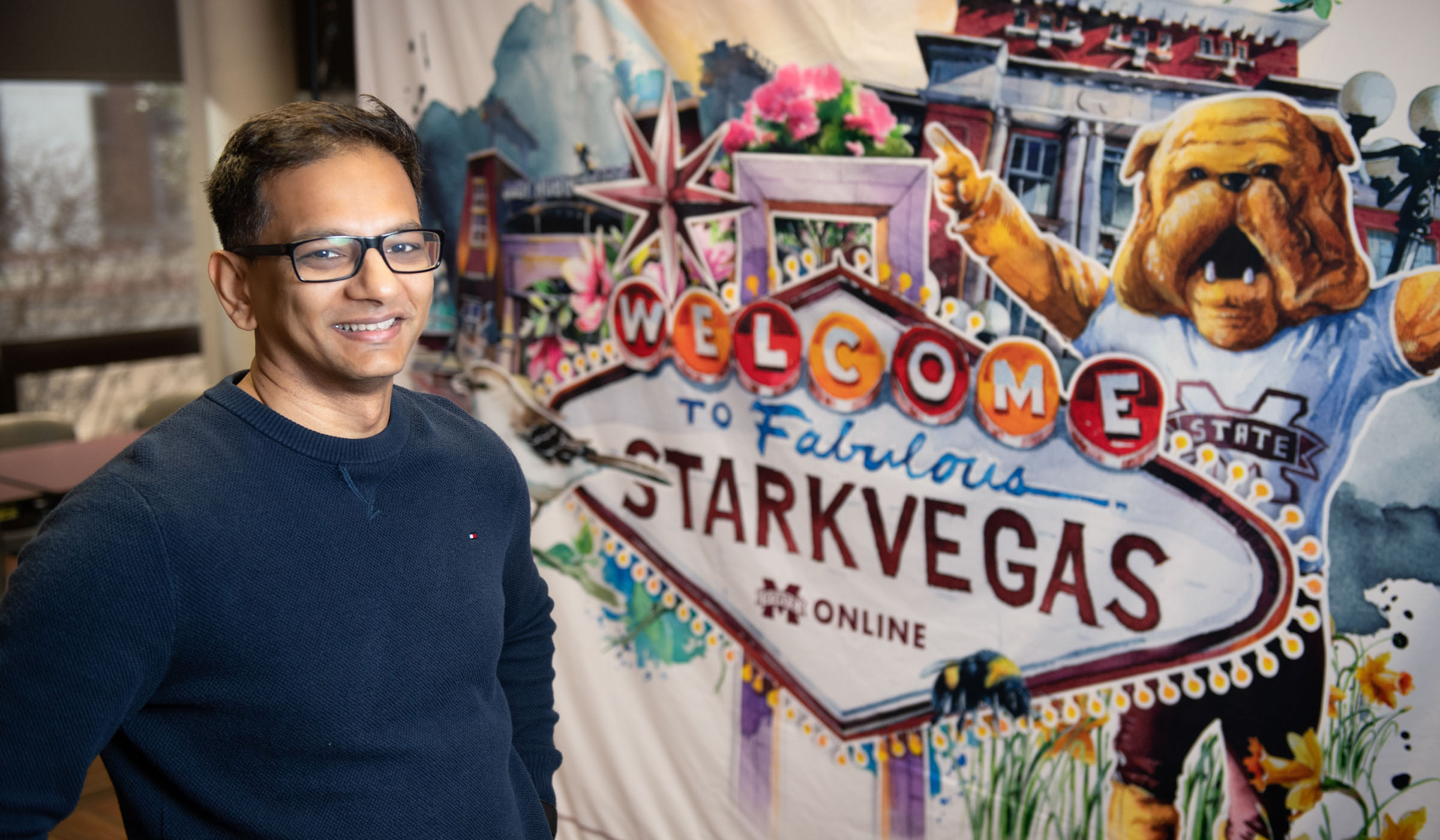 Kashyap Basu joined the marketing department at Mississippi State Online as a graphic designer last fall; however, his deeply rooted career in creative design began nearly two decades ago in India.
"You have to be consistent and learn skills, communication and software. You must also be a team player and try to see new work and challenge yourself," Basu said.
His interest in creative design peaked in high school, but his drive to become more knowledgeable about animation and design stemmed from rejection. After high school, Basu interviewed for an animation company, which turned him away due to his lack of experience. He described this as humiliating, but it inspired him to continue his education at the University of Calcutta and earn a bachelor's degree in visual arts.
"It was eye-opening that I was not equipped for the market. I thought I knew a lot, but it was not enough," Basu said.
He started his 16-year professional journey working as a junior designer at an animation company after completing college. Then, he took his skills to an architect company, where he worked as a part of the 3D design department while simultaneously working at a web development company to gain more hands-on experience.
His dedication to the design field led him to begin his very own company, Colorgraphicz, where he served as the creative head from its 2007 establishment until he moved to the U.S. in 2016.
After relocating, Basu worked as a user experience designer at a healthcare company in Oregon before moving on to work at a non-profit organization as user interface designer.
Basu found his place at MSU when his wife, Assistant Professor Priyadarshini Basu, was offered a position in the Department of Biochemistry, Molecular Biology, Entomology and Plant Pathology on the Starkville campus.
"As a creative, I have to be online savvy and understand issues via the internet. I had experience helping with distance education from a previous job," he said.
Basu believes online education is essential because not everyone can attend classes on a college campus.
"I have seen that people, all over, do not always have the opportunity to attend a university, but now there is a big wave to do online. Also, it serves people who may be behind," he said.
As a graphic and user experience/user interface designer, Basu shares his love for painting to improve MSU Online's presence and align with MSU branding guidelines. He works to give the unit a holistic, personalized approach, and he's discovered how to incorporate his love for creating art while complying with the university's brand. He discovered his use of watercolor in advertisements increases website traffic.
Moving forward, Basu would like to continue research and design efforts to enhance the user experience while continuing to contribute to the design community.