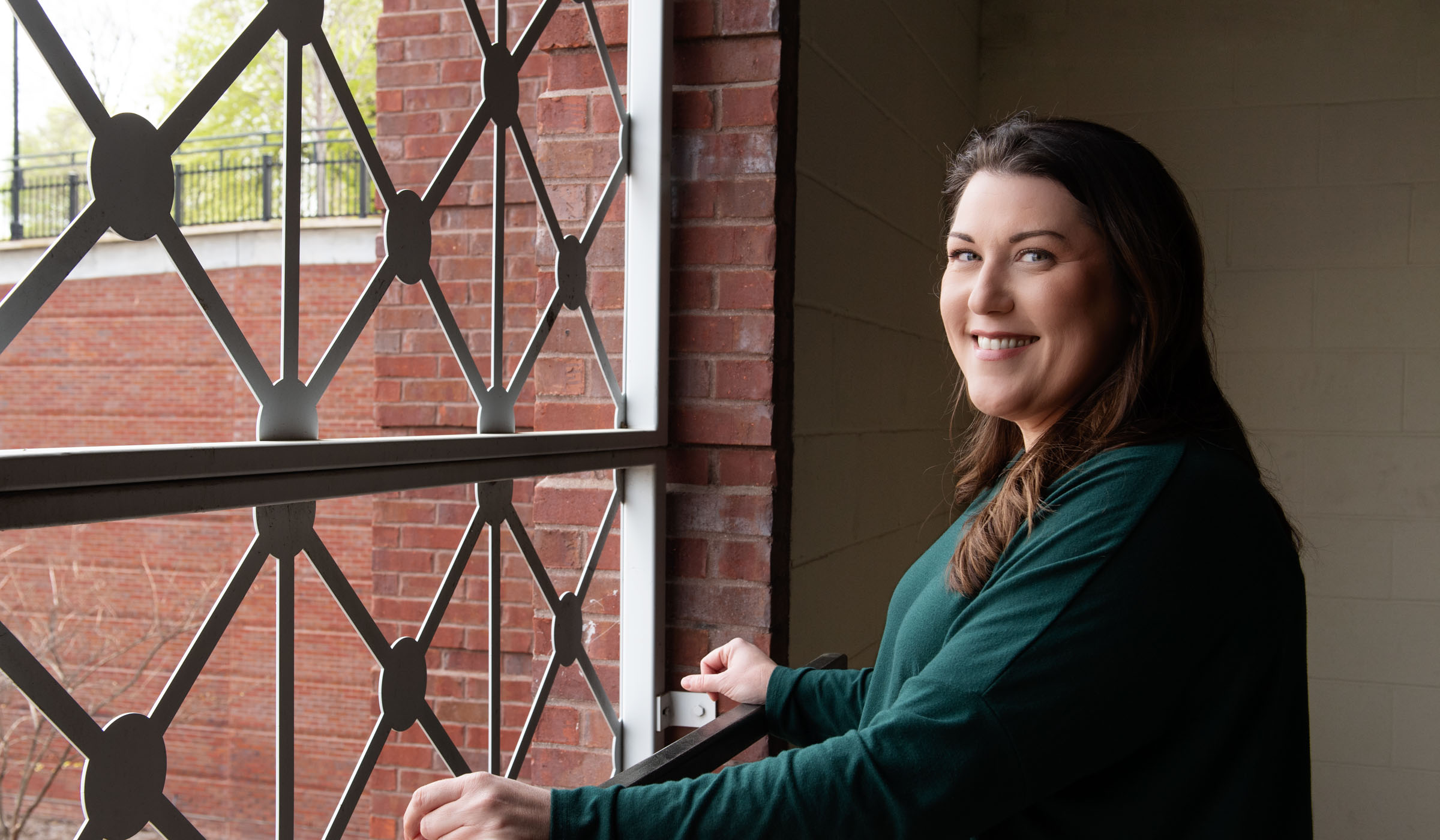 For many students, choosing a major and registering for classes can be stressful. In Mississippi State's College of Arts and Sciences, Academic Coordinator Emily Cain works full-time to help students navigate the many paths they can take, both in their academic classes and in their careers.
"Students shouldn't feel pressured at 18 years old—or 22 years old, for that matter—to know exactly what they want to do," the Taylorsville native said. "I think most students feel like everyone else has it all figured out and they're the outlier, when the truth is actually the opposite.  And sometimes the most helpful thing is recognizing and coming to terms with what you 'don't' want to do. Having guidance from family and friends is great, but it's ultimately your life, so live it."
Cain, a 2005 MSU alumna, joined MSU's faculty as a lecturer for the communication department in 2007, shortly after she finished her master's degree from the University of Southern Mississippi.
"In my first year as an instructor, I had advising duties. That was a whole new experience," said Cain, who was a faculty advisor for five years with a small group of students before taking on coordination duties for the whole department in 2012. In 2019, her advising duties increased again as she became the academic coordinator for the College of Arts and Sciences.
During her sophomore year at Jones County Junior College, now Jones College, Cain realized it was time to think about her career and pick "the" major—"the one that would stick."
"I realized what I truly enjoyed was school. I loved my experience at Jones, and I started thinking about what I could to do have a career on a college campus. Of course, teaching was the main idea," said Cain, who earned her associate's degree from Jones College in 2003 and then transferred to MSU.
"Within my first week at MSU as a communication major, I knew I was right where I was supposed to be. I loved my communication classes. It was like this entire field that I didn't even realize was an option was such a perfect fit for me. My mother—who endured my incessant talking growing up—always said my major chose me," Cain joked.
In her current role as an academic advisor and also an instructor for "Professional Seminar," a class for Bachelor of Science in Interdisciplinary Studies students, Cain said she wishes students would be more open to trying new things. 
"Some try to come up with the 'perfect' schedule weeks before they can even register, but there are so many great classes out there," Cain said. "Sometimes the elective that you 'settled' for turns out to be your favorite class."
Cain loves being the person students—or colleagues—turn to when they don't know what to do or where to go next.
"An academic coordinator does it all," Cain said. "They serve as advisors for both students and faculty when it comes to understanding graduation requirements and university policies. They troubleshoot difficult situations and help students understand their options. They help students navigate their academic life while keeping in mind the bigger picture. Good advisors and academic coordinators are often teachers, counselors, managers and cheerleaders all in one."
Whatever role she plays in the lives of her students and colleagues, Cain hopes they know someone is out there who cares for them.
"I hope that I can play a small part in them all having a great college experience and looking back on their time at MSU with pride for what they have achieved."
With plenty of her own achievements since arriving at the university as a student two decades ago, Cain said she is proud to be a part of the MSU tradition.
"When I walk across the Drill Field on a beautiful day and think about how long some of these buildings have been here, the thousands of people who have walked the same path and all the great things they have accomplished and the university has done—I really feel very privileged to get to claim it as both an alum and employee."