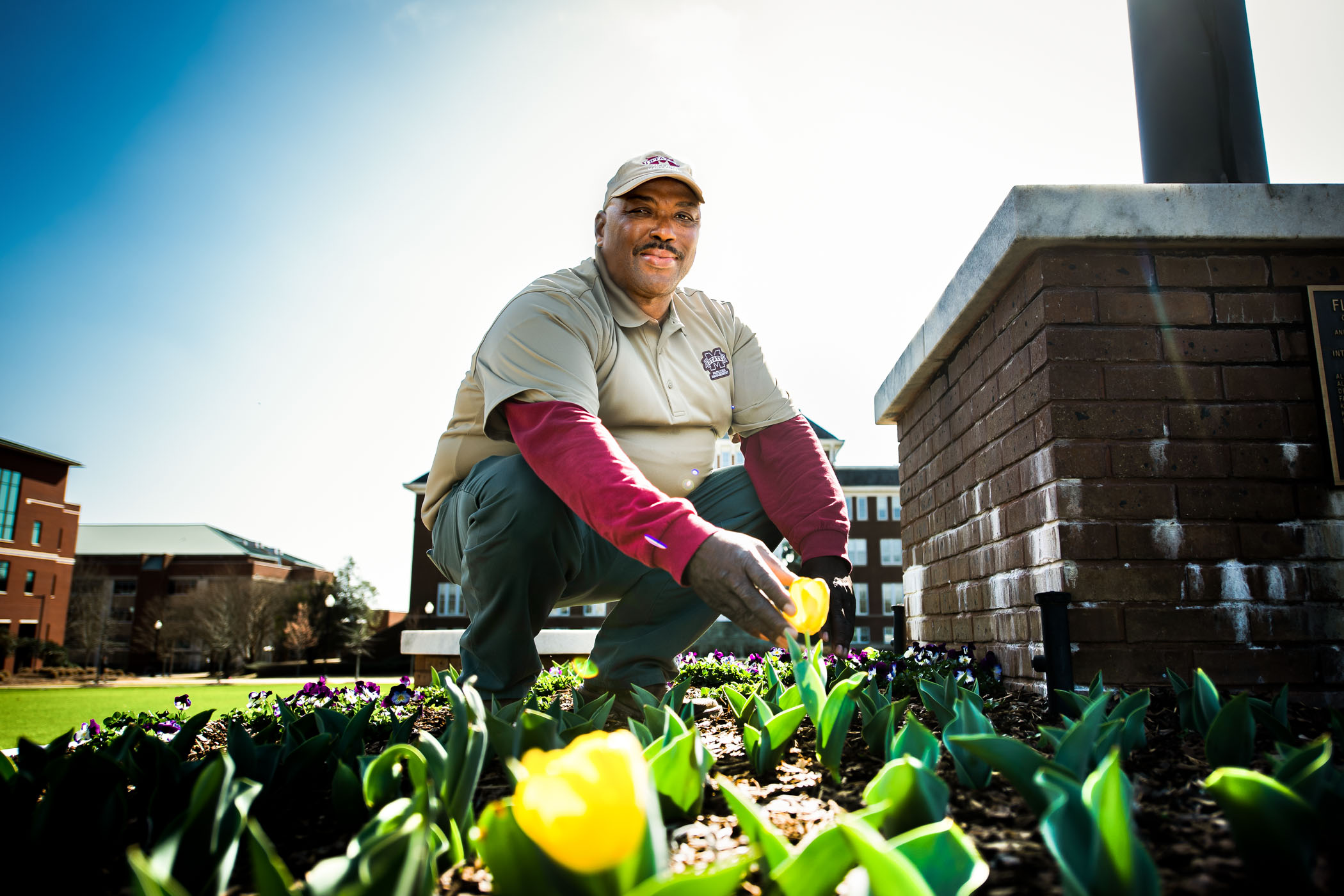 Noxubee County native Gussie Lane Jr. can affirm Mississippi State's reputation as being a "Great College to Work For."
After being part of the Campus Landscape staff for a relatively short period of his career—since 2020—Lane said he has found rewarding work, considerate colleagues and a beautiful environment where he enjoys seeing the fruits of his labor.
The Brooksville resident previously worked in West Point, but he pursued employment at the university when his former company concluded a large contract project. He joined an MSU landscaping crew part time and became full time in 2021. Since then, he has taken on more responsibilities and been promoted to horticulturist—a leadership role that includes planning and supervision, with the work completed alongside other crew members. Together, they ensure beautiful flower beds around the campus core are planted, tended and updated for each season.
Lane said he appreciates the confidence supervisors have shown in giving him opportunities to take on new projects, such as installing new beds and redesigning existing spaces.
Each workday begins at 6:30 a.m., and Lane said Campus Landscape staff members take pride in their work, through both pleasant days and hot, cold or wet weather.
"Come to work, do your job and do it sufficiently—I think that's what it's all about," Lane said. "I find this is a nice place to work, and I enjoy being here."
Finding satisfaction in hard work, Lane said he also has enjoyed a knack for different skills and tasks that come naturally for him. He's been able to adapt to various jobs and thrive, which he views as a "gift from God."
Since being employed with the university, he's had other external career opportunities, but he decided to stay in the place that feels like the right fit.
"I love it so much I don't get tired. I like the intense labor, getting to see the plants come up and the beauty of the plants," he said.
Outside of his regular 40 hours each week on campus, Lane's main focus is on family and church. He and his wife Laurie have been married for 33 years. They are the proud parents of two sons, and they have three grandchildren. He enjoys a large extended family that makes a point to hold regular get-togethers. He's also a longtime deacon and superintendent of Sunday school at Mt. Ary Church in Brooksville.