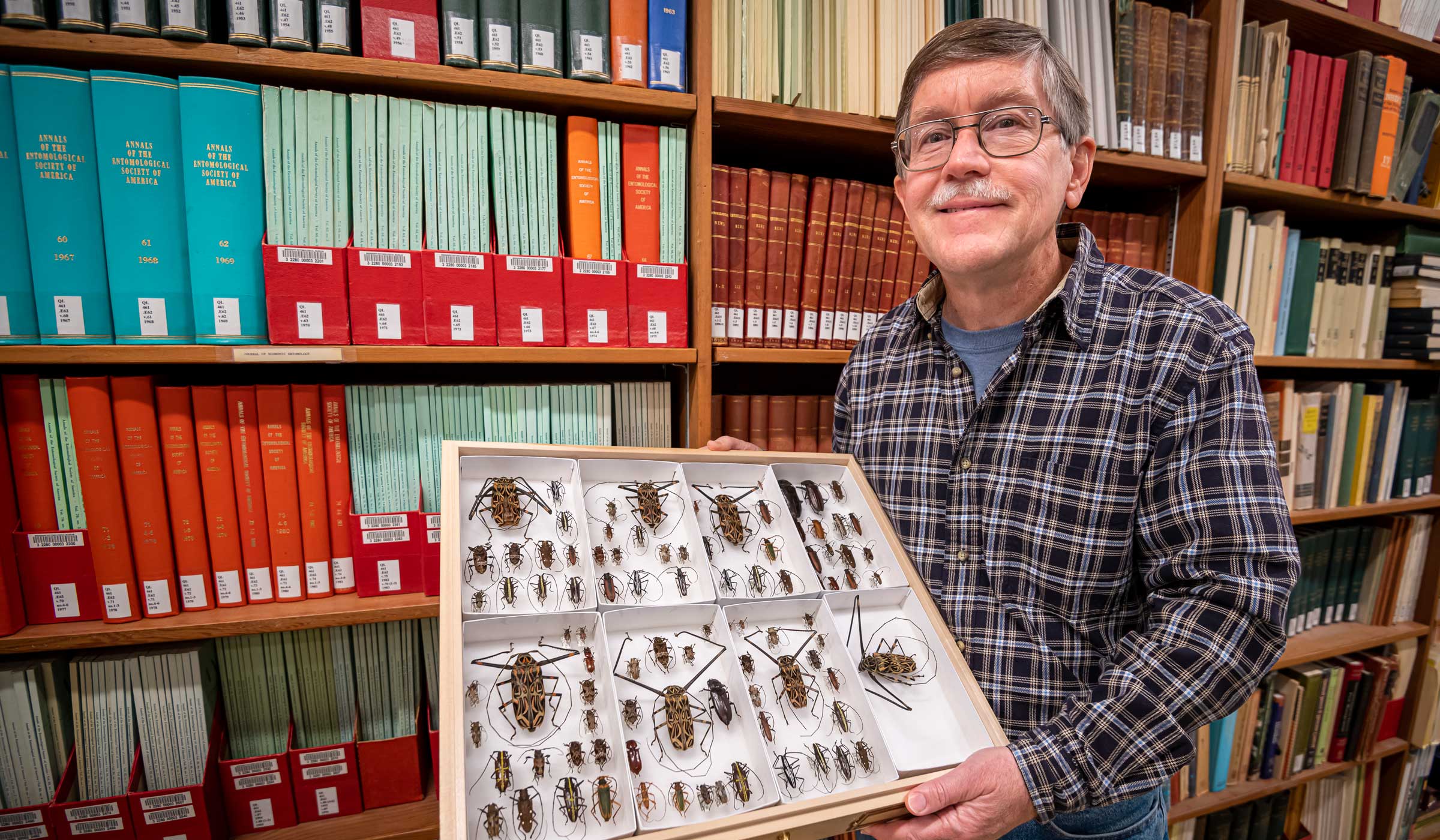 Terence Schiefer knows firsthand discoveries can happen close to home. The Mississippi Entomological Museum's curator discovered a long-horned beetle species and collected the first North American specimen of an exotic ambrosia beetle, both in his own backyard.
"I first found the strange-looking ambrosia beetle in 1999, but now it's common from Pennsylvania to Florida to Missouri and Texas," he said.
As curator of the MSU museum, Schiefer organizes specimens and places them where they belong so that they can be available for research. With more than 2,000,000 specimens and approximately 30,000 added to the museum each year, locating specimens would be like "finding a needle in a haystack" if the collection was not organized. In curating the collection, however, Schiefer relishes the opportunity to unearth some of the museum's hidden treasures.
"Every day I see and learn new things," he said.
When other institutions request specimen loans, Schiefer works to find what they need.
"For instance, if a scientist wants to study a particular genus of scarab beetle, I must find specimens of that genus among our unidentified scarab beetles so I can include them in the loan. While many specimens are identified, some aren't, so I must learn how to identify that particular group. With every loan request, I'm learning about a group that I wouldn't be familiar with otherwise," he said.
Schiefer, a senior research associate in MSU's Department of Biochemistry, Molecular Biology, Entomology and Plant Pathology, explained that many insect groups require specialists to identify and describe the group's species, with each museum researcher specializing in a particular insect family or order. 
"Generally, people we loan specimens to hope to find something interesting for their research while we get the benefit of specimen identification. Some insect groups don't have specialists currently studying them, and we must wait several years for a specialist to come along before our specimens in that group can be identified. Our collection is a record of the past insects that have been here as well as ones that are found here now," he said.
A native of Reading, Pennsylvania, Schiefer specializes in long-horned beetles, with thousands of species across the globe and more than 200 in Mississippi alone.
He recently published an extensive paper in Transactions of the American Entomological Society that expanded on his master's thesis. He earned the degree from MSU in 2018. 
"Among other things, my paper is an in-depth treatment of three long-horned beetle species that were previously considered a single species before I revised the group," he said.
He noted it's common for entomologists to rely on historical data to validate species discoveries today.
"My research would have been impossible without the specimens borrowed from numerous other museums. A species I studied was described back in 1767, so over 100 of my references were from the 1700s and 1800s in a variety of languages. Apart from historians, taxonomists are among the few groups who depend on centuries-old literature for research," he said.
He's even had an insect named after him, Euconnus schieferi, a tiny, ant-like stone beetle.
"The researchers who named Euconnus schieferi described 136 new Euconnus beetle species in the same paper, all from the eastern U.S., which underscores how little we know about tiny beetles and small insects in general," he said.
Schiefer also found two butterflies new to Mississippi—the Mitchell's Satyr and Large Orange Sulphur, in 2003 and 2016, respectively. Each year, he compiles the Noxubee National Wildlife Refuge 4th of July Butterfly Count, sponsored by the North American Butterfly Association. 
"In our best years, we have tallied as many as 62 species, which is among the highest species totals for butterfly counts in the eastern U.S.," he said.
Schiefer also compiles the Christmas Bird Count at the refuge, sponsored by the National Audubon Society, in which birdwatchers count the number of each species within a 7.5-mile radius each winter.
The Mississippi Agricultural and Forestry Experiment Station entomologist is a passionate birder—a hobby he shares with his wife. He estimates seeing approximately 380 bird species in Mississippi—the rarest being a Citrine Wagtail, common in Asia, seen for the first time in the Western Hemisphere by Schiefer in Starkville in 1992. He plans to compile a book of birds found in Oktibbeha County and the six surrounding counties once he retires this summer. He'd also like to write a book on Mississippi's long-horned beetles. For him, research has been more than a career and is a lifelong passion where every day offers a new treasure waiting to be revealed.
"There's so much left to discover. You could spend lifetimes and still not know all the insect species that inhabit Mississippi," he said.