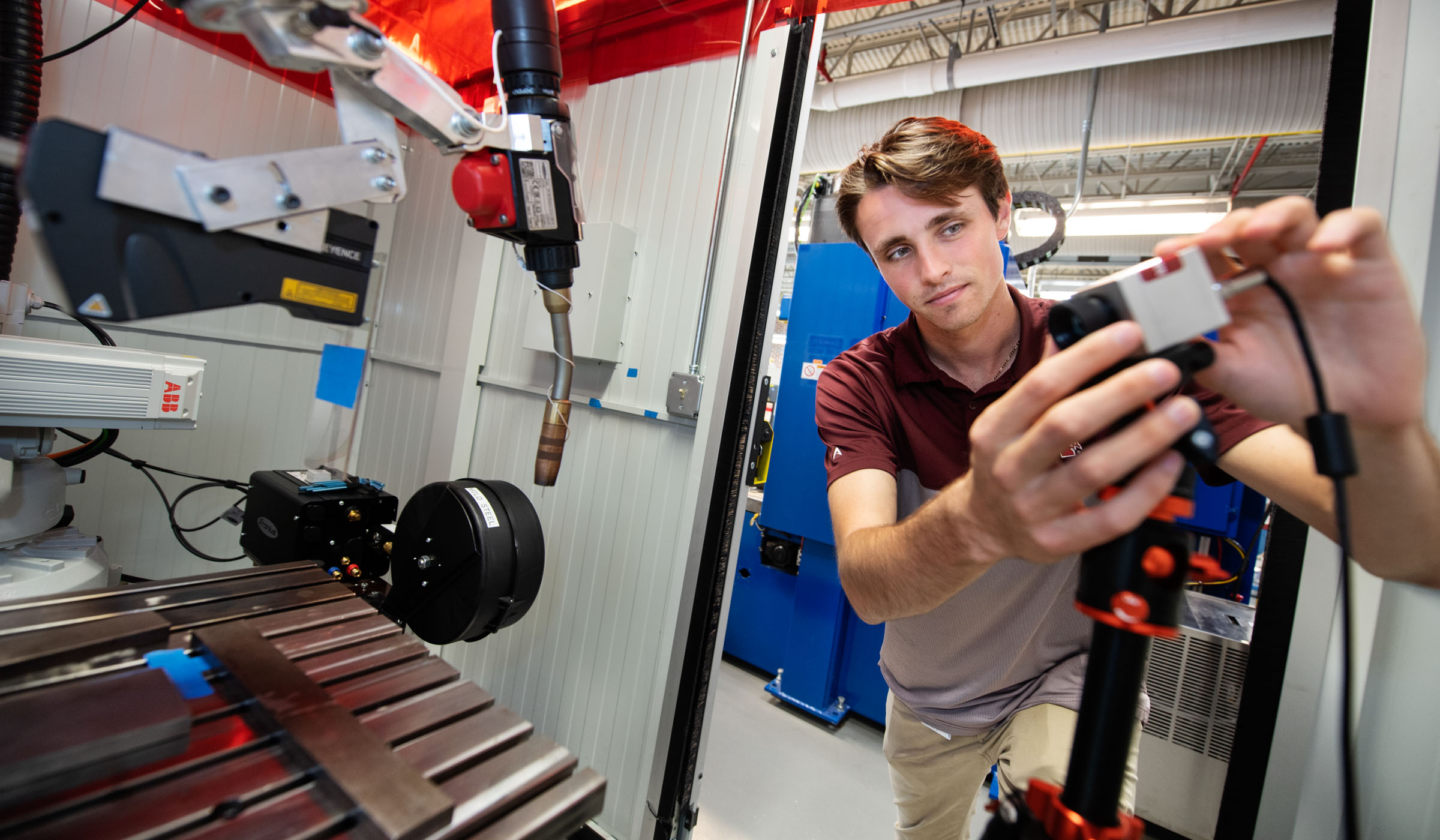 On the cusp of a doctoral degree in industrial and systems engineering from Mississippi State, Christian Zamiela can explain in fine detail the ways machine learning and artificial intelligence can improve manufacturing processes. As a former college soccer player at Millsaps College, he also can speak to the finer details of what can make a team successful on the field.
Coaching youth soccer and mentoring members of the Partnership Middle School robotics team have taught the Florida native the value in delivering your message in a way that resonates with the audience, whether it is a business leader or a teenager.
"Playing soccer showed me how to be a good team member, and that carries over to the work I do in the lab and being able to work effectively with a team," said Zamiela, who is a graduate assistant in the additive manufacturing lab at MSU's Center for Advanced Vehicular Systems. "On the coaching side, I have benefitted from learning how to communicate with a group, just like I do when I give presentations about my work here. Either way, I'm trying to make sure I understand what my audience needs from what I am communicating."
While playing soccer at Millsaps, Zamiela studied applied mathematics in a pre-engineering program and became interested in statistical modeling, machine learning and artificial intelligence. With an interest in how these tools could optimize engineering processes, he came to MSU, where he earned his master's degree in industrial and systems engineering in 2021.
He now is pursuing a doctoral degree in the field, with the goal of entering academia or working in industry. During his time at MSU, he has interned with the U.S. Army Engineer Research and Development Center and been awarded a Mississippi Space Grant Consortium Graduate Research Fellowship.
Zamiela said the faculty in his department have supported his efforts to learn about the ways machine learning can improve the production process for 3-D printed and other materials. He also appreciates the chance to use advanced equipment at CAVS to support his research.
"There is a lot of potential for data-driven modeling to show you what is happening in real time," Zamiela said. "A lot of other previous techniques had limited real-time data or visualization. These new techniques allow for decisions to be made quickly. Being able to impact the quality or understand the potential stresses is the real value of using machine learning."
With graduation on the horizon in the next year, Zamiela said he will miss the connections he has made in Starkville.
"I've enjoyed my friends and the people I've met here, both on campus and in the community," Zamiela said. "It's more than just surface-level connections."