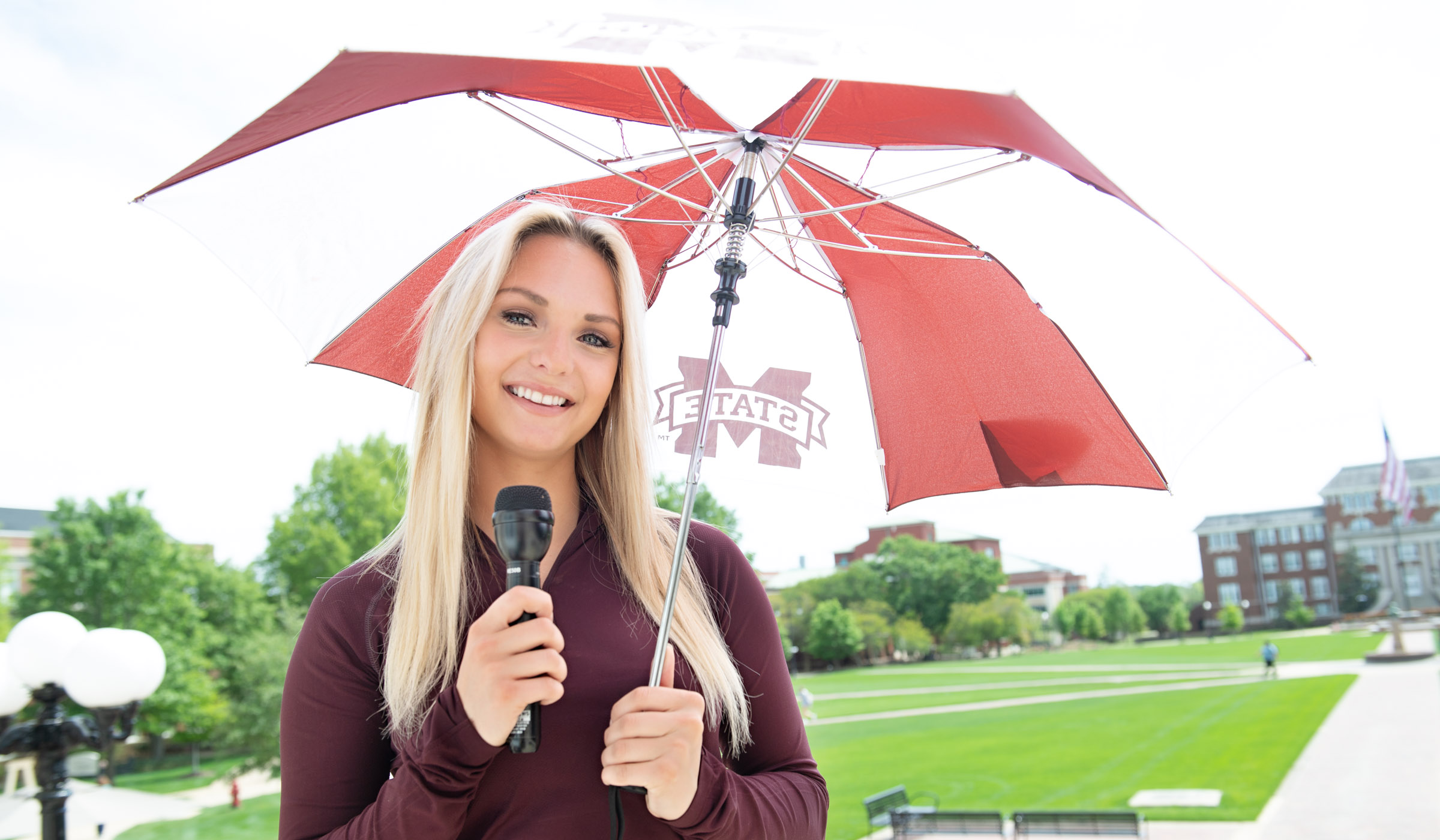 Haley Meier was destined to become a meteorologist.
Born in Omaha, Nebraska—part of the classic Tornado Alley of the Midwest—and nicknamed "Hailstorm" by her family for her temperamental outbursts as a young child, Meier said she's always been in the weather. At 3 years old, she named clouds and used whipped cream to draw them in pie tins, and as a high school student, she shadowed the meteorology team at KVUE-TV in Austin, Texas, where she was a standout soccer player.
It was through this love of meteorology—and her recruitment as a student-athlete—Meier discovered Mississippi State.
"It just made sense," she said referring to the university's nationally recognized program that graduates 1-in-3 on-air U.S. broadcast meteorologists. "Between the program and the athletics, things lined up perfectly to lead me to where I am. I came to campus, and I was like, 'Perfect fit. We're done.'"
Meier's MSU experience has included numerous activities, including playing soccer for two years and serving as treasurer and vice president for MSU's East Chapter of the National Weather Association and American Meteorology Society. Also, she helped found the university's chapter of the Hidden Opponent, an organization dedicated to improving student-athletes' mental health through advocacy, education and support.
The upcoming May graduate will end her undergraduate career with a bachelor's degree in broadcast meteorology and plenty of real-world experience. Not only did she hone her craft at MSU, but Meier also served as a weekend studio meteorologist for 15 months at WTVA-TV in Tupelo. Currently, she freelances as a field meteorologist and multimedia journalist for Fox Weather after becoming the organization's first endowed scholarship recipient.
With so many activities and commitments, Meier said her years at MSU "have been as unpredictable as the weather;" however, her instructors and peers provided invaluable support that led to her success.
"The slogan about how we're family with the big M—that's exactly what it feels like here, especially in the meteorology program," she said. "The level of care that teachers put into making sure you feel supported and cared for as a student is something I couldn't find at any other school. They're completely invested in you and want to make sure you succeed in the classroom and in life.
"Also, all of the students become a tight-knit group. We bond together through the tough classes, the broadcasting—the weather in general," Meier added. "Even graduates are there for us to help us navigate life coming out of college. From helping us find job opportunities to recommending places to live, our alumni base is extensive and so good at helping out. You'd be hard pressed to find any TV station that doesn't have someone working there who hasn't been touched by Mississippi State. Everyone knows the program, and that's instant credibility."
After graduation, Meier said she plans on traveling, continuing her work as a field meteorologist and eventually returning to MSU classrooms as she pursues a master's degree in business.
"Starkville is such a special place, and I cannot imagine getting my degree from anywhere else," she said. "I'm thankful I found MSU and that everything lined up so well for me here. These opportunities would not have happened anywhere else."