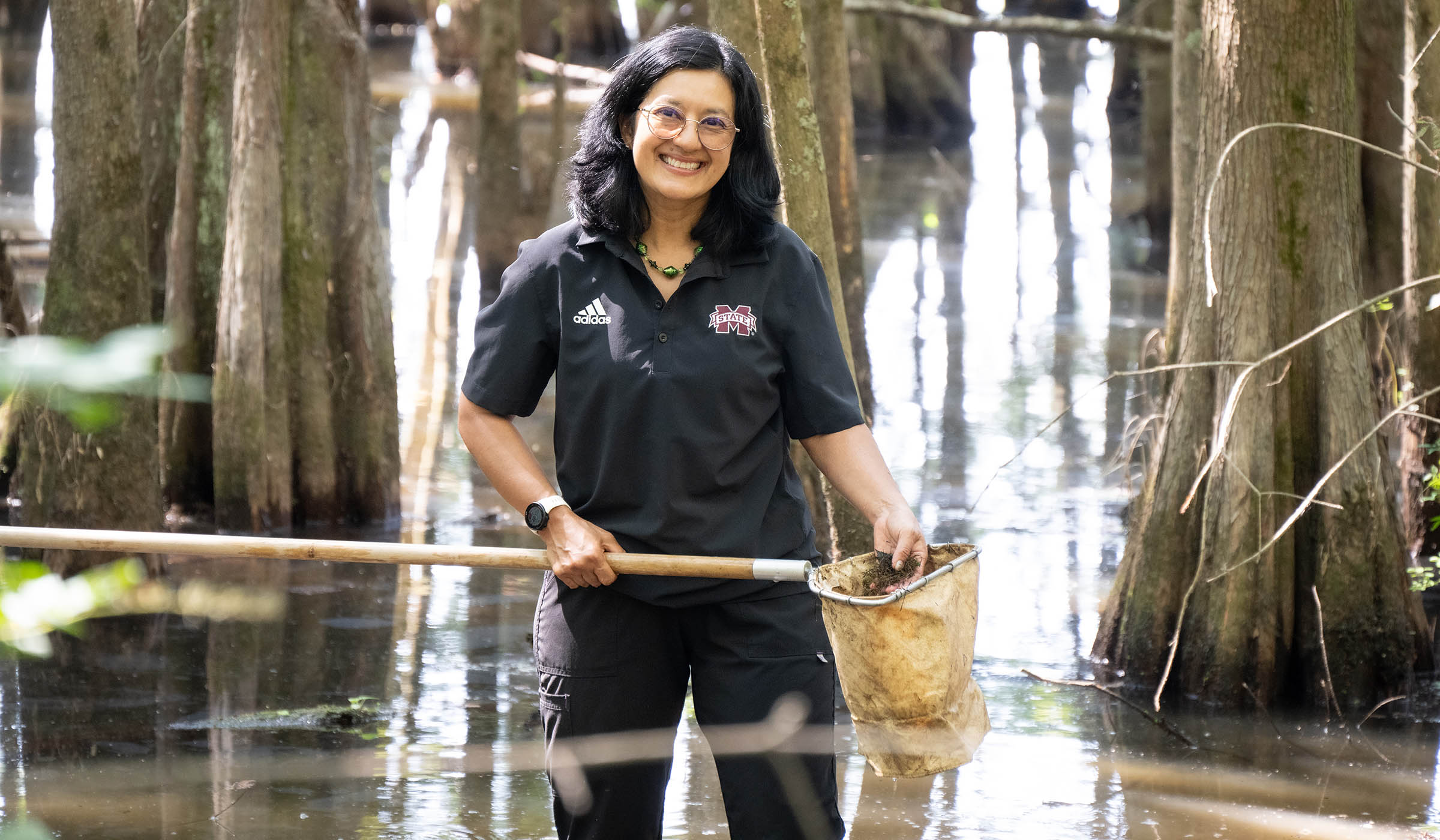 Rivers weave throughout Mississippi, making it the perfect state for river and aquatic ecologist Sandra Correa. As an assistant professor in the Department of Wildlife, Fisheries and Aquaculture at Mississippi State, the Colombia native uses her knowledge of aquatic biodiversity to promote responsible care of river ecosystems and protect them from overfishing, so they continue to produce a variety of fish. From the Mississippi River to the flowing streams of Cambodia, Correa is touching lives one river at a time.
"I started a new graduate-level course on river ecology," Correa said. "I designed the course to be my dream course that I never got to take. I think a course focusing on large rivers with a holistic point of view to understanding their ecosystems, how they work, and how we can maintain their functionality is vital to those in natural resources-related fields because of the importance of rivers, especially in Mississippi. But moreover, rivers around the world need people with an understanding of river ecology to maintain them to be sustainable long-term."
In addition to teaching, Correa leads research focused on rivers' roles, supporting the health of people and the planet. Housed in the College of Veterinary Medicine's Global Center for Aquatic Health and Food Security, the Feed the Future Innovation Lab for Fish funds several aquaculture and fisheries activities in Asia and Africa, all with the goal of alleviating poverty and improving nutrition in vulnerable populations. One such activity is led by Correa.
"The Sre Ambel River system in southern Cambodia has an extremely diverse fishery, but unfortunately, several species are being exploited and their population is declining," she said. "One of our goals with the Fish Innovation Lab activity was to establish the Citizen Science Program to help collect baseline data from the fish being harvested such as the type of fish, size, fishing gear, traveling time, and the GPS location of where fish were caught."
With this data, the fishers in the area will have a better understanding of their fishery and how to maintain it.
"We now have maps showing all of the fishing trips for every single fisher and what village that particular fisher is from to know how far they are traveling to catch their fish," Correa said. "This is important information to have because in the future we will be able to see if the distances decrease with better fisheries practices, which will indicate that fish populations are improving."
Correa's passion for river systems stems from the lives of the people that rely on them.
"All the villagers along the river depend on fish not only to eat themselves but also to generate income in the fish markets," she said. "This work is helping sustain livelihoods."
From Cambodia back to Mississippi, Correa loves making a difference in the lives of people, especially her students.
"MSU is a welcoming campus," she said. "The faculty and staff strive to go above and beyond to make students feel welcome, and I am proud to be a part of making a difference in the lives of our students."
As a first-generation graduate student, Correa has a heart for students who may feel like "fish out of water" at the beginning of their college careers.
"I relate well with many students here because I know what it is like to be a first-generation student," Correa said. "I think that perspective helps me connect with students who come from similar backgrounds. At the end of the day, MSU is a great place to impact the lives of people in so many unique ways, from teaching to research."