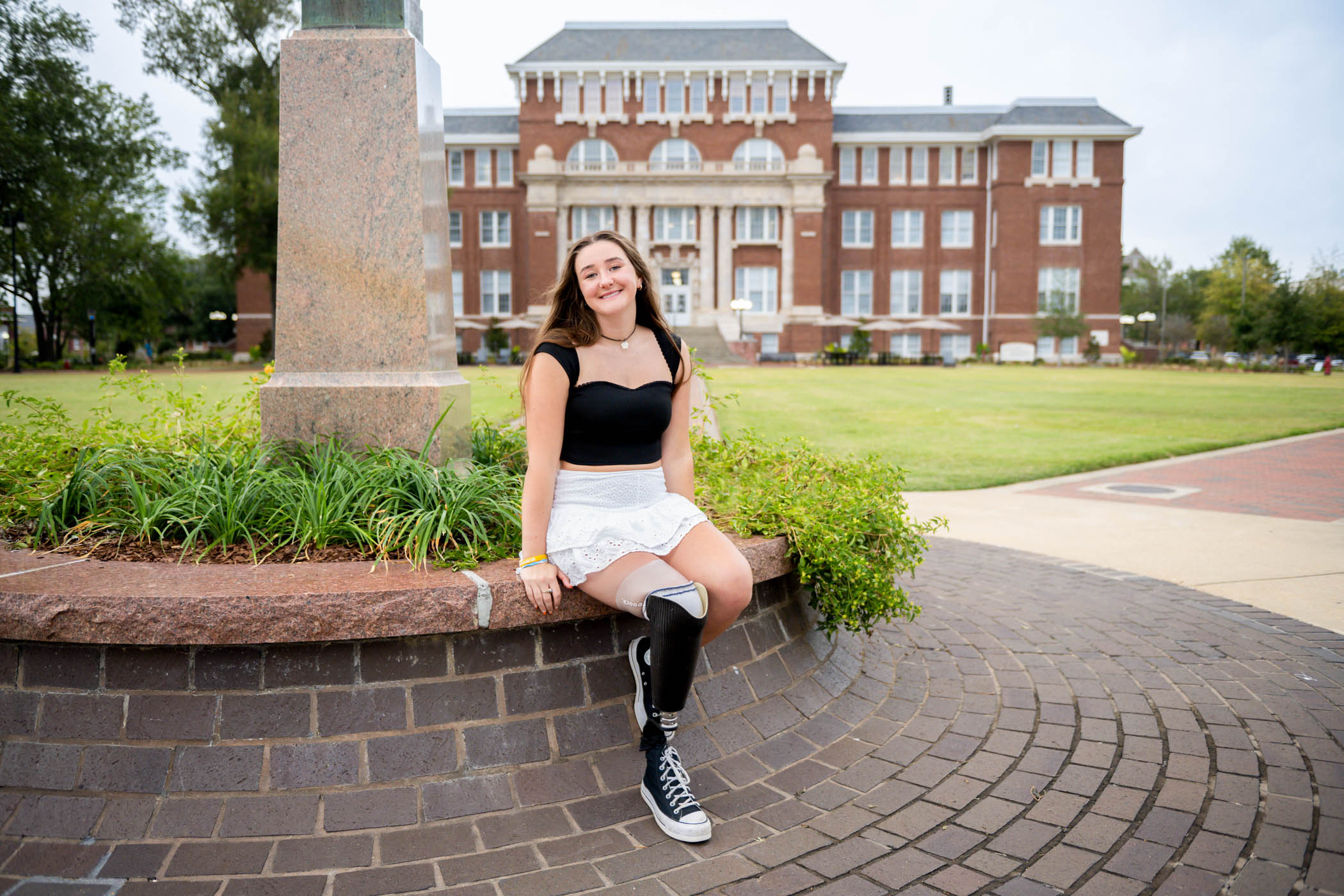 Longtime gymnast Isabel Marble decided she wanted to be an orthopedist several years ago.
"I had to see the orthopedic doctor multiple times. I broke my hand doing some stuff," she explained. Interacting with the doctors piqued her interest.
She had the unfortunate reason to get even more acquainted with the work of these medical specialists when she had a serious automobile accident between her junior and senior years of high school, resulting in the loss of part of her right leg. She now uses a prosthetic leg.
"The doctors explained everything at a level I could understand," she recalls. "How he explained things solidified that I wanted to do this. I was going back and forth between orthopedics and physical therapy, but I think the accident is what actually determined what I want to do."
The sophomore chemistry and biological sciences/pre-med major doesn't seem to dwell on any of her negative experiences, but rather gives the impression that she's got the willingness and resolve to move ahead, no matter the challenge.
"I kind of accepted it right away. It's not going to change anything, so I kind of had to," she said, explaining that one of the hardest things to do was quit sports; however, she continues practicing and coaching gymnastics.
She shares frankly that transitioning to Mississippi State presented a difficult challenge throughout her freshman year. The Canton, Georgia, native came to MSU because of significant scholarship offers, with the added encouragement of her parents who are both alumni.
When homesickness was at a high level after her first semester, her parents urged her to stay at least to complete the academic year. She pushed through until she began to find her niche, feeling more at home on campus and in the Starkville community, and more a part of the Bulldog family.
An introvert, Marble said the hardest adjustment was making friends, but with time, she has joined more organizations and steadily built her community and a satisfying routine. She enjoys social events with her sorority, keeps a regular workout schedule and has joined Dance Marathon, a philanthropic organization that raises money on campus for Le Bonheur Children's Hospital in Memphis, Tennessee. It also helps that her parents are frequent visitors to their alma mater, traveling to Starkville more often now that they've bought a gameday home, which Marble also plans to live in during her junior and senior years.
Although Marble may be on the shy side, she's not timid at all. In fact, she's rather adventurous. Since she was hit by a car less than three years ago while riding her motorcycle, she has restored her beloved Harley-Davidson and continues riding, a love she shares with her family. She also scuba dives and has been sky diving and paragliding.
She traveled this past summer with an MSU study abroad program to Iceland, Sweden, Norway and Denmark to study alternative energy sources. On campus, she enjoys Spanish, having taken it throughout elementary and secondary school. She said she loves biology and is challenged by her chemistry courses, which she declares are "a lot of work."
"I'm never not doing something. I'm always busy, and I think that helps me. I like to do stuff constantly," she said.