October 28, 2020




11:00 am
About this event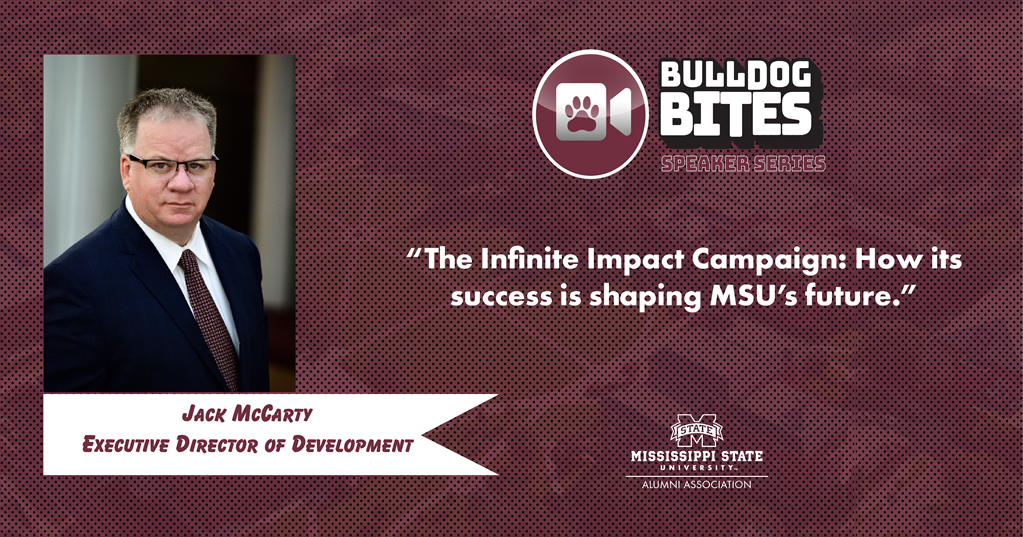 Join MSU's Alumni Association for the next webinar in its new Bulldog Bites Speaker Series!
*Featured Speaker*
Jack McCarty
Executive Director of Development
Jack McCarty is a veteran Mississippi State University fundraiser who currently serves as executive director of development for the MSU Foundation. In his role, he also is secretary of the MSU Foundation Board of Directors. He assumed his leadership position with the university's fundraising arm in mid-2011.
McCarty has more than 26 years experience in development, with 20 of those years specifically devoted to the MSU Foundation. He has been involved in all of MSU's successful capital campaigns, including the recently completed $1 billion comprehensive campaign known as "Infinite Impact."
At 11 a.m. CST, the Alumni Association will be livestreaming the webinar on its Facebook page, along with Webex.
Details
Location
Online via link in event description and MSU Alumni Association Facebook page (@msstatealumni)
Primary Sponsoring Organization
MSU Alumni Association
Sponsoring Organization's Web Site
Additional Information
For disability accommodation, please contact Orly Hardin at (662) 325-7000 or ohardin@alumni.msstate.edu.