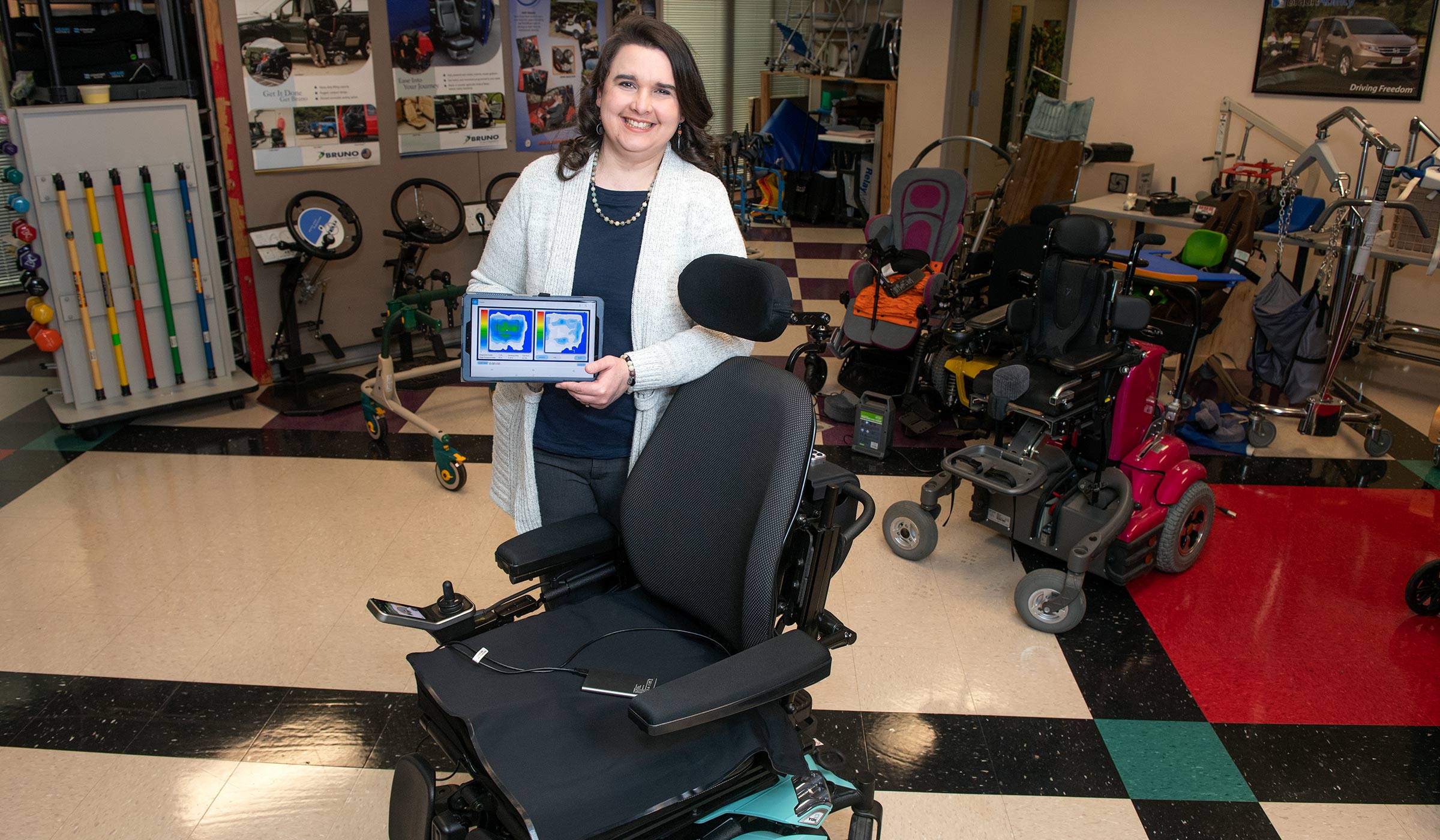 Rebecca Mathis doesn't necessarily consider herself a leader in her field, but as rehabilitation engineer with Mississippi State's T.K. Martin Center for Technology and Disability, she is one of only a few such professionals in the country.
An employee at the center for nearly seven years, her primary role is to conduct seating and mobility evaluations for individuals with disabilities. This usually takes the form of wheelchair evaluations, though Mathis explains that she also helps with other areas of assistive technology.
"When we conduct an assistive technology evaluation, my role is to help determine which technology best fits the individual's needs," Mathis said. "The center has also received a Christopher and Dana Reeves grant to conduct pressure mapping. I am responsible for completing and planning the pressure mapping under this grant."
In short, Mathis helps clients attain a better quality of life and expands their horizons. She explained that for individuals with disabilities, the appropriate assistive technology can make so many things possible, and this is especially true of seating and mobility. Pressure mapping shows the contact pressure distribution between the body and supporting surfaces and allows clinicians and individuals with paralysis and their families to see the impact of changing positioning aids, cushions and completing pressure relief strategies, which can aid in cushion and seat selection.
"The proper seating system can impact an individual's health and function. Oftentimes, we try to compartmentalize the different types of assistive technology," Mathis explained. "However, all of the areas are being used by one person. One of the often-unseen jobs of the T.K. Martin Center staff is to make sure that these technologies all work together for the benefit of the individual we are serving."
For Mathis, it isn't the awards, honors or acknowledgments that she considers her accomplishments—it's helping find solutions for her clients, especially those with difficult cases, that she considers her greatest achievements.
"I think about the child who is finally able to move independently because our team found a way for the child to use a wheelchair. Or the worker who now has modified heavy equipment to allow him to get in and out safely," Mathis said. "And the student who is now able to attend college and pursue their dreams. These and others like them are my most meaningful accomplishments."
Mathis also expressed her gratitude to those who helped pave the way for her and her career.
"The thought of being a leader in my field is humbling. I think of the people I have learned under and worked under. To me, they are some of the leaders in the field, and it's because of their work and instruction that I am able to do what I do."