Contact: Camille Carskadon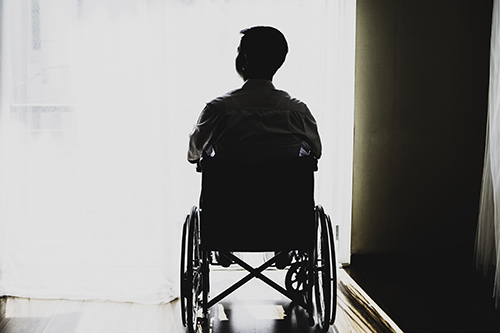 STARKVILLE, Miss.—Mississippi State's T.K. Martin Center for Technology and Disability is receiving a grant from the Christopher and Dana Reeve Foundation that will allow the center to further help clients with paralysis.
The $17,733 grant is a part of the Christopher and Dana Reeve Foundation's Quality of Life Grants program, which supports nonprofits that empower individuals living with paralysis. The latest grants are made possible through a cooperative agreement with the Administration for Community Living, part of the U.S. Department of Health and Human Services.
"We are honored to receive this Quality of Life Grant from such a distinguished organization as the Christopher and Dana Reeve Foundation," Director Kasee Stratton-Gadke said. "This award speaks highly to our outstanding staff and the mission of the T.K. Martin Center. We are thrilled to be able to use the funds to provide services that will have a direct impact on the lives of those living with paralysis."
Specifically, the center will use this funding to provide pressure mapping technology throughout Mississippi. Pressure mapping systems allow clinicians and individuals with paralysis and their families to see the impact of changing positioning aids, cushions and completing pressure relief strategies, which can aid in cushion and seat selection.
The pressure systems not only will be used for wheelchair selection and education, but also for mapping recreational, farm and heavy equipment vehicles, among others. The project will have an annual impact on approximately 60 Mississippians, many who reside in rural communities without previous access to pressure mapping technology.
Rebecca Mathis, T.K. Martin Center's biomedical engineer, said that pressure mapping is a quantitative tool that helps individuals and professionals to prevent skin breakdown. She explained that skin breakdown is often difficult to heal and has lasting health impacts, and pressure mapping is a teaching tool that will help individuals by informing decisions that impact their health and daily life.
"This grant will help the T.K. Martin Center provide a service not readily available in our state," Mathis said. "We'll be able to provide pressure mapping not only for wheelchairs but also for recreational items such as four wheelers, tractors, boats and other items as needed, which is very rare. This availability will give our center one more way to have a positive impact on the lives of the individuals we serve."
Opened in 1996 as part of MSU's College of Education, the research center serves individuals with disabilities to help them benefit from technological solutions and innovative assistive technology. The center continues to work with children and their families through such programs as Project IMPACT Preschool; Assistive Technology Services, including educational and adaptive driving; Express Yourself! Art; IGNITE Dyslexia Services; Early Intervention Evaluations; and Camp Jabber Jaw that introduces augmentative and alternative communication devices to campers and their families.
The Christopher and Dana Reeve Foundation is dedicated to curing spinal cord injury by advancing innovative research and improving the quality of life for individuals and families impacted by paralysis. For more information about the foundation, visit www.ChristopherReeve.org or call 800-539-7309.
Established in 1903, MSU's College of Education is home to six academic departments, one research unit and numerous service units. For more about the college, visit www.educ.msstate.edu; the T.K. Martin Center, www.tkmartin.msstate.edu.
MSU is Mississippi's leading university, available online at www.msstate.edu.