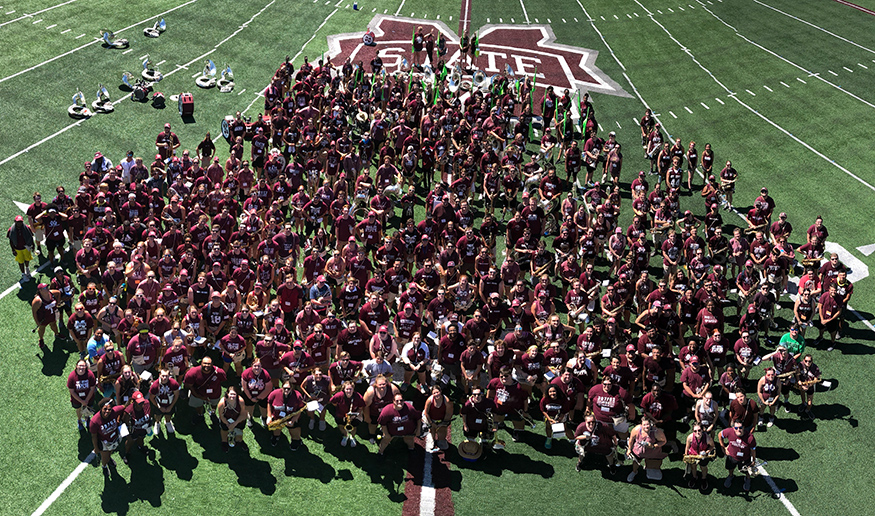 Contact: Sasha Steinberg
STARKVILLE, Miss.—Individually, they represent a variety of backgrounds, academic majors and career aspirations. Together, 420 students in Mississippi State's 117-year-old Famous Maroon Band make up the largest college band in university history.
"It is an exciting time to be a part of the university and the band program," said MSU Director of Bands Elva Kaye Lance. "Our students represent every college and school on campus and really are a microcosm of the university student enrollment. We are excited to again serve this year as the 'soundtrack' for so many significant university events."
With an overall average GPA of 3.3 and ACT score of 27.3, this year's Famous Maroon Band membership consists of 16 high school valedictorians and 10 salutatorians. Students hail from 19 U.S. states, as well as Colombia, South America.
An MSU alumna, Lance said she and associate directors Craig Aarhus and Clifton Taylor have been pleased with new and current band students' professionalism and willingness to learn in preparation for a busy year. 
"Those of us in leadership positions with the band realize we are standing on the shoulders of all who have gone before us and who have established the performance traditions that have become the Famous Maroon Band," Lance said.
"With this large group, it is imperative that the students respond quickly to our instruction and that they help us keep the spaces organized and orderly," she said. "They demonstrated outstanding cooperation in all areas. Additionally, they are talented musicians, which makes our job as directors a lot of fun."
Aarhus said 275 high school students from across the region who make up the university's annual Marching Honor Band will join Famous Maroon Band members in a Sept. 14 halftime performance during MSU's home football game versus Kansas State.
The band's fall halftime performances include "Musical Royalty" and "Savage"-themed shows, as well as the annual homecoming and patriotic shows.
In October, Aarhus said family and community members will be invited to rehearsals as part of a Famous Maroon Band meet and greet.
The MSU Wind Ensemble, the premier performing group of the university's band program, will make two major appearances during the academic year. Lance will conduct the ensemble for its December performance in Natchez at the Mississippi Bandmasters Association State Band Clinic, as well as its March 2020 performance in Biloxi at the American Bandmasters Association Annual Convention.
MSU's Famous Maroon Band is part of the College of Education's nationally accredited Department of Music. For more, visit www.msuband.msstate.edu, www.music.msstate.edu and www.educ.msstate.edu.
MSU is Mississippi's leading university, available online at www.msstate.edu.