Contact: Amy Cagle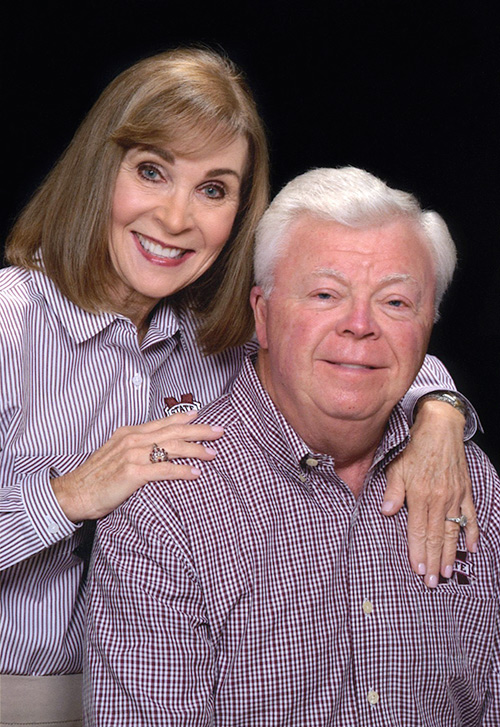 STARKVILLE, Miss.—Generous support from Mississippi State alumni couple Fred and MariAnna Brown of Roswell, Georgia honors their commitment to higher education at the largest university in their home state. A recently established deferred gift from the couple will further their support of the land-grant institution, primarily through student scholarships.
The Browns earned degrees from Mississippi State with the assistance of student loans and through their philanthropy hope to help make an education possible for future students. The couple's gift will create three academic-based endowed scholarships and provide support for the university's music department.
A portion of the couple's support places emphasis on veterans' education. The Col. Fred N. Brown, Jr. Endowed Scholarship will honor students pursuing undergraduate degrees in the College of Business. Recipients of the scholarship must be veterans of the U.S. Armed Forces with a minimum 3.0 GPA, among other criteria.
Originally from Ethel, Fred Brown spent 30 years in the U.S. Air Force with various national and international assignments before retiring in 1999 with the rank of colonel. Presently, he is vice president of City Light & Power Inc. based in Greenwood Village, Colorado.
An ROTC student at Mississippi State, Brown earned a 1967 degree in agriculture followed by a master's degree in plant pathology in 1969. He later earned another master's degree in systems management at the University of Southern California. 
In the College of Agriculture and Life Sciences, the MariAnna and Fred Brown Endowed Scholarship will benefit students following in Fred Brown's academic footprint by studying in the Department of Biochemistry, Molecular Biology, Entomology, and Plant Pathology. Recipients must have a 3.0 GPA, demonstrate financial need, and meet established criteria.
The couple's gift also establishes the Mary and Wendell Ladner Endowed Scholarship in the College of Education in honor of MariAnna Brown's parents. The Ladners were strong proponents of education who lived in Flora, where they raised their daughter. The scholarship will benefit entering students majoring in teacher education with at least a 3.0 GPA who demonstrate financial need and meet other established criteria.
"Neither of my parents had the opportunity for four-year degrees, and they would be thrilled to know their legacy is helping deserving students receive an education from Mississippi State University," said MariAnna Brown, who earned an MSU education degree in 1968 and taught for nearly a decade in public schools before targeting her career toward teaching English as a second language.
The Browns have emphasized and encouraged the pursuit of higher education and have been fortunate to provide the means for their three children to attend college. Now the couple is placing value on assisting a new generation of students.
 "Scholarships truly make a positive impact and give people a better life. A student either can be hindered by his or her personal hardships or use hardships as the motivation to reach for success. We want to encourage future recipients to meet challenges in their lives and succeed along their paths toward future careers with our scholarships as incentives," said MariAnna Brown. 
Fred Brown shares the goal of their deferred gift. "Education is important to the quality of life for everyone, and we want students who hold our scholarships to work hard and be rewarded with a clean slate after graduation, free from the financial burdens of education," he said.
Additionally, support from the couple will assist the university's Steinway initiative in the College of Education's Department of Music. Once an All-Steinway status is complete, the university will work to maintain and replace these pianos over time. The Browns will help make that possible through their deferred gift.
Apart from the deferred gift, the Browns currently fund a Loyalty Scholarship in the College of Education and an annual scholarship in the G.V. "Sonny" Montgomery Center for America's Veterans through the MSU Division of Student Affairs.
For more on gift planning through the MSU Foundation, visit www.msugiftplanning.org and request a complimentary guide.
MSU is Mississippi's leading university, available online at www.msstate.edu.