Contact: Allison Matthews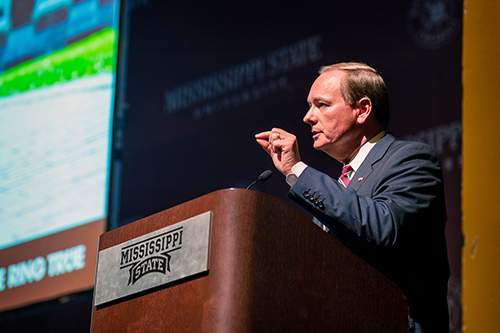 STARKVILLE, Miss.—Mississippi State President Mark E. Keenum spoke to faculty Wednesday [Aug. 28], giving details on changes in key senior university leadership positions, ongoing campus growth and statewide trends impacting higher education.
Keenum's annual fall faculty meeting serves as a semester welcome and update highlighting MSU accomplishments and challenges. He recently welcomed a record 108 new faculty to the university and applauded the distinguished achievements of their academic paths.
"Our new faculty members are joining us after earning their doctoral degrees from the University of Virginia, Cal Tech, Georgia Tech, Penn State, Ohio State, Princeton, Yale—and of course, Mississippi State University," Keenum said. He said they also are joining MSU from post-doctoral fellowships or faculty positions at top universities such as Duke, Dartmouth and throughout the Southeastern Conference.
"So clearly, Mississippi State University is a distinguished destination," he said.
Keenum noted the leadership of new Provost and Executive Vice President David Shaw, who has worked at MSU for 34 years, most recently as vice president for research and economic development. Other key leaders who are new in their roles include Julie Jordan, interim vice president for research and economic development, and Reuben Moore, interim vice president for agriculture, forestry and veterinary medicine.
Keenum discussed changing statewide leadership due to an election year and the importance of prioritizing higher education because of the economic impact and other tangible benefits universities offer all citizens. "We will be working very hard to educate our new leaders on the importance of higher education and of Mississippi State University," Keenum said. "In my opinion, there's definitely a correlation in what a state invests in higher education and the economic wellbeing of its citizens."
He said MSU is a strong contributor to the state's economy and is preparing students to thrive in the global economy.
"Mississippi needs to think strategically—to think and plan about how to be successful in a world that is rapidly changing," he said. "We're doing this at Mississippi State University, and our students are learning from world-class faculty," Keenum said. "We're also talking to them about how to live with integrity, have a good work ethic and be respectful of others."
Keenum said as competition increases for student enrollment, MSU is continuing to trend upward in number and quality of students, with average ACT scores continuing to rise.
"Recruitment, retention and student success have never been more important," he emphasized.
He explained that various student success programs are making a difference in giving students needed support, including the Freshman Year Navigators, Promise Program, THRIVE Program, Supplemental Instruction and others.
"I think we are really beginning to see our focus on student success and retention pay dividends," said Keenum, citing the Office of Student Success, Learning Center and Holmes Cultural Diversity Center among many helpful student resources.
Two additional academic programs in the planning and implementation stages will help MSU serve more adults and workforce needs. These include the Master of Physician Assistant Studies program anticipated to begin at MSU-Meridian in 2020 and the Bachelor of Applied Science degree, which will meet the needs of adults who have completed a technical associate's degree program through a community college or the military and need additional education to advance their careers.
"We think businesses and industries in the state will also be very engaged and interested to give us input on what they need us to focus on to help give their employees an education and help companies have a better workforce," he explained.
Keenum commended the MSU Foundation on efforts to secure record giving this year and throughout its Infinite Impact campaign.
"The support from our alumni and friends is essential. These investments in Mississippi State by our generous donors are vital to enhancing academic facilities, as well as funding scholarships and endowed faculty chairs and professorships," he said. "We are very grateful for the generosity of our donors and the trust that they have in us to be good stewards of their investment."
Among campus improvement projects included in Keenum's remarks, he said:
—Construction of the new Richard A. Rula Engineering and Science Complex on Hardy Road is well underway and will become home to the Department of Civil and Environmental Engineering.
—Construction continues on the Partnership School, which will open to local sixth and seventh grade students in the fall of 2020.
—Faculty and staff are preparing to move into the new Animal and Dairy Sciences Building.
—Work continues on the Poultry Science Building, which will complete the three-building complex for Meat Science, Animal and Dairy Sciences and Poultry Sciences in front of the Wise Center on Blackjack Road.
—College View is open and now home to 656 students occupying 288 apartments. Keenum said a potential Phase Two of the project could add more than 900 students to the residential development that is the first of its kind in the state.
—Plans are moving forward for a new Music Building next to the Band Hall on Hardy Road.
—A new 500-space parking garage and new 225-space parking lot are underway on the north side of campus.
Additionally, Keenum said the MSU Research and Technology Corporation's recent purchase of the Cadence Bank Building in downtown Starkville "will give us a new bridge to connect Mississippi State with the community we call home."
"It also complements our efforts with the MSU Idea Shop on Main Street and the Center for Entrepreneurship and Outreach's space in the Starkville Partnership's downtown office building."
Keenum thanked faculty for their year-round work before closing. "A university is only as good as its people, and we are blessed to have such outstanding people at MSU. I appreciate all you do."
MSU is Mississippi's leading university, available online at www.msstate.edu.