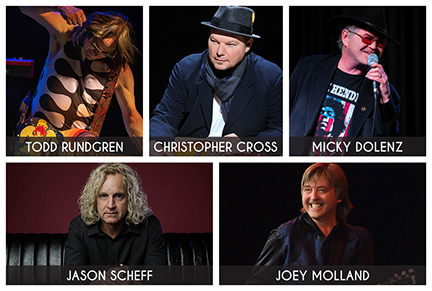 MERIDIAN, Miss.–One of the greatest recordings of all time gets all-star treatment at the MSU Riley Center on Thursday, September 26 at 7:30 p.m. "It Was 50 Years Ago Today: A Tribute to the Beatles' White Album" features Todd Rundgren, Christopher Cross, Micky Dolenz (The Monkees), Jason Scheff (Chicago) and Joey Molland (Badfinger).
The Beatles recorded and released the album in 1968, writing many of the songs while studying meditation in India with the Maharishi Mahesh Yogi. The official name is "The Beatles," but fans know it as "The White Album" because of the plain white cover. Its 30 songs include such classics as "Revolution," "Ob-La-Di, Ob-La-Da," "Back in the U.S.S.R." and "While My Guitar Gently Weeps."
The legendary musicians will perform songs from the album as well as some of their own hits. Here's a closer look at those artists:
Todd Rundgren began his professional career as a singer, songwriter and record producer in 1966. His hits include "We Gotta Get You a Woman," "I Saw the Light," "Bang the Drum All Day" and "Hello It's Me."
Christopher Cross won five Grammy Awards for his quintuple-platinum 1979 debut album, "Christopher Cross." It spawned such hit singles as "Ride Like the Wind," "Never Be the Same" and "Sailing." His "Arthur's Theme (Best That You Can Do)" from the 1981 movie "Arthur" won an Academy Award for Best Original Song.
Micky Dolenz played drums and sang with the Monkees, a group created for the 1966-68 TV series "The Monkees." He provided the lead vocals for several of the band's hits, among them "Last Train to Clarksville," "Pleasant Valley Sunday" and "I'm a Believer."
Jason Scheff played bass and sang with Chicago from 1985 till 2016, contributing lead vocals on such hits as "What Kind of Man Would I Be?" (which he co-wrote) and "Will You Still Love Me?"
Joey Molland played guitar and sang with Badfinger from 1969 through 1974, when the band's hits included "No Matter What," "Without You," "Day After Day" and "Baby Blue." As the only surviving member of the band's classic lineup, he continues to tour periodically with Badfinger.
Tickets are $100 for VIP seats, $75 for A seats and $65 for B seats at the MSU Riley Center Box Office, open from 9 a.m. to 5 p.m. Monday through Friday and one hour before showtime. Tickets can be purchased online at www.msurileycenter.com or by calling the box office at 601-696-2200.