Contact: James Carskadon
STARKVILLE, Miss.—Mississippi State University is celebrating the 20th anniversary of the Mississippi Horse Park, an economic driver for the region and the state.
The facility was built with $6 million in state funds in 1999 and was organized as a partnership between MSU, the city of Starkville and Oktibbeha County. Two decades later, the Horse Park is a nationally recognized destination for equine and other events, supporting tourism and generating over $43 million in economic impact. On Sept. 6, the Horse Park will host a live radio remote of Supertalk's Paul Gallo Show. MSU President Mark E. Keenum is scheduled to join the show during the 7 a.m. hour.
"Having the opportunity to lead the facility, I wanted to make sure that everyone in the partnership was benefiting," said Bricklee Miller, who has served as director of the Horse Park since 2000. "That's what we've seen through the years. We've had continued support from the city, from the county and from the university, and we've seen the facility thrive."
The park has hosted 978 activities since opening in 1999. Miller said her team has focused on maintaining a diverse event portfolio and on multi-day events that have a stronger economic effect. In addition to events based on horse breeds and disciplines like roping and barrel racing, the facility has hosted banquets, concerts, dog shows, garden expos, cross country meets, fairs and more.
"I often point to the Mississippi Horse Park as the economic engine that sits in the south Starkville area," said Starkville Mayor Lynn Spruill. "I believe that this premier facility has been a catalyst for so many events and has provided entertainment options on most weekends of the year for residents and visitors alike. I am very proud of the partnership that the city has committed to with this dynamic venue."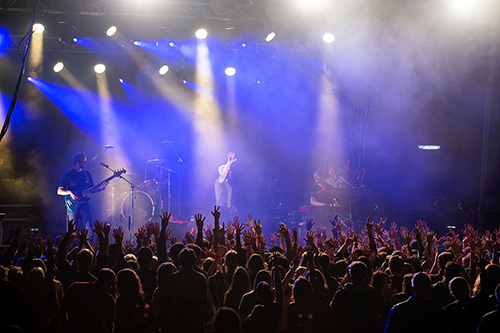 The Horse Park also serves many functions for the campus community. It hosts labs and classes for the Department of Animal and Dairy sciences, provides parking for student preview days and is home to MSU Extension's termite application training facility. It also is used as RV parking during MSU home football game weekends and has become a popular place to stay for both MSU fans and visitors from other universities.
"The Mississippi Horse Park is vital to so many programs in our division," said Reuben Moore, MSU interim vice president for the Division of Agriculture, Forestry and Veterinary Medicine. "It serves all the mission areas of Mississippi State—learning, service and research. We serve the community of Oktibbeha County and Starkville by providing over 48 events per year for our citizens to enjoy. We have classes for MSU students. We conduct workshops at the park such as 4-H events and adult educational activities. We are proud of the park's leadership and plan to continue our service to the community and Mississippi State University."
The Horse Park also has played a role in developing a new transportation corridor south of campus and Starkville. When Oktibbeha County pursued grant funding to pave Poorhouse Road in the early 2000s, the facility's tourism and economic development potential of the Horse Park was part of the county's pitch. Since then, housing in the area has continued to develop, and MSU was able to secure federal funds to build Hail State Boulevard, a 3.5-mile road connecting Poorhouse to Blackjack Road.
Orlando Trainer, president of the Oktibbeha County Board of Supervisors, said that the Horse Park has continued to grow over the years as it generates more of its own revenue.
"It's been a tremendous blessing to the county," Trainer said. "Even as the county funding has declined, the service and effectiveness of the Horse Park has continued to increase. It's made a tremendous impact on the quality of life and has provided a good return on investment."
The facility has been recognized with national awards, including being named a Top 10 facility in the country by Barrel Race News and receiving awards for the best footing in a professional rodeo three years in a row. It also won a Producer of the Year award for the Horse Poor Barrel Race, which is produced in-house by facility staff. Miller said the Horse Park's strong national reputation has helped it bring promoters and participants to Starkville. She also regularly uses the Greater Starkville Development Partnership's tourism grant program to help recruit new activities.
"It was important from my perspective to bring in people to produce these quality experiences and generate more revenue," said Miller, who is one of the longest-serving directors of an equine facility in the country. "It was important that educational opportunities take place here and that we had diverse events for the community to come out to. All of those things combined have made us successful."
For more on the Mississippi Horse Park, visit www.mshorsepark.com.
MSU is Mississippi's leading university, available online at www.msstate.edu.