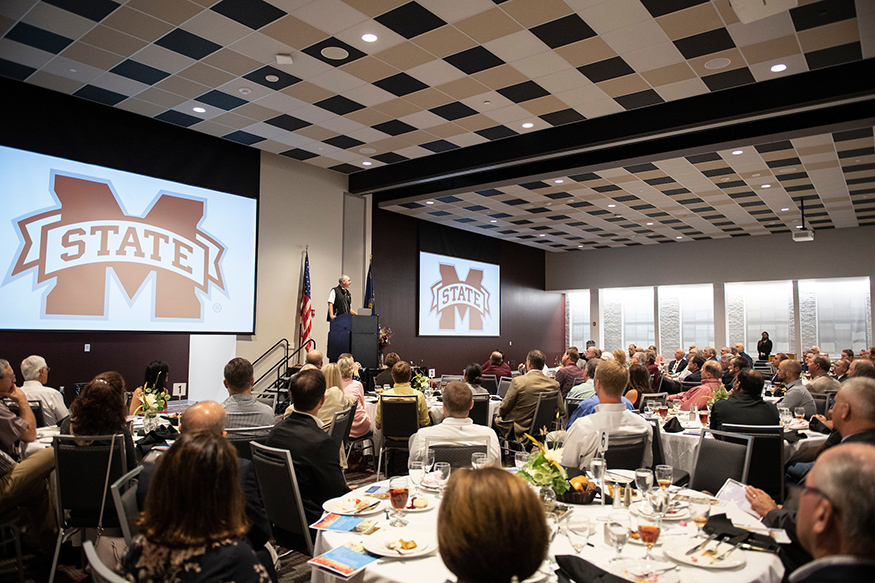 Contact: James Carskadon
STARKVILLE, Miss.—Mississippi State University coaches shared insights from on and off the field during a Wednesday [Aug. 28] Summit for Scouting at The Mill at MSU.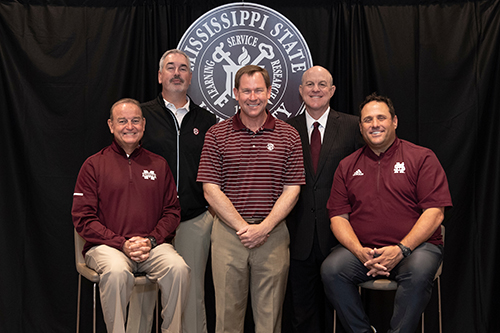 The event is an annual fundraiser for the Pushmataha Area Council, which supports Boy Scouts activities in 10 eastern Mississippi counties. Keynote speakers included Head Football Coach Joe Moorhead, Head Women's Basketball Coach Vic Schaefer, Head Baseball Coach Chris Lemonis and Head Men's Basketball Coach Ben Howland.
"Boy Scouts of America is a phenomenal organization that prepares young people for life, and they do that through values," Howland said. "I know it's critical to have your team understand values as a foundation."
Moorhead, who will begin his second season at the helm at MSU on Saturday against the University of Louisiana-Lafayette, said many of the traits instilled by scouting are similar to those he works to instill in his team. In Moorhead's program, the three pillars of success are accountability, productivity and persistence. In addition to graduating student-athletes and winning games, he said one goal of the program is to have a positive impact in Starkville, the state of Mississippi and at MSU.
"We want to make sure we give back to the community that supports us so greatly," Moorhead said.
Schaefer, who has led MSU to two NCAA national championship games and three Elite Eight appearances, said it's not necessarily what the program does that has made it among the best in the country, but the high standard used for everything that is done in the program. He also encouraged scouts to take on leadership in a meaningful way.
"There is pain in leadership," Schaefer said. "Great leaders are servant leaders. You have to get uncomfortable to be a great leader. You have to serve before you can lead."
Lemonis, who took MSU to the College World Series in his inaugural season as head coach this year, said it is fun to be in an athletic department where so many teams are winning. He said his "welcome to Starkville" moment came during the second game of the Super Regional at the new Dudy Noble Field, when a dominant performance by the Bulldogs, capped by a dramatic Elijah MacNamee home run, propelled the Bulldogs to the College World Series.
"I've never been around any place like it," Lemonis said. "It's the community that makes it special."
For more on the Pushmataha Area Council, visit www.pushmataha.org.
MSU is Mississippi's leading university, available online at www.msstate.edu.