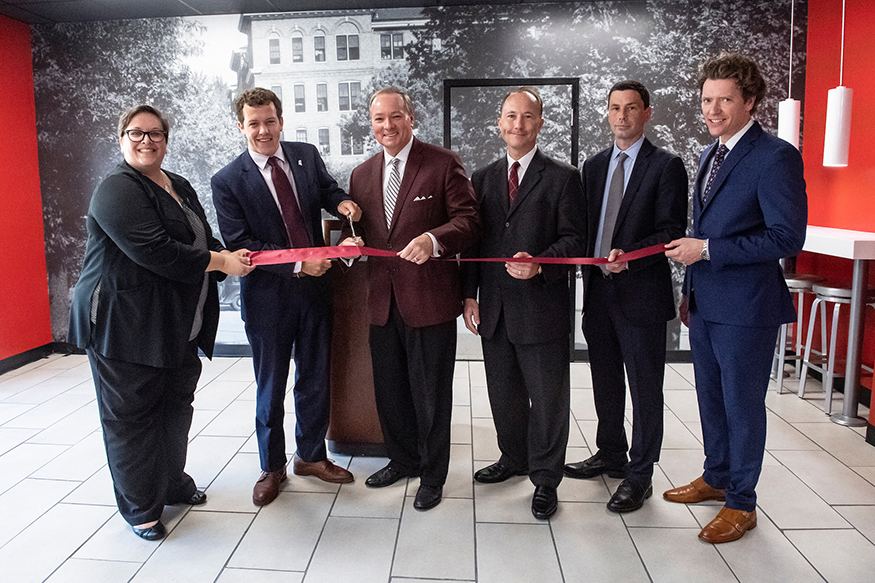 Contact: Sasha Steinberg
STARKVILLE, Miss.—Mississippi State's Starkville campus is home to a new Steak 'n Shake dining location.
Opening for business Tuesday [Aug. 13], the new eatery is in the Roberts Building on Lee Boulevard in the former Burger King location. In addition to hand-dipped milkshakes, Steak 'n Shake is known for an all-natural "Original Steakburger."
"We are grateful for our partnership with Aramark and are excited to have the Steak 'n Shake brand at Mississippi State," said MSU President Mark E. Keenum. "Having this quality establishment on our campus helps us continue to provide really good dining experiences for everyone, especially our students."
James Jankowski, resident district manager for MSU Dining Services–Aramark, said research and student feedback spurred the decision to bring Steak 'n Shake to campus as a late-night eatery where students can use their meal plans. Cash, credit and debit cards, and Aramark's Flex Dollars and Meal Equivalency programs will be accepted.
"Having Meal Equivalency as an option gives students added variety and essentially adds more Flex Dollars to their meal plans," Jankowski said.
Meal Equivalency allows students to use their block meals at certain retail locations twice per day—once between 4 and 9 p.m. and again between 9 p.m. and midnight. Also this fall, Subway and Moe's Southwest Grill are being added to the list of Meal Equivalency locations on campus.
"Students have requested these additions, and MSU Dining Services–Aramark is excited to make this a reality for them," Jankowski said.
MSU Vice President for Student Affairs Regina Hyatt said she appreciates Aramark's willingness to engage MSU students and listen to their feedback.
"Bringing Steak 'n Shake to campus is a direct result of extensive market research into what students wanted on campus. And likewise, with the refresh of Pizza Hut, students will see new options that will address their request for more variety and the ability to customize their pizzas," Hyatt said.
For more on MSU Dining Services, including locations, hours of operation, menus and meal plans, visit www.msstatedining.com.
MSU is Mississippi's leading university, available online at www.msstate.edu.