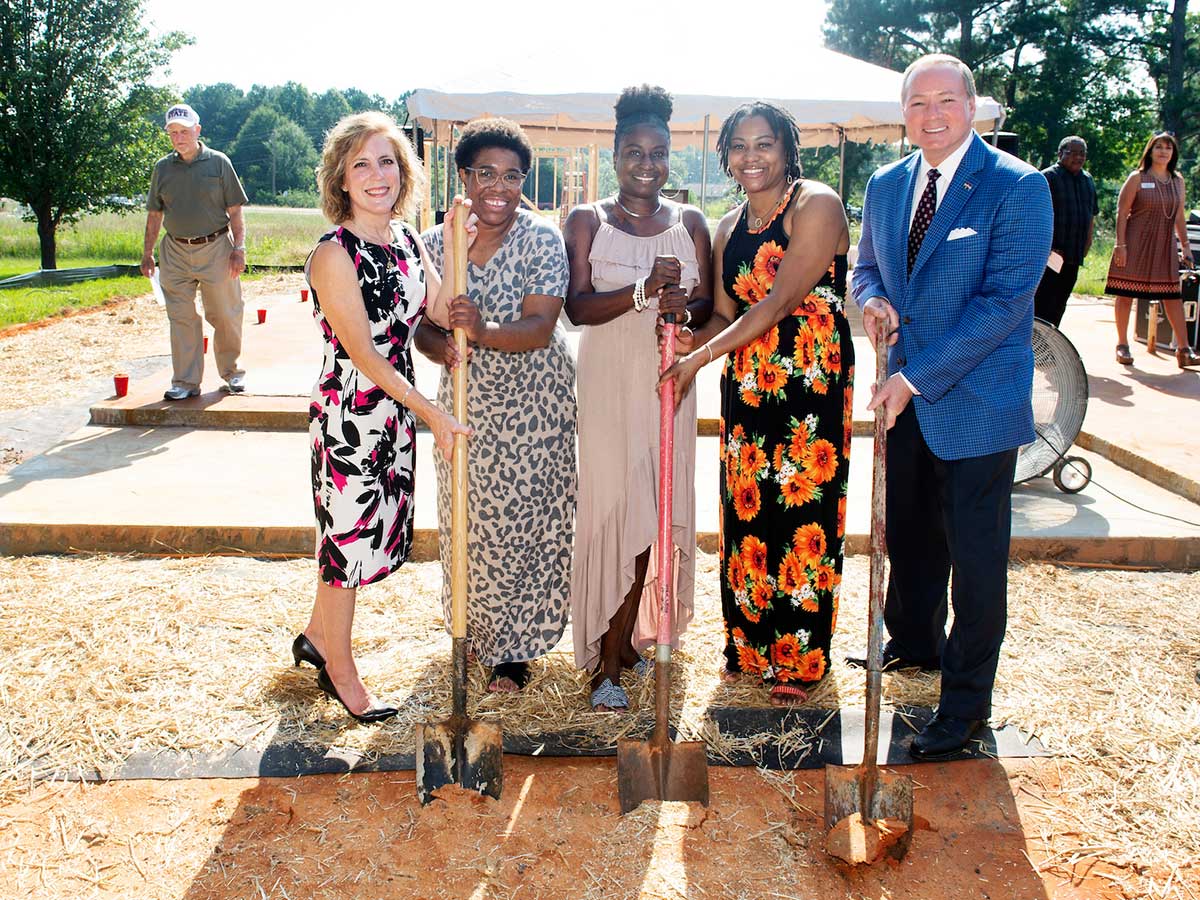 Contact: James Carskadon
STARKVILLE, Miss.—Mississippi State University and Starkville Area Habitat for Humanity broke ground Tuesday [Aug. 13] on the 11th Maroon Edition home.
Located on Azalea Lane, the home for Keyana Triplett and her family will be built this fall by volunteers from Habitat for Humanity and MSU.
During Tuesday's ceremony, MSU President Mark E. Keenum drove the ceremonial first nail and presented Habitat for Humanity with a $5,000 check from the university.
"I'm very proud that we have this partnership with a great organization that does such wonderful things for this community and deserving families," Keenum said. "As a university, we want to inspire our students to help others. We believe it's important to help our students understand service, making a difference and applying it the rest of their lives."
Starkville Area Habitat for Humanity has provided over 60 homes to local families while enriching the neighborhoods where the residences are located.
"This partnership has been a great thing for Habitat and for our community," said Nancy Lifer, Starkville Area Habitat for Humanity board president.
Once construction is complete, Triplett and three of her children will move into the new home. A Louisville native, Triplett has lived in Starkville since 2008 and worked for Aramark food service for 11 years. She will be starting online courses at East Mississippi Community College this fall in pursuit of an associate's degree in business.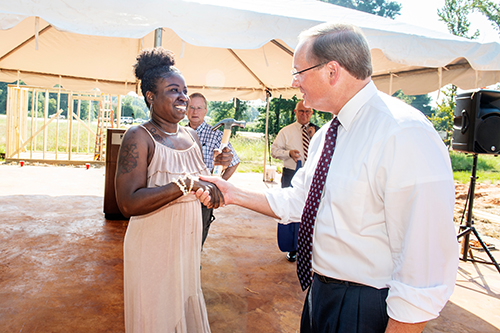 "I want to thank everyone that is a part of this," Triplett said. "I am so grateful that my kids and me have an opportunity to be homeowners."
City of Starkville Ward 2 Alderman Sandra Sistrunk said Azalea Lane is one the favorite neighborhoods in her ward.
"This is a community that has a very strong sense of community and they are neighbors in the best sense of that word," Sistrunk said. "We're truly better when we all work together, and this is a great project that will benefit the Tripletts and benefit our entire community."
The Habitat home is part of the service-learning component of the Maroon Edition First-Year Reading Experience, which encourages students to read a common book. The 2019 Maroon Edition book is "Hold On with a Bulldog Grip: A Short Study of Ulysses S. Grant," written by MSU and Ulysses S. Grant Presidential Library historians John Marszalek, David Nolen and Louie Gallo and former Rhode Island Supreme Court Chief Justice Frank Williams.
Students can work volunteer shifts on the Habitat home during Dawg Days events and throughout the fall semester. The Maroon Edition program was initiated by MSU's Office of the Provost in 2009 and has since brought students together around a common book and united thousands of volunteers to build new homes for 11 Habitat partner families.
Meggan Franks, MSU interim director of student leadership and community engagement, has helped oversee MSU's role in the Maroon Edition home for the past decade.
"We are thankful for this partnership and for everything that it has provided our community, our campus and our students," said Franks, who was presented with a plaque commemorating her contributions to Starkville Area Habitat for Humanity. "They have benefited from the lessons learned on these sites and the opportunity to work with diverse teams. They have become more civic-minded about our community and what communities need to be successful. I'm also grateful for the friendships that I've made over the course of this project."
For more on the Maroon Edition program, visit www.maroonedition.msstate.edu.
Students, faculty, and staff that are interested in volunteering to build the Maroon Edition Habitat for Humanity home can visit the Maroon Volunteer Center's website at www.mvc.msstate.edu. For more on Starkville Area Habitat for Humanity, visit www.starkvillehabitat.com.
MSU is Mississippi's leading university, available online at www.msstate.edu.