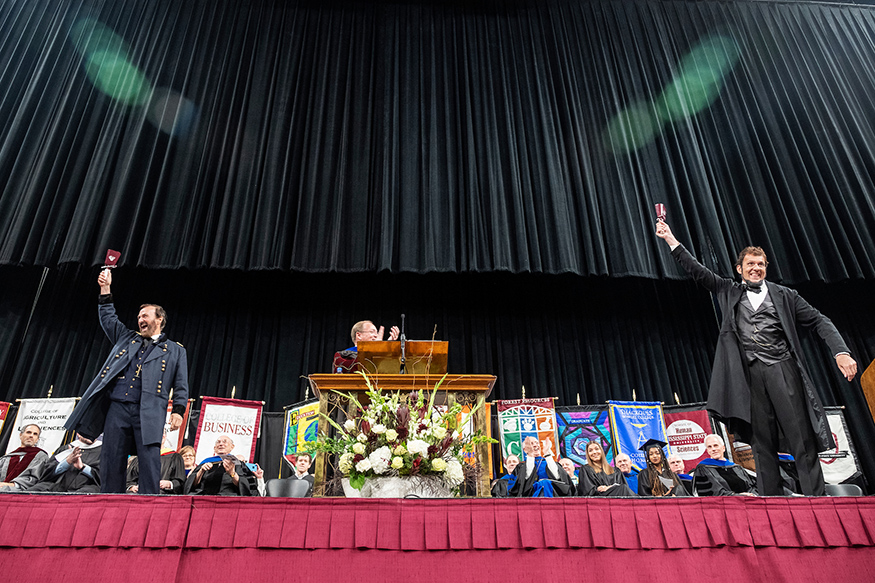 Contact: James Carskadon
STARKVILLE, Miss.—Mississippi State University welcomed thousands of new freshmen and transfer students to campus Thursday [Aug. 22] with Fall Convocation at Humphrey Coliseum.
During the annual event, new students were given a commemorative coin and encouraged to make the most of their time at MSU and complete their degrees.
"We have all types of support here for you," MSU President Mark E. Keenum told the students. "I want you to succeed. I want to shake your hand when you're coming across this stage at graduation. That is when we have succeeded."
Thursday's ceremony included a special appearance from former U.S. Presidents Abraham Lincoln and Ulysses S. Grant, as performed by interpreters George Buss and Curt Fields. As home to the Grant Presidential Library and the Frank and Virginia Williams Collection of Lincolniana, MSU is a nationally recognized center of study for both presidents and the American Civil War.
All MSU freshmen are encouraged to take part in the Maroon Edition common reading program. The 2019 featured book is "Hold on with a Bulldog Grip: A Short Study of Ulysses S. Grant," a concise biography written by MSU and Grant Library historians John Marszalek, David Nolen and Louie Gallo, along with former Rhode Island Supreme Court Chief Justice Frank Williams.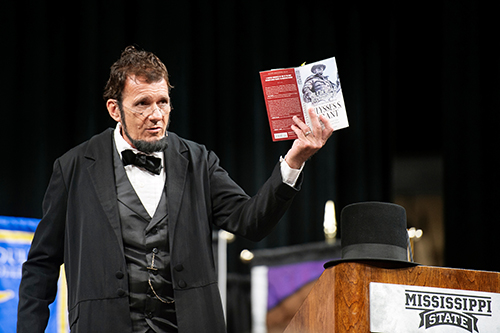 The book's title is based on correspondence between Grant and Lincoln during the general's Virginia campaign in 1864. Months prior to the 1864 election, Lincoln told Grant to "Hold on with a bulldog grip, and chew and choke as much as possible." In addition to providing details of Grant's upbringing and personal life, the manuscript discusses his Civil War strategies.
During Thursday's ceremony, Fields recalled some of the failures and adversity that Grant overcame on his path to becoming a general and U.S. president, such as his failed business ventures that left Grant destitute before the Civil War.
"Your path to your goal may change, and you will experience adversity, disappointment and disgust," Fields said. "But never give up on yourself. Never. Hold on with a bulldog grip."
MSU has been home to the Ulysses S. Grant Presidential Library since 2009. In 2017, the university completed a $10 million addition to Mitchell Memorial Library to house the presidential library and museum, the MSU Congressional and Political Research Center, and the Williams Collection. The addition includes state-of-the-art, interactive galleries focusing on Grant and Lincoln that are open to the public at no charge.
MSU Provost and Executive Vice President David Shaw encouraged students to take advantage of opportunities that enrich their education, such as study abroad, internships, service learning, co-ops and undergraduate research.
"Your journey to completing college will include much more than completing classes," Shaw said. "You'll be growing intellectually and gaining life skills that will aid you in becoming leaders in your chosen profession."
MSU's Center for Teaching and Learning oversees the selection of the Maroon Edition book every year. Maroon Edition activities are held throughout the year for students at all class levels, as well as interested administrators, faculty and staff members. For more information, visit www.maroonedition.msstate.edu.
MSU is Mississippi's leading university, available online at www.msstate.edu.