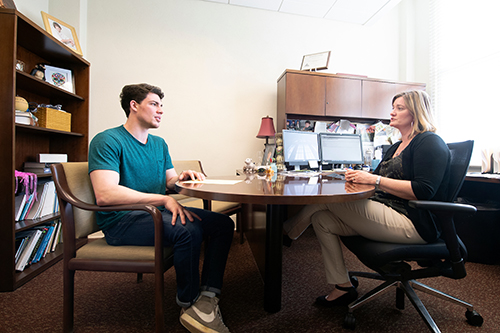 Contact: Sasha Steinberg
STARKVILLE, Miss.—Undergraduate students of any academic major who are seeking to gain entry into medical, dental and other health professional schools can receive various forms of assistance through Mississippi State's Dr. A. Randle and Marilyn W. White Health Professions Resource Center.
Located in Harned Hall, Room 116, the university-wide center is named for the Greenwood nephrologist and his wife whose generous support helped make it a reality in 2016.
A 1966 MSU chemistry and pre-medicine bachelor's graduate, Randle White also holds a medical degree from the University of Mississippi Medical Center. He is a longtime member of the MSU College of Arts and Sciences' Dean's Executive Advisory Board and was the college's 2011 Alumni Fellow.
MSU's HPRC currently is staffed by full-time director Mary Celeste Reese, along with academic adviser Claire Powell and office associate Jeannie Robinson. Reese was honored in 2011 with the MSU President's Commission on the Status of Women's Outstanding Faculty Woman Award. In 2012, she was the faculty recipient of MSU's Irvin Atly Jefcoat Excellence in Advising Award and was recognized with the National Academic Advising Association's Outstanding Faculty Advisor Award.
Reese primarily works with students interested in pre-medicine or pre-dental paths, while Powell assists those passionate about pre-occupational therapy, pre-physician assistant, pre-physical therapy, pre-optometry and pre-veterinary medicine. Martha Wilson, academic coordinator in MSU's Department of Biological Sciences, is the main contact for pre-nursing students.
Reese, an assistant clinical professor who holds both a master's in biological sciences and Ph.D. in agricultural science education and extension from MSU, said pre-health concentrations can be paired with any MSU degree. In addition to advising on pre-requisite course requirements for a student's intended health professional degree program, the HPRC provides application assistance, mock interviews, scholarships, MCAT prep workshops and mock testing, networking events, and information on health-related activities and clubs both on- and off-campus.
"We're trying to complement the work that the student's academic adviser is doing by helping the student understand the pre-requisites for entry into the health professional school of their choice," Reese said. "Once students know the sequence of courses they need to fulfill those pre-requisites, they can take that information back to their departmental adviser and ask about working toward their degree based on that sequence."
While grades and test scores are important, Reese said health professional schools also place high value on applicants' communication, teamwork and leadership skills, and ability to empathize with others. She said students can hone these skills during their undergraduate years by volunteering in the community and shadowing professionals in their intended field.
"We want to encourage students to take advantage of opportunities such as those available through the university's Maroon Volunteer Center," Reese said. "Getting plugged in with the OCH Regional Medical Center student shadowing program in Starkville also can give students experience that will help them stand out in the application process."
Reese said she and Powell regularly attend pre-health advising conferences to better understand health professional schools' expectations of student applicants.
"We are producing really good students at Mississippi State, and our goal is to serve as a resource and assist them in reaching their career goals," she said. "Health professional schools are looking for well-rounded applicants, and there is a big demand for healthcare providers in the state, so we want to make sure students are aware of and prepared for those opportunities."
The MSU Foundation offers alumni and friends multiple ways to support the HPRC and the students it serves. For more information or to make a donation, contact Lynn Durr at 662-325-8918 or ldurr@advservices.msstate.edu.
To learn more about MSU's Dr. A. Randle and Marilyn W. White Health Professions Resource Center or to make an appointment, visit www.prehealth.msstate.edu.
MSU is Mississippi's leading university, available online at www.msstate.edu.