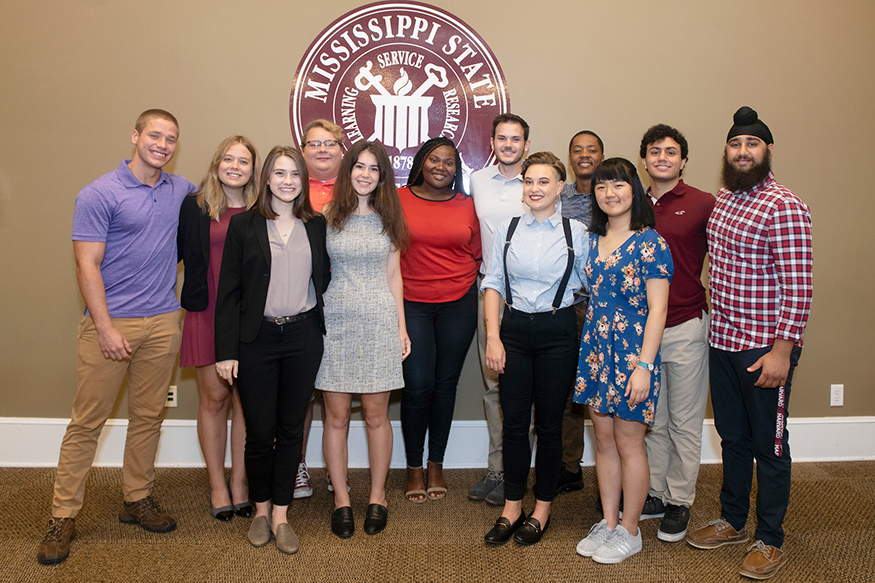 Contact: Sasha Steinberg
STARKVILLE, Miss.—Mississippi State University recently welcomed a dozen undergraduate students from six universities to the Starkville campus for the Delta Scholars Program Summer Institute, an immersion program addressing issues of systemic justice and community well-being impacting the Magnolia State and focusing on the Delta region.
Sponsored by the university's Judy and Bobby Shackouls Honors College, this year's Delta Scholars Program challenged high-achieving, full-time college students to produce positive social change in their communities and the entire state.
In addition to MSU, participating students represented Harvard University, Mississippi University for Women, University of Alabama, University of Mississippi and Vanderbilt University.  Participants were selected for their academic performance, commitment to public service, leadership skills, and genuine connection to or interest in the Mississippi Delta.
Kecia Johnson, MSU assistant professor of sociology, and W. Brad Jones, vice president of the Shackouls Honors College Alumni and Friends Board, coordinated the effort, along with UM Center for Population Studies Director John J. Green and Research Associate Lynn C. Woo.
"At Mississippi State University and the Shackouls Honors College, we are committed to creating positive change in the state and Mississippi Delta," said Chris Snyder, professor of history and honors college dean.
"People in this region have been on the front lines of social change, including advancements in the civil rights and community health movements. There is much to be learned from the Mississippi Delta experience, and these future leaders will benefit from better understanding the complexities of this special place where blues music was born," Snyder added.
First, students engaged with faculty and guest lecturers at the honors college to learn about issues currently impacting the people and economy of the state, including food insecurity, public health and education. Through skills-based workshops, students worked on planning and advocacy skills to develop independent project proposals addressing these issues.
Students also took an "Innovation Tour of the Delta," where they met and learned from researchers, nonprofit organization representatives and community members who work to address difficult challenges through community-led efforts.
On the final day, students attended the Delta Regional Forum in Clarksdale to hear about current research and work impacting the region. They also presented their own project proposals.
MSU chemical engineering major Seth Lenoir of Brandon said he enjoyed learning about the Mississippi Delta's cultural landscape. Interactions with Delta residents, he said, "cemented my belief that solving programs from a distance requires that we first witness those problems firsthand."
"Getting to meet a diverse group of students with the shared goal of making life better for residents in the Delta was a great experience," he said. "This program helped translate my ideas for preventative healthcare in Mississippi into concrete proposals and gave me the tools to advocate for change."
Columbus resident Dustin Smith, an English major transferring to MSU from East Mississippi Community College this fall, also was among MSU participants.
The Delta Scholars will reconnect this fall at Harvard University, where they will share updates on their projects, receive feedback, reflect on lessons learned and discuss how those lessons might be applied to solving other problems. The scholars will engage with Harvard students and faculty working on issues in Mississippi and other parts of the Deep South to promote dialogue and future collaboration.
Scholars also will have the chance to learn from faculty and staff at Harvard and other area universities about graduate and professional school opportunities, including the coveted Truman, Rhodes and Marshall scholarships.
The Delta Scholars Program is a collaborative effort between the Shackouls Honors College, UM's Center for Population Studies, and the Delta Directions Consortium, and also includes MSU's Social Science Research Center, Harvard Law School, and the Phillips Brooks House Center for Public Service and Engaged Scholarship at Harvard College. Additional program support has been provided by MSU alumni Robert and Deborah King of Colleyville, Texas, and by the Winokur Family Foundation.
For more information on MSU's Shackouls Honors College and the Delta Scholars Program, visit honors.msstate.edu or deltascholar.wpengine.com.
MSU is Mississippi's leading university, available online at www.msstate.edu.