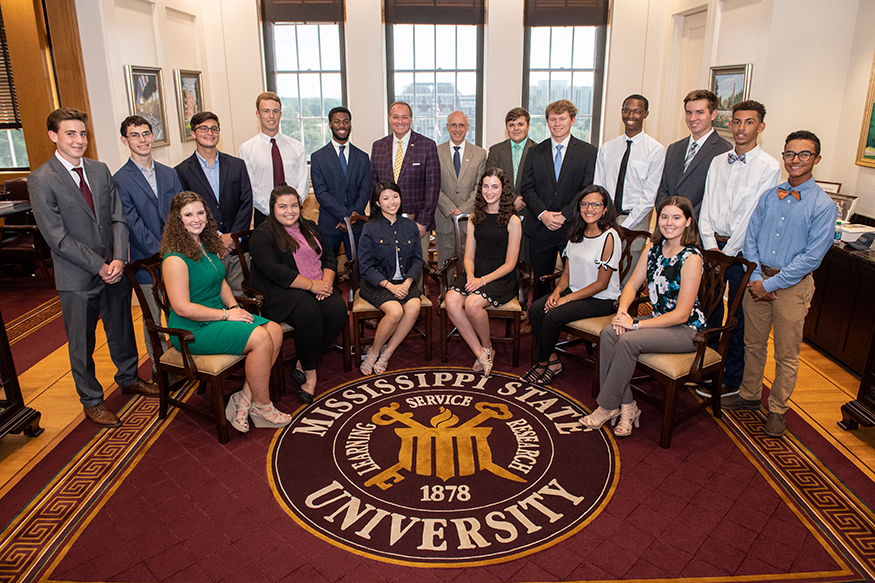 Contact: Sasha Steinberg
STARKVILLE, Miss.—Providing support for academics, study abroad, research, creative discovery and conference travel, Mississippi State's Provost Scholarships are opening the door to a world of possibilities for 17 incoming first-year students.
Applicants must have a minimum 30 ACT and 3.75 high school GPA (based on a 4.0 scale) to qualify for the annual Provost Scholarships, one of two preeminent awards offered by MSU's Judy and Bobby Shackouls Honors College. This year's group was selected from more than 800 qualified applicants. This is the fifth year of MSU awarding the Provost Scholarship. The inaugural class of Provost Scholars graduated in spring 2019.
"The overwhelming characteristics of a Provost Scholar are curiosity, creativity and diligence. Of course, a Provost Scholar is an excellent student, but he or she is more than that," said Anastasia D. Elder, program mentor and the honors college's interim associate dean for undergraduate research. "These students represent research leaders at MSU who mentor fellow scholars and inspire others with a passion for understanding, exploration and truth."
Elder, who also serves as a professor in the College of Education's Department of Counseling, Educational Psychology and Foundations, said Provost Scholars take part in a community in which they share their intellectual interests, are mutually supportive of each other and receive encouragement for their engagement in research endeavors.
The 2019-20 Provost Scholars class includes (by hometown):
BRANDON—Addison L. Black, a civil engineering major; and Xavier J. Person, a biomedical engineering major.
CHALFONT, Pennsylvania—Olivia K. Cresswell, an animal and dairy science major.
FLOWOOD—David A. "Alex" Gibbs, a biological engineering major.
GATES, Tennessee—Rachel L. Hill, an agronomy major.
GAUTIER—Michelle Trejo Acevedo, a business administration major.
GULFPORT—Jennifer A. Palma-Palacios, a computer science major.
HERNANDO—Brandon T. Means, a mechanical engineering major.
JACKSON—Brandon A. Miller, a mechanical engineering major.
MADISON—Lita Li, an architecture major.
MCLAIN—Jacob W. Lee, a mathematics major.
PETAL—Sebastian Martinez-Solano, a mechanical engineering major.
RIDGELAND—Charles A. Gautier, an aerospace engineering major; and Nathaniel O. Venarske, a biological engineering major.
STARKVILLE—Bates Bennett, an industrial engineering major; and Austin K. Cosby, an aerospace engineering major.
UPPER MARLBORO, Maryland—Jeffrey R. Greer, an electrical engineering major.
Learn more about MSU's Shackouls Honors College and its Provost Scholars program at www.honors.msstate.edu.
MSU is Mississippi's leading university, available online at www.msstate.edu.