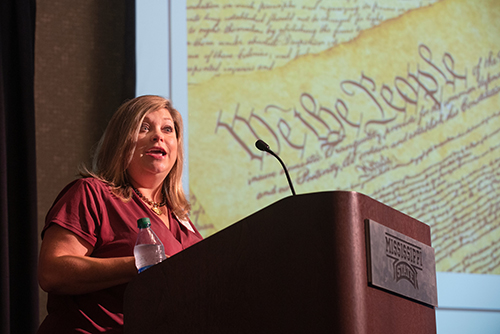 Contact: Sasha Steinberg
STARKVILLE, Miss.—To commemorate the signing of the U.S. Constitution 232 years ago, Mississippi State's Department of Political Science and Public Administration welcomed the director of Mississippi College's Public Service Law Center Tuesday [Sept. 17] for a special presentation.
As the newest guest speaker in the department's Lamar Conerly Governance Lecture Series, Professor Meta S. Copeland discussed constitutional law challenges in the Magnolia State's criminal justice system.
She primarily focused her talk on the Constitution's Sixth and 14th amendments illustrated by "Flowers v. Mississippi," a case in which Montgomery County native Curtis Flowers is accused of the 1996 killings of four people at the Tardy Furniture store in Winona.
"One of the critical portions of the Sixth Amendment is your right to a fair and impartial jury," Copeland told students. "The 14th Amendment extends constitutional rights and the Bill of Rights, which includes the Sixth Amendment, and other aspects of the amendments to individuals in individual states. In particular, the Equal Protection Clause essentially says that everyone who lives in America—regardless of the state they're in—has the same expectations of constitutional protections and safeguards, including Curtis Flowers in Mississippi."
Copeland also taught students about "Batson vs. Kentucky," a criminal prosecution case that the U.S. Supreme Court considered in 1986.
"Batson vs. Kentucky protected the rights of Mr. Batson, the defendant, under the Sixth and 14th amendments, but it also protects all of your rights because as citizens, you have the right to engage in the judicial process. You should have that right regardless of your race," she said.
Copeland encouraged students interested in crime stories to download the "In the Dark" podcast.
"I highly recommend that you listen to the first season because it's a really cool opportunity to evaluate essentially Flowers' guilt or innocence," she said.
Following her presentation, Copeland answered questions and spoke one-on-one with PSPA students interested in law school.
In addition to the Department of Political Science and Public Administration, the Lamar Conerly Governance Lecture Series is organized by the Office of the Provost and Executive Vice President and the Pre-Law Society.
The lecture series is made possible by major support from Conerly, a 1971 MSU accounting/pre-law graduate. A longtime partner in the Destin, Florida, law firm of Conerly, Bowman and Dykes LLP, Conerly is both a former national MSU Alumni Association president and continuing College of Business Alumni Fellow.
MSU's College of Arts and Sciences includes more than 5,300 students, 300 full-time faculty members, nine doctoral programs and 25 academic majors offered in 14 departments. Complete details about the College of Arts and Sciences and the Department of Political Science and Public Administration can be found at www.cas.msstate.edu or www.pspa.msstate.edu.
MSU is Mississippi's leading university, available online at www.msstate.edu.