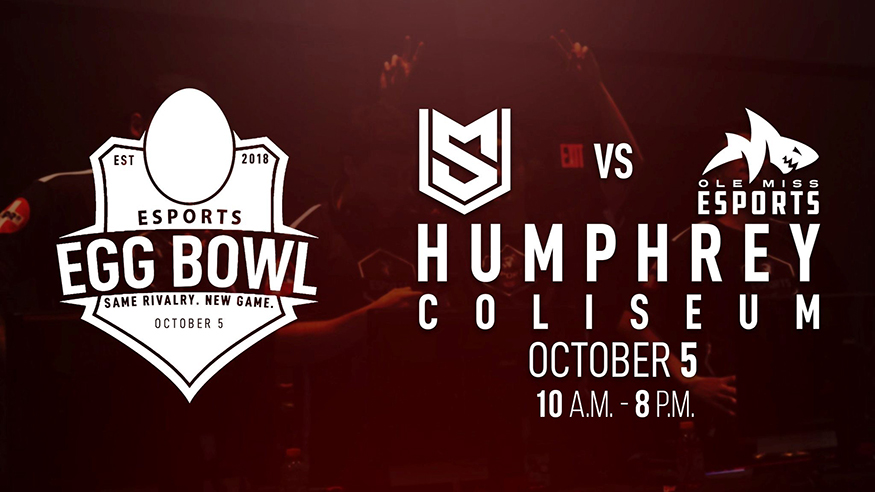 Contact: Sasha Steinberg
STARKVILLE, Miss.—After winning last year's inaugural Esports Egg Bowl in Oxford, Mississippi State's Esports club is ready for another victory, this time on home turf.
On Oct. 5 at Humphrey Coliseum, approximately 100 gaming enthusiasts from MSU and the University of Mississippi will face off in a best-of-seven video game competition. Students and members of the general public are encouraged to attend the 10 a.m.-8 p.m. event for free. The competition also will be live streamed at twitch.tv/esports_msu.
"Of course, we are focused on winning, but we also want this year's event to be even bigger and better than last year's. We want to continue to raise the bar higher year after year," said MSU Esports President Jason A. Deshong, a sophomore communication/broadcasting major from D'Iberville.
DeShong said he encourages anyone interested to be there to support the MSU Esports members as they compete to claim the team's second Esports Egg Bowl trophy.
"Like with football, basketball, baseball and other sports on campus, the energy from the crowd transfers to our players," he said. "In speaking from personal experience, having people behind you really makes a difference."
Now in its seventh year at MSU, Esports is a school-sanctioned club with membership currently at approximately 600. DeShong said the group holds bi-monthly Wednesday meetings—the next one being Oct. 2 at 7:30 p.m. in Colvard Student Union's Fowlkes Auditorium. Any student interested in Esports is welcome to attend.
"We have about 120 players across 20 different teams, and our other members help us with event management and day-to-day operations," he said. "We have a great executive team and a lot of volunteers who care about our team doing well."
For more on MSU Esports, visit https://msstate.campuslabs.com/engage/organization/msu-esports or follow on Facebook, Twitter and Instagram. To join, visit https://discordapp.com/invite/esportsmsu.
MSU is Mississippi's leading university, available online at www.msstate.edu.