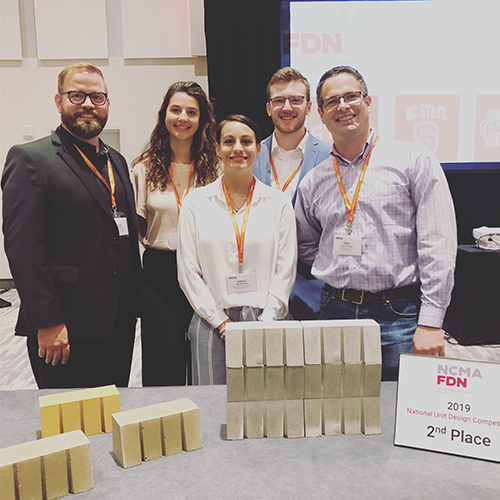 Contact: Christie McNeal
STARKVILLE, Miss.—A custom brick project designed by three Mississippi State architecture students is a National Unit Design Competition winner.
Juniors Kayla C. Perez of Metairie, Louisiana, Grace M. Sheridan of Olive Branch and Joseph D. Thompson of Brandon presented their team's brick design called "The Slant" at the National Concrete Masonry Association Midyear Meeting recently held in Seattle, Washington, where it placed second in national competition.
"The Slant" was completed in MSU Associate Professor of Architecture Jacob A. Gines' spring materials course. For the assignment, the team produced a set of eight concrete masonry units based on a single design, with each block measuring 3-5/8 inches by 3-5/8 inches by 7-5/8 inches. The students considered use of light and shadow, composition, orientation, usefulness and configuration while following a specific digital fabrication process for the design and development of their custom block.
Fred Dunand, president and owner of Saturn Materials LLC of Columbus, sponsors the local Unit Design Competition, the feeder for the national competition. He said he enjoys sharing his passion with students and hopes he is inspiring innovation in the next generation.
"This year's batch was exceptional," he said of the local competition, "and it wasn't an easy task to determine who would be selected."
In the end, "The Slant" team came out on top, and Sheridan said she believes her team's entry stood out to the national judges for two main reasons.
"We were confident in our design and provided evidence of the feasibility of it by considering all aspects of the competition, such as shipping, mass production and economic efficiency," she said. 
Gines said students benefit from this project by gaining an understanding of the realities of concrete throughout the prototyping process. Collaborative interactions with industry professionals help guide and train students on such aspects as feasibility, manufacturability and packaging, he added.
Sheridan said she knew very little about the concrete masonry industry before Gines' class.
"We toured facilities and met with plant owners to better understand the capability of the machines," she said. "This research allowed us to come up with ideas that we knew could be mass manufactured and helped us grow as young professionals by partnering with local plant owners."
Jassen Callender, interim director of MSU's School of Architecture, said this work represents two core values of the School of Architecture—collaboration between students and also collaboration between students and leaders in industry.
"The students are to be commended for their dedication and rigor. Professor Gines is to be commended for the opportunities this assignment affords students," Callender said. 
Gines said MSU has been a national competition finalist for two consecutive years.
Part of the College of Architecture, Art and Design, MSU's School of Architecture is the state's only curriculum leading to a professional degree in architecture. Learn more at www.caad.msstate.edu.
MSU is Mississippi's leading university, available online at www.msstate.edu.