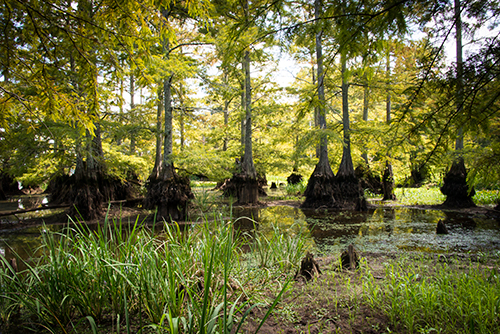 Contact: Sasha Steinberg
STARKVILLE, Miss.—Two alumna of Mississippi State's Department of Art are among those participating in the university's annual artist-in-residence program.
Lexus S. Giles of Brandon, who graduated in May 2019 with an MSU Bachelor of Fine Arts degree, recently spent two weeks experimenting and further developing her skills at the Sam D. Hamilton Noxubee National Wildlife Refuge, a federal reserve located 12 miles south of the Starkville campus.
Spanning into Oktibbeha, Noxubee and Winston counties, the 48,000-acre Refuge has served nearly eight decades as a feeding and resting area for migratory birds and resident wildlife, including white-tailed deer, alligators and beaver. Wetlands, cypress groves, prairie grasslands and forest also are among its many features.
In addition to Giles, artists with upcoming residencies at the Refuge include:
—Rick Self, Sept. 16-30. An oil painter from Birmingham, Alabama, he moved to Asheville, North Carolina in 2017. Self and his wife Kathy enjoy hiking and exploring the mountains and woods of western North Carolina, the beauty and serenity of which Self said has inspired his artwork. For more, visit www.ricksartcafe.com.
—Diane Baker, Oct. 1-26. The Lafayette, Louisiana-based artist, graphic designer, illustrator and art instructor is a 1975 MSU commercial art and painting bachelor's degree graduate. Her interests include arts integration in education, public and community art projects, preservation of wilderness areas, and gardening.
—Aubrey Edwards, Oct. 21-31. As a portrait photographer, visual anthropologist, storyteller and educator, she has exhibited extensively both nationally and internationally. Based in New Orleans, Louisiana, and splitting time with Auckland, New Zealand, she holds an Associate of Applied Science degree in photography from Austin Community College in Texas, a bachelor's degree in journalism from the University of Texas at Austin, and a master's degree in urban studies from the University of New Orleans. She is a youth advocate and healing-centered/trauma-informed arts educator who works to help young people amplify their voice and use visual storytelling to address issues of social justice, public space, environmental stewardship and gender/sexuality. For more, visit www.aubreyedwards.com.
—Gene Everitt, June 2020. She has served since 1995 as an art teacher at St. Richard Catholic School in Jackson, where she developed and implements visual art curriculum for pre-K through sixth grade students. A 2017 Mississippi Art Education Association Elementary Art Educator of the Year, she earned a 1975 bachelor's degree in education from Mississippi College and a 1979 Master of Arts degree in education from Delta State University.
MSU's artist-in-residence program is a collaborative effort of the Department of Art, the Refuge and its Friends of Noxubee Refuge support organization, and the Starkville Area Arts Council.
Lori Neuenfeldt, MSU art instructor and gallery director, said the artist-in-residence program plays an integral role in promoting the creative process for innovative visual, performance and literary artists. She said visiting professionals receive complimentary Refuge housing and are welcome to continue their work during time spent at MSU's art facilities.
"The Refuge residency provides emerging and established artists the opportunity and workspace to research and create art within the beautiful natural surroundings of Northeast Mississippi," Neuenfeldt said. "Residents have the freedom to explore and interact with native wildlife, as well as with members of the Refuge staff and campus and local communities."
For more on the Noxubee National Wildlife Refuge and its Artist-in-Residence program, visit https://www.fws.gov/refuge/Noxubee/artist_in_residence.html.
Part of MSU's College of Architecture, Art and Design, the Department of Art is the longtime home of the state's largest undergraduate studio art program. Learn more at www.caad.msstate.edu.
MSU is Mississippi's leading university, available online at www.msstate.edu.