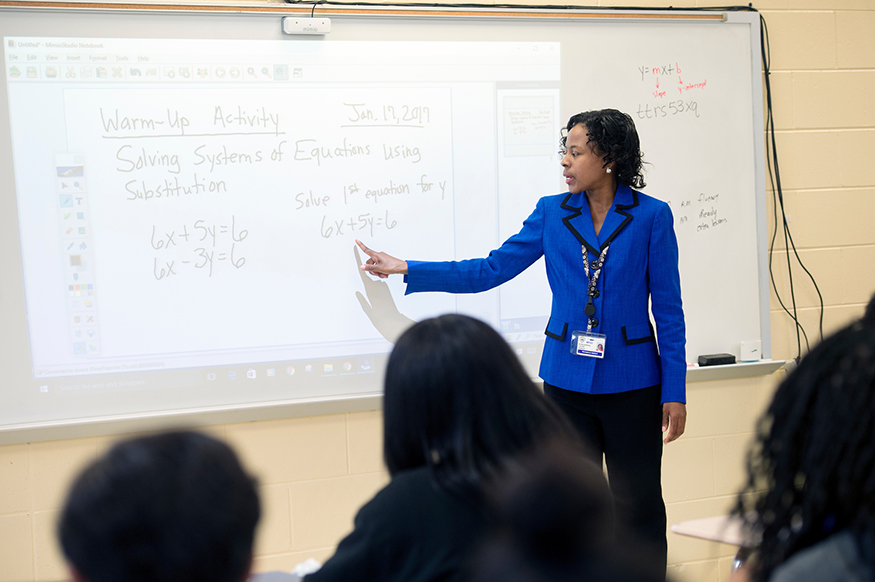 Contact: James Carskadon
STARKVILLE, Miss.—Mississippi State University has been awarded a seven-year, $27.9 million grant to prepare low-income students to enter and succeed in postsecondary education.
The funding is through the U.S. Department of Education's Gaining Early Awareness and Readiness for Undergraduate Programs (GEAR UP) grant program. The grant will support students in the Greenville, McComb and Meridian public school districts and provide benefits for high school students aspiring to attend college across Mississippi.
"Education will play a vital role in preparing Mississippi to be competitive for generations to come, which makes it critical that we do everything we can to expand access to all educational opportunities," MSU President Mark E. Keenum said. "I am proud of MSU's leadership in GEAR UP Mississippi and I would like to thank our congressional delegation for supporting our funding request. I look forward to seeing all the positive ways this initiative will impact our state."
MSU's grant application was supported by U.S. Senators Cindy Hyde-Smith (R-Miss.) and Roger Wicker (R-Miss.).
"Mississippi State has established a well-respected program to prepare students, who might not otherwise have the necessary support, for college studies. This seven-year grant gives the university and its partners the capacity to reach more youth across Mississippi, which will benefit our state in the long run," said Hyde-Smith, who serves on the appropriations subcommittee that funds the GEAR UP program.
"The GEAR UP program can make a difference in the lives of students, providing them with the preparation and support they need to succeed in college," Wicker said. "This new grant will enable Mississippi State University and its partner organizations to provide these invaluable services to thousands of students across our state for years to come."
The principal investigator for the grant is Carol Cutler White, assistant professor in the MSU College of Education's Department of Educational Leadership. MSU's Research and Curriculum Unit is the lead center for the grant, overseeing the implementation and staffing for all professional learning services. Partners for the GEAR UP Mississippi program include the Mississippi Department of Education, Mississippi Institutions of Higher Learning, the Woodward Hines Education Foundation and ACT, Inc.    
"Mississippi State is proud to lead the federally funded GEAR UP initiative," White said. "In collaboration with our named school district and statewide partners, we are committed to creating evidence of effective practice in support of Mississippi students who aspire to attend college." 
Betsey Smith, RCU director and co-principal investigator for the grant, said GEAR UP will expand educational opportunities for students in Mississippi.
"Thanks to the great leadership provided by MSU and our congressional delegates, the RCU is excited to have the opportunity to be a leader in bringing together diverse perspectives to improve educational outcomes of students across our state," Smith said.
The GEAR UP program will identify a cohort of students in the partner school districts and work with them, beginning at the middle school level, to increase academic performance, increase high school graduation rates, increase enrollment in postsecondary education and increase their knowledge of postsecondary education options, preparation and financing. The Research and Curriculum Unit will support the school districts as they aim to strengthen academic outcomes and provide opportunities for career exploration.
In addition to students in the partner school districts, Mississippians throughout the state will benefit from GEAR UP initiatives. Project partners will develop a virtual reality tour app that includes all of Mississippi's public university and community colleges, as well as eight key industries. Additionally, a chatbot will be developed that can provide 24/7 responses to common state and federal financial aid questions. The Woodward Hines Education Foundation will provide financial aid application support for students and families and manage statewide ACT test prep services. RCU will work with the Mississippi Department of Education to provide targeted teacher training and STEM outreach.
MSU has several initiatives aimed at increasing access to higher education among Mississippi high school students and several programs in place to support students once they arrive on campus.
The university's College of Education is committed to preparing highly qualified professionals to serve as teachers, administrators, supervisors and counselors, making an impact in Mississippi and around the country. More information on the college can be found at www.educ.msstate.edu. For more on MSU's Research and Curriculum Unit, visit www.rcu.msstate.edu.
For more on the U.S. Department of Education's GEAR UP grant program, visit www.ed.gov/gearup/index.html.
MSU is Mississippi's leading university, available online at www.msstate.edu.