Contact: Mel Thurlow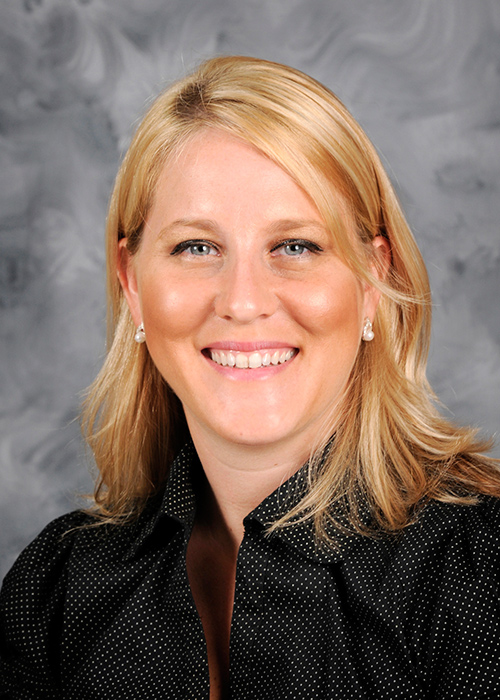 STARKVILLE, Miss.—A Mississippi State board-certified equine surgeon is the inaugural Terri Nusz Endowed Equine Professor in the university's College of Veterinary Medicine.
Dr. Cathleen Mochal-King, associate clinical professor and equine service chief, also was recently honored as the North American Veterinary Conference VMX 2019 Equine Speaker of the Year.
A Diplomate of the American College of Veterinary Surgeons, Mochal-King earned both her bachelor's and Doctor of Veterinary Medicine degrees at Iowa State University and completed an internship and residency at MSU in equine surgery before joining the faculty in 2010. Her teaching and research interests include equine ophthalmology, equine lameness and surgery, and equine sports medicine with clinical diagnostic ultrasound.
The Terri Nusz Endowed Equine Professorship will support Mochal-King's efforts to educate CVM students, interns and residents; serve the clinical needs of horse owners and referring veterinarians; and represent MSU at a national level. The professorship is possible with a gift from 1982 MSU graduates Tommy and Terri Nusz of Houston, Texas. Earnings from the endowment they established will provide the faculty holder a salary supplement and support in teaching and research. Terri Nusz oversees the family's various interests in equine sports, and the family wants to encourage MSU faculty efforts in equine study.
As the NAVC VMX 2019 Equine Speaker of the Year, Mochal-King was recognized for being the conference speaker with the most votes and greatest attendance and was invited to be speaker for the 2020 conference.
"Dr. Mochal-King is recognized as an outstanding equine surgeon by horse owners and referring veterinarians throughout our region," said Dr. Kent Hoblet, CVM dean. "She is also an outstanding professor, role model for aspiring veterinarians and speaker. We are fortunate to have her as a member of our CVM faculty and family."
The college's Equine Medicine and Surgery Service provides advanced care to horses in the region, offering 24-hour, seven-days-per-week emergency and intensive care services, in addition to specialty diagnostic, therapeutic and surgical services. Equine health maintenance services such as sports medicine, nutritional counseling, disease surveillance, parasite control, dentistry and vaccination programs also are provided. All horses are managed by a team who works closely with the referring veterinarian.
Mississippi State's College of Veterinary Medicine is the state's only veterinary college. It is one of only a few colleges that provides two full years of clinical experience in addition to coursework and labs. The college boasts a greater than 98% North American Veterinary Licensing Exam (NAVLE) pass rate. For more information, visit www.cvm.msstate.edu.
MSU is Mississippi's leading university, available online at www.msstate.edu.