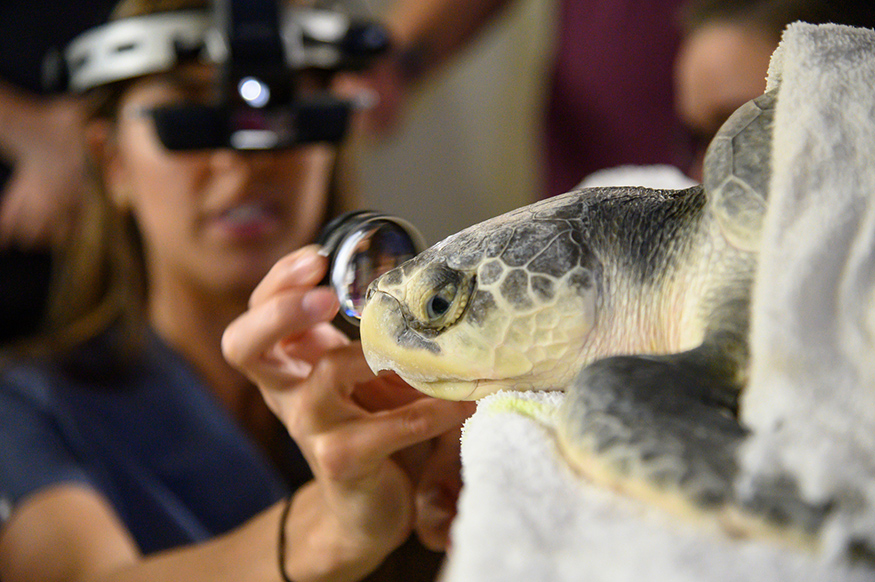 Contact: James Carskadon
STARKVILLE, Miss.—Mississippi State University's College of Veterinary Medicine and the Institute for Marine Mammal Studies will receive $1.25 million to evaluate the impacts of the Bonnet Carré Spillway opening on dolphins and sea turtles in the Mississippi Sound.
Gov. Phil Bryant announced the funding Friday [Sept. 27]. The research and evaluation will be supported by Gulf of Mexico Energy Security Act funds, which support coastal conservation, restoration and hurricane protection. The research will provide state and federal leaders with a more complete understanding of the spillway opening's impact on marine life, as well as effective mitigation methods to reduce harm.
The Mississippi Sound and its adjacent waters are home to the largest dolphin population in the United States. It is also a critical habitat for the most endangered sea turtle species in the world, the Kemp's ridley. In 2019, dolphin mortalities have increased by over 100 percent from previous years.
"Faculty in MSU's CVM are internationally recognized for their expertise in environmental toxicology, microbial health in aquatic animals and epidemiology," said CVM Dean Kent Hoblet. "This grant will enable these scientists, working together with IMMS, to help us better understand the effects of the fresh water incursion into the invaluable state and national resource that we have in the Mississippi Sound."
The Bonnet Carré Spillway was opened twice this year by the U.S. Army Corps of Engineers to control flooding along the Mississippi River. As a result, freshwater has been pouring into the Mississippi Sound, altering marine ecosystems along the Gulf Coast. The MSU and IMMS-led study will examine the abundance, health and habitat of dolphins and sea turtles in the area. These two predators serve as indicators of the health of the larger environment, according to the project proposal.
College of Veterinary Medicine personnel will conduct microbial and toxicological tests to determine the effects of various pollutants brought by the freshwater incursion on animal health. Epidemiological studies conducted by CVM will trace the origins and distribution of disease in dolphin and sea turtle populations.
As part of the study, environmental and oceanographic data will be collected to assess habitat changes and suitability for dolphins and sea turtles. IMMS will use satellite tags to track rehabilitated sea turtles and study their movement post-release.
The College of Veterinary Medicine and IMMS have worked together for several years to rehabilitate and release sea turtles. Through a partnership with IMMS, MSU is one of two universities in the nation to offer marine animal medicine training to all veterinary medicine students.
For more on the MSU College of Veterinary Medicine, visit www.cvm.msstate.edu.
MSU is Mississippi's leading university, available online at www.msstate.edu.