Contact: Allison Matthews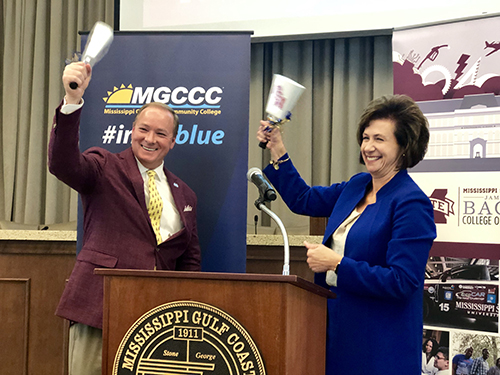 PERKINSTON, Miss.—Mississippi State University and Mississippi Gulf Coast Community College are expanding their Engineering on the Coast partnership. MSU President Mark E. Keenum and MGCCC President Mary S. Graham today [Sept. 5] announced a joint industrial engineering program will be added to the electrical and mechanical engineering majors already available at Gulf Coast's Jackson County Campus in Gautier.
Through the programs, students can have an affordable option for earning a world-renowned education close to home. Students can earn a two-year associate's degree from MGCCC before enrolling in engineering classes leading to a bachelor's degree from MSU. The engineering classes are offered by MSU James Worth Bagley College of Engineering faculty working at MGCCC's JC Campus. The curriculum also utilizes synchronous online delivery from MSU's Starkville campus. Electrical engineering was first taught at the coast location in spring 2016, and mechanical engineering was implemented that fall.
"We are pleased to announce that we are adding industrial engineering, which we have chosen to satisfy regional industry needs. Students in this program will learn how to design, improve and control systems of people, materials, information, equipment, energy and capital to increase quality, safety and profitability," Keenum said. "The partnership with MGCCC has been outstanding, and we are proud to have support from Dr. Graham and her excellent leadership team."
Current MSU enrollment at Gulf Coast is at an all-time high of nearly 110 students, who are taught by five permanent MSU instructional faculty and supported by two staff members, all based at MGCCC.
Graham said MGCCC strives to offer students the best opportunities for achieving their educational goals close to home.
"With this expansion of our partnership with Mississippi State University, our students will have more opportunities to gain an education in a high-demand career field," she said. "It also helps local industries by providing well-trained potential employees in career fields that are much needed in our region."
The MSU and MGCCC partnership dates back to 2013, when Keenum and Graham began working together to implement the engineering programs. A market assessment was conducted with results indicating nearly 20,000 engineering jobs on the coast from New Orleans, Louisiana, through Mississippi, to Mobile, Alabama, with demand continuing to increase.
MSU's hands-on curriculum includes laboratory experiences in industrial design, industrial ergonomics, manufacturing processes and a capstone senior experience. Students may enroll in the program in fall 2020.
MSU Dean of Engineering Jason Keith said the existing electrical engineering and mechanical engineering programs have had tremendous success.
"Introducing an industrial engineering component is a logical next step to meet the workforce demands on the Mississippi Gulf Coast. Our partnership with MGCCC has been tremendous and we would not be able to offer these programs without their complete support," Keith said.
The MSU degree programs based on the coast are identical in quality to those on the main campus in Starkville, and current programs have been comprehensively reviewed by the Accreditation Board of Engineering and Technology and received a full six-year accreditation action, in concert with MSU's on-campus programs. The existing coast programs have benefitted from private support from Mississippi Power, Chevron, International Paper, Ingalls Shipbuilding and The Robert M. Hearin Support Foundation.
For more about Engineering on the Coast, visit www.bagley.msstate.edu/coast/.
MGCCC is online at www.mgccc.edu.
MSU is Mississippi's leading university, available online at www.msstate.edu.